Skype for Business Reviews, Ratings, Pricing Info and FAQs
Read about Skype for business and find customer reviews, ratings, pricing information and frequently asked questions.
Updated on December 11th, 2018
Skype for Business is Skype's business software that includes features like video conferencing, VoIP phone calling and a chat/messenger app. Businesses can use Skype for Business to communicate internally and externally on one site or from a variety of locations.
Skype for Business Pricing:
| Plan Name | Monthly Price |
| --- | --- |
| Online Plan 1 | $2.00 /mo. per user |
| Online Plan 2 | $5.50 /mo. per user |
| Office 365 Business Essentials | $5.00 /mo. per user |
| Office 365 Business Premium | $12.50 /mo. per user |
Skype for Business Key Information Table:
| | |
| --- | --- |
| Co-Founders | Niklas Zennstrom, Janus Friis |
| Founded | 2003 |
| Headquarters | Palo Alto, CA |
| CEO | Steve Ballmer |
| Number of Employees | 500 |
| Number of Customers | 1,330,000 |
| Address | 3180-3210 Porter Dr., Palo Alto, CA 94304 |
| Website | |
Skype for Business FAQs:
What is the price range for Skype for Business software?
Skype for business is free for up to 25 users. After that, prices range from $2.00 to $12.50 per user per month.
Where can I find the Skype for Business Mac edition?
You can get the Skype for Business download for Mac computers by selecting it from the product list in the microsoft.com download center.
Is the Skype for Business mobile app free?
You can download the Skype for Business mobile app for free on any iOS or Android device. However, you still need to have a Microsoft Skype account to be able to use the app.
How do I use the Skype for Business share screen?
If you want to share your screen with other participants in the call, just click the monitor icon at the bottom of the Skype for Business web app window.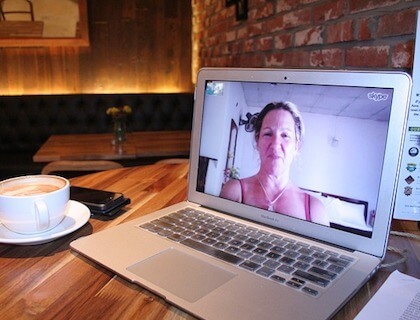 Skype vs. Skype for Business
Skype is free and has limited features, but Skype for Business can facilitate up to 250 participants and is built to be fully integrated with other Office 365 products from Microsoft.
What is Skype for Business Lync?
Lync is actually the name of Microsoft's old business video conferencing product. Skype for Business has more features than the old Lync product and enhances communication between employees with chat and screen sharing features.
Is there a Skype for Business recording feature?
You can record Skype for Business video conferencing sessions for playback to other employees or to take notes on a conversation. The feature is built into the program and you can turn it on at any point during the call.
Are there Skype for Business emoticons?
You can use emoticons in the chat window just like you would with the basic Skype program. New emoticons are added periodically with the Skype for Business update.
Does Skype for Business come with Microsoft Office 365?
The Skype for Business/Office 365 means that if you have already purchased Office 365, Skype for Business Cloud PBX is one of the tools that you have available to you.
How long does the Skype for Business setup take?
You can set up Skype for Business online or on your computer through Office 365 in just a few minutes. The installation process is simple and straightforward.
Does Skype for Business need to run on my local server?
No, Skype runs on its own server through the cloud. The Skype server is what facilitates your communication through the software.
Skype for Business Reviews:
| Reviewer | Rating | Review |
| --- | --- | --- |
| Steve G. | 5/5 | Skype saves us so much money when we are travelling and need to communicate with the office. |
| Jimmy M. | 5/5 | Great voice/video quality and very convenient if you have people on the calls from several different locations. |
| Alfredo R. | 4/5 | Very intuitive and the mobile app is one of the best features. |
| Sam N. | 5/5 | We have employees all over the world, but Skype makes meetings and file transfers easy. |
| Alex M. | 5/5 | We use this program on a daily basis because it does such a good job of facilitating our communication. |
| Mykea J. | 5/5 | A great stand-alone tool for communication and collaboration. |
| Kristen K. | 4/5 | Generally very reliable, but the camera can be a bit wonky sometimes. |
| Tammy K. | 4/5 | I love Skype, but it is almost impossible to use if your internet connect is slow. |
| Muneeba F. | 5/5 | Keeps your contacts organized and integrates seamlessly with Outlook. |
| Houston B. | 3/5 | Easy to use, but it can be very unreliable with delayed messages and missed calls. |