Santander Bank
Learn more about Santander Bank for high transaction volumes. Includes checking account features, customer reviews, and frequently asked questions.
Updated on August 21st, 2019
The SMB Guide is reader-supported. When you buy through links on our site, we may earn an affiliate commission. Learn more
Santander Bank has more than 650 branches across Massachusetts, New Hampshire, Connecticut, Rhode Island, New York, New Jersey, Pennsylvania, and Delaware. Santander Bank's Business Checking accounts are designed for businesses with moderate to high transaction volumes.
Business Account Details:
| Account Type | Free Monthly Transactions | Monthly Service Fee | Minimum Daily Balance |
| --- | --- | --- | --- |
| Business Checking | 300 | $15 | $5,000 |
| Business Checking Plus | 750 | $50 | $40,000 |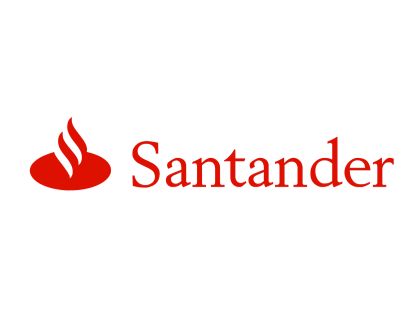 Review:
Pros: Multiple ways to waive monthly service fees. Free mobile banking.
Cons: High non-network ATM fees. Checking accounts are non-interest bearing.
Bottomline: Santander Bank offers business checking accounts with low fees that are ideal for high transaction volumes.
Key Information:
| | |
| --- | --- |
| Founded | 1857 |
| Headquarters | Boston, Massachusetts |
| CEO | |
| Number of Employees | 10,000 |
| Phone number | 1 (877) 768-1145 |
| Address | 75 State Street, Boston, MA 02109 |
| Website | |
Reviews:
| Source | Review |
| --- | --- |
| | My wife arrived in the UK from Canada on a TIER 5 working visa three months ago. It was a real pain in the bottom, but we finally got her a Santander basic account. The difficulty was partly in the usual obstacles to immigrants (no UK credit history, limited proof of address) but also general incompetence on behalf of the bank. Phone operators, branch tellers and webpages all told us different things; letters containing PIN codes and verification codes failed to arrive several times and had to be reordered. It took about a month. But we got there eventually. So I can recommend Santander if you have patience. Their basic account does exist and it does work. |
| | I've tried a few high street banks. Worst = Barclays. Best = Santander. Actually, I'd go so far as to recommend Santander for business banking. They are prompt, efficient, you can speak with a person, they sort a problem if one arises. |
| | I would recommend santander small business. I have had free banking for 16 years. I have never had any problems. I have online access and payment facilties on the day. Plus chaps and international payments. Chaps cost but fast payments do not. |
| | Would recommend Santander, free banking and if you do most of your banking online you should not have ay problems. |
| | I haven't had any problems with Santander, I've been with them for years since the Abbey National Days. They've always been very helpful. |
FAQs:
Which bank is better: Santander or TD?
Santander and TD offer very similar services. The biggest difference is that while TD requires a daily minimum of $100, Santander has a one transaction fee-waiver. Santander Bank is considered to be one of the top banks for Free Checking, and TD Bank is considered to be one of the top banks for Savings.
Is Santander a safe bank?
Santander has a range of features to protect your accounts, including digital controls for your cards, quickly and easily managing your cards, and the ability to set up alerts.
Is Santander better than Bank of America?
While Bank of America is a larger company with more branches and ATMs around the country, Santander Bank has free checking options and low monthly fees which are easily waived.
For more information on Santander Bank, see our detailed guide.
What kind of bank is Santander?
Santander Bank is a retail and commercial bank.
Does Santander have fees?
Yes. Santander has a monthly service fee, account analysis fees, transaction fees (if exceeding the free limit), and some others.
You can get in touch with Santander Bank to learn more about their fees.
Is Santander Bank FDIC insured?
Yes, the following Santander Bank deposit accounts are FDIC insured:
Savings.
Checking.
Time deposits.
Club.
Money Market Checking.
Money Market Savings.
Negotiable Order of Withdrawal.
Some retirement accounts.
What are some Santander Bank alternatives?