Samsung Galaxy S9 Reviews
Learn more about the Samsung Galaxy S9 as a business smartphone. Includes user reviews, features, pricing, and answers to common questions.
Updated on November 18th, 2019
The SMB Guide is reader-supported. When you buy through links on our site, we may earn an affiliate commission. Learn more
Pricing:
| Storage | Price |
| --- | --- |
| 64GB | $720.00 |
| 128GB | $769.99 |
| 256GB | $839.99 |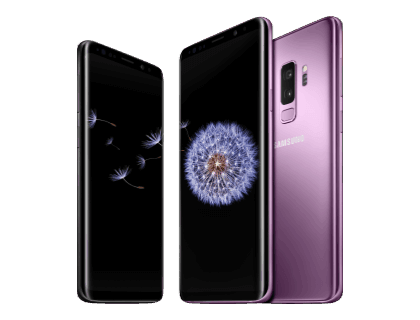 Review:
Pros: Powerful processor and advanced bio-metric security.
Cons: No dual camera setup.
Bottomline: The Samsung Galaxy S9 is a powerful phone with a large screen and battery, making it an excellent smartphone for business.
Specifications and Features:
| | |
| --- | --- |
| Battery | 3,000 mAh |
| Wifi Hotspot | Yes |
| Connectivity | Bluetooth 5.0, NFC |
| Processing Speed | 4GB RAM |
| Storage Space | 64GB/128GB/256GB, Expandable memory |
| Security | Biometric security (iris scanner, fingerprint scanner, face recognition), Two-factor authentication, Knox protection, McAfee virus and malware prevention |
| Charging | Wired and wireless fast charging |
Reviews:
| Source | Review |
| --- | --- |
| | Overall, seems the best all-round Android phone available. Battery seems to be just okay which is surprising considering how well the V30 manages with a 3300mah battery. |
| | I have the s9, my wife has the Pixel 2 XL, the s9 is a beautiful looking phone, i love how it's more narrow and slender, it makes the Pixel 2 XL, even the iPhone X look chubby. The fingerprint sensor in the back is perfect, and for those times that I can't hit the sensor easily, i'll do the intelligent scan unlock. Samsung Pay is better than Google Pay, on yea, and SD card (or dual sim), headphone jack. I actually LOVE the bixby button because I've remapped it to google assistant using Button Mapper. One press is Google assistant, two presses is a shortcut to a whatsapp chat with my wife, and long press is a volume/silence toggle. PERFECT. |
| | I traded my Iphone X for S9+, so far it has been amazing for me. It is the perfect phone on the market now. It offers many options and packed all the features, the important thing is it also look good. Headphone jack, fingerprint unlock face unlock , iris unlock and SD card slot. Small bezel and good design. I actually like the samsung launcher a lot too. |
| | No regrets; the S9 is just sooo much nicer feeling in the hand, screens are not even comparable, speakers are much better (I was disappointed with the Pixel speakers, especially considering their size), and having the headphone jack is critical for me. I also like wireless charging. |
| | I just switched to the S9 from my old Note 4. Pretty pleased so far |
FAQs:
How much does the Galaxy S9 cost?
The Galaxy S9 ranges between $720.00 and $839.99.
See the full range of pricing options.
Is the Samsung Galaxy S9 a good phone?
The Samsung Galaxy S9 enjoys mostly favorable reviews. Its noteworthy features are its powerful processor, excellent camera, and vast array of security features.
See our Samsung Galaxy S9 summary review.
What is the difference between the Galaxy S9 and S9 Plus?
The Galaxy S9 Plus differs from the Galaxy S9 in only a few ways.
Larger body and display size.
Larger battery (3,500 mAh).
More RAM (6GB).
Dual lens camera with 2x optical zoom.
See the full Galaxy S9 spec breakdown.
Is the Samsung Galaxy S9 worth buying in 2019?
Definitely. The Samsung Galaxy S9 came out in 2018, which means it's only marginally older than the latest Samsung flagship smartphone, and boasts most of the same features.
See the full Galaxy S9 spec breakdown.
Does the S Pen work on the Galaxy S9?
The S Pen only works on the Galaxy Note 9, or other versions of the Note model.
Is the Samsung Galaxy S9 waterproof?
The Samsung Galaxy S9 is IP68 water resistant, which means it can be submerged in up to 1.5 meters of fresh water for a total of 30 minutes.
See the full Galaxy S9 spec breakdown.
Can you get the Galaxy Skin on the S9?
Yes, you are able to fit the Galaxy S9 with a skin.