Samsung Galaxy S10 Plus Reviews
Learn more about the Samsung Galaxy S10 Plus as a business smartphone. Includes user reviews, features, pricing, and answers to common questions.
Updated on March 31st, 2020
The SMB Guide is reader-supported. When you buy through links on our site, we may earn an affiliate commission. Learn more
Pricing:
| Capacity | Pricing |
| --- | --- |
| 128 GB | $999.99 |
| 512 GB | $1,249.99 |
| 1 TB | $1,599.99 |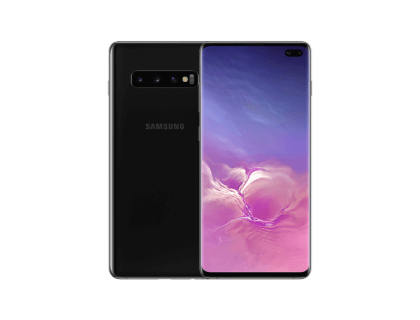 Review:
Pros: In-display fingerprint sensor and wireless power-sharing.
Cons: Requires WiFi 6 Router to utilize the WiFi 6 connectivity.
Bottomline: The Samsung Galaxy S10 Plus is a good business smartphone because of its reliable battery life, good processing speed, and top-class security.
Specifications and Features:
| | |
| --- | --- |
| Battery | 4,100mAh |
| Wifi Hotspot | Yes |
| Connectivity | Intelligent WiFi, LTE |
| Processing Speed | 8GB / 12GB |
| Storage Space | 128 GB / 512 GB / 1 TB |
| Security | In-screen fingerprint sensor, Samsung Knox, face recognition, PIN, pattern lock, and password |
| Charging | Wired / Wireless |
| Extra | Wireless power-share |
Reviews:
| Source | Review |
| --- | --- |
| | Just got it yesterday. Upgraded from the S7. I was worried the size would be tough to get used to but so far it's really easy to use even with one hand. I'm also loving how much better the battery is. |
| | I've had every brand of flagship. This phone shits on all them. Battery life amazing! |
| | Came from iPhone X...I like the S10+ but I miss reliable notifications, and consistently smooth gestures and transitions. Another pain point has been bluetooth: I haven't experienced this much crackling, delay and out of sync issues from ear to ear for years. Ridiculous. Overall, I do enjoy the phone and set up. Lots of granular controls which are nice. |
| | Upgraded from a S9+ to the S10+ 128Gb and I'm loving almost everything about the phone. |
| | Loving my unlocked, snapdragon-having, ceramic white S10+! After the fingerprint update, unlocking the phone is smooth and swift. |
FAQs:
What colors do the Samsung Galaxy S10 Plus come in?
Prism White.
Prism Black.
Prism Blue.
Flamingo Pink.
Ceramic White.
Ceramic Black.
Which is better, the S10 or S10+?
The Samsung Galaxy S10 and S10 Plus have many similarities, but the S10 Plus has a bigger screen, more storage space, an RGB depth camera, and a bigger battery.
What can the Samsung Galaxy S10 Plus do?
Unlock your phone using the in-screen fingerprint sensor.
Connect your device to a desktop screen.
Share power wirelessly.
Record 960 frames-per-second slow-motion videos.
Expand storage capacity up to 1.5 Terabytes.
How much does the Samsung Galaxy S10 Plus cost?
The Samsung Galaxy S10 Plus costs between $999.99 and $1,599.99, depending on the storage capacity you prefer.
What comes in the Galaxy S10 plus box?
Data cable.
Travel Adapter.
Ejection pin.
USB connector.
AKG earplugs.
Does the S10 plus come with a case?
No. It does, however, come with a pre-applied screen protector.
How do I wake up my Galaxy S10 Plus?
In the Settings menu, go to "Advanced Features."
Select "Motion and Gestures."
Choose "Lift to wake" or "Double tap to wake up."
Which phone is better, the iPhone XS Max or Samsung S10 Plus?
This depends entirely on your taste and needs. Both phones are flagship models and are both regarded as great smartphones. However, comparing specs alone, the Samsung Galaxy S10 Plus offers more storage, more camera lenses, more RAM, a MicroSD slot, a bigger battery, and comes in more colors.
Does Galaxy S10 plus support 5G?
No, only the Samsung Galaxy S10 5G uses the modem that supports 5G.
Is S10 plus dual SIM?
The Samsung Galaxy S10 Plus is dual SIM elsewhere in the world, but the U.S. variant doesn't support dual SIM. You can get an S10 Plus with a different processor but it will only work on AT&T and T-Mobile.
What kind of headphones come with the Galaxy S10 Plus?
AKG earplugs come with the phone.
What is the best Galaxy S10 plus case?
There doesn't seem to be much consensus among reviewers on which cases are the best but Samsung offers a wide range of official covers for the phone.
How do you put a SIM card in a Galaxy S10 plus?
Insert the ejector pin that comes with the phone into the small hole on the top of the phone. Press the pin in until the slot pops out.
Is the Galaxy S10 plus waterproof?
The Samsung Galaxy S10 Plus has an IP68 water and dust resistance rating, which means it can be submerged in water up to 1.5m deep for half an hour and still work afterward.