Samsung Galaxy Note 10 Reviews
Learn more about the Samsung Galaxy Note 10 as a business smartphone. Includes user reviews, features, pricing, and answers to common questions.
Updated on March 31st, 2020
The SMB Guide is reader-supported. When you buy through links on our site, we may earn an affiliate commission. Learn more
The Samsung Galaxy Note 10 is one of the best smartphones for business. It offers excellent battery life, 256GB of internal storage, increased processing speeds, an S Pen, and a handwriting-to-text feature.
Pricing:
The Samsung Galaxy Note 10 costs $949.99.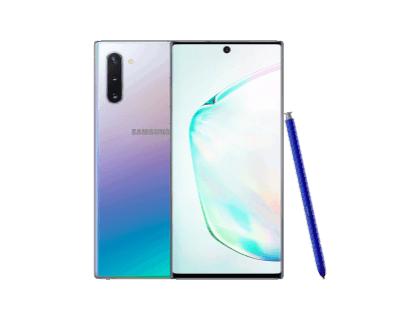 Review:
Pros: Handwriting-to-text feature and impressive processing power.
Cons: No microSD slot. No headphone jack.
Bottomline: The Samsung Galaxy Note 10 is a great option for its power, reliability, and host of interesting features when paired with the S Pen.
Specifications and Features:
| | |
| --- | --- |
| Battery | 3,500mAh |
| WiFi Hotspot | Yes |
| Connectivity | 4 G LTE, WiFi 6 |
| Processor / RAM | 7nm / 8GB of RAM |
| Storage Space | 256 GB |
| Security | Knox Security Platform, Facial Recognition, Ultrasonic Fingerprint, PIN, Password, Pattern. |
| Charging | Wireless, 25 W fast charging |
| Extra | S Pen, Bixby Assistant |
Reviews:
| Source | Review |
| --- | --- |
| | My wife just "upgraded" to Note 10 from her Note 8 and while she agreed that she can notice the downgrade in screen resolution after she got it, but the reason she got it is the reduced physical size. Think there will be a group of people who will still get the Note 10 for its size and not really interested in specifications. It certainly feels very good holding it with a small hand like my wife's |
| | wife got her note 10+ on wednesday. and it looks great. its a very tempting phone. this review helps further solidify that feeling. but man, i really don't want to reward samsung for removing the jack |
| | My ONLY beef with the Note 10+ (coming from a Note 9) is that the finger print scanner seems whack. I liked wayyy better having the tactile location to place my scan so I could do it without looking. THE on-screen scan feels just... off... Like I'm pressing down hard, smudging the screen, just to unlock my phone? Nah. Other than that, this phone is freaking BAD TO THE BONE |
| | I'm coming from a Note 9 and this is my 5th Note ever. The battery life on 10+ seems so much better, it was surprisingly awful on the 9 so I was thrilled I could trade it in for so much and take my chances on this one. I wish more phones could be like the Moto though, and allow snap-on batteries, I could go 3 days between charges on the Moto or 1 day of super heavy use with screen on almost all the time. Initially I don't notice a big increase in screen quality, etc, compared to the Note 9, which makes sense as it was all really good already. I like the slightly thinner body, and I got a skinnier case this time (10+ is Ringke Fusion, 9 is Case-Mate Sheer Crystal) so it is definitely more comfortable to hold this time. I'm going to have to get used to all the buttons being on the left, TBH I would really rather they were all on the right, or that they left the power button on the right, but yay for getting rid of the Bixby. |
| | Battery badass. Sitting at 8 and a half hours of screen on time with 14% after 15 and a half hours on battery. Blowing my Note 9, and definitely my Note 8, out of the water. |
FAQs:
How much is the Note 10?
The Samsung Galaxy Note 10 costs $949.99.
Does the Note 10 have a memory card slot?
No, the Samsung Galaxy Note 10 is limited to its 256 GB internal storage.
Does Note 10 have dual SIM?
Yes, the phone supports dual SIM.
What is the difference between Note 10 and Note 10 Plus?
The phones are similar in many ways, but the more expensive Samsung Galaxy Note 10 Plus has a bigger screen, a bigger battery, comes in more colors, has more space, and more processing power.
Does the Note 10 come with a screen protector?
Yes, the Samsung Galaxy Note 10 comes with a screen protector pre-applied.
Does the Note 10 have a headphone jack?
No, but the AKG earphones that come in the Samsung Galaxy Note 10 box connect through USB-C connection.
Will the Note 10 have expandable memory?
No, the Samsung Note 10 does not have a MicroSD slot, and so is limited to 256 GB internal storage.
Is the Note 10 water resistant?
Yes, the Samsung Galaxy Note 10 has a dust and water resistance rating of IP68, which means it can survive being submerged in water 1.5 meters deep for 30 minutes.
What colors will the Note 10 come in?
Aura Glow.
Aura Black.
Aura White.