Return Policy Template
Free return policy template with step-by-step guide or copy and paste for your business.
Updated on June 17th, 2020
The SMB Guide is reader-supported. When you buy through links on our site, we may earn an affiliate commission. Learn more
A return policy is a document that outlines how and when your customers can return goods and services. In some states, a detailed return policy is mandatory for all businesses.
Sample Return Policy Template:
Thank you for your purchase. We hope you are happy with your product. If, for any reason you are not completely satisfied, you may return it to us for a [full refund/exchange/store credit]. Please see information about our return policy.
Returns.
All items must be returned in new and unused condition with the original labels or tags attached. Items must be returned within ___ days of purchase.
Return Process.
To return an item, please drop it off at the business location where you made the purchase. Alternatively, you can drop off the item at our returns office [insert address]. If you would like to mail your return, please place the item in its original packaging and include your proof of purchase. You can mail your return to [insert address].
Shipping Charges.
Please note, you will be responsible for all shipping charges related to the return.
Refunds and Exchanges.
After receiving your return, we will inspect the condition of the item before processing your refund/exchange. Please allow at least ____ days to process your return. You will be notified by [email/telephone] when your return has been processed.
Exceptions.
The following items cannot be returned or exchanged: [Insert details here]
Contact Us.
If you have any questions about our return policy, please contact us at: [insert company information here]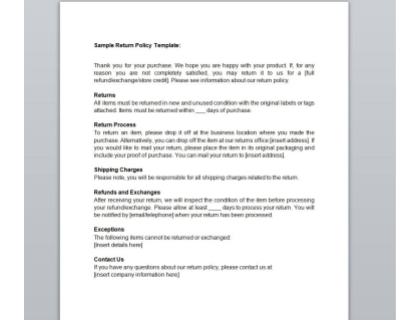 Return Policy Template Word Download:
Download this return policy template and create a personalized return policy in a few minutes.
Why Do You Need a Return Policy?
Protect your business from unwanted complaints:
A clear and concise return policy will mitigate the potential for customer dissatisfaction. By presenting your return policy with all goods and services, you will eliminate claims of false advertising or unclear store policies.
Safeguard your business against legal action:
Laws regarding refunds and returns vary from state to state. Return policies, which include online stores, are upheld by the state and by the Federal Trade Commission. Some states leave disputes to the retailer while others specifically outline requirements for the displaying of a return policy.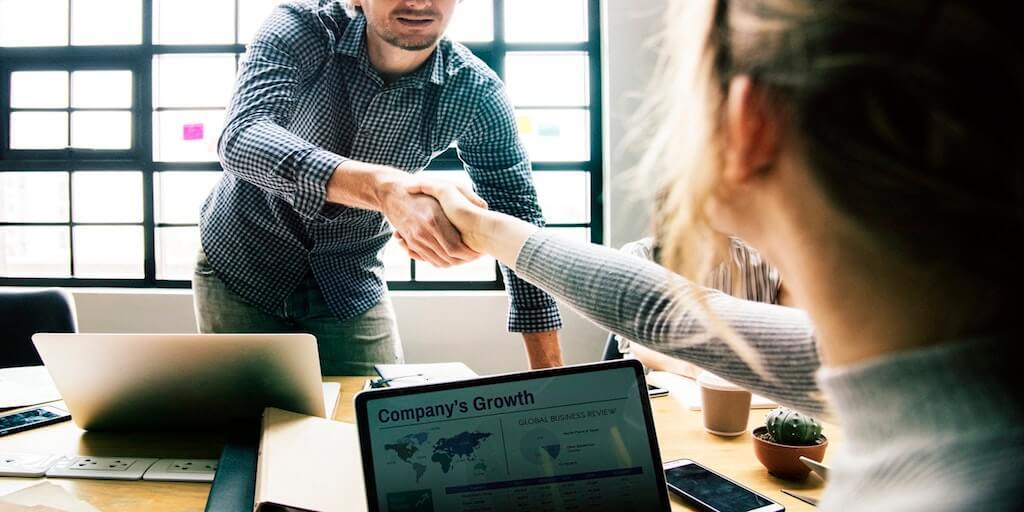 Read through a list of the best small business insurance providers and learn more about business insurance through FAQs and customer ratings.
Sep 25, 2020
Provide customers with a sense of security:
Customers expect to find clear refund and return policies when purchasing goods or services. They need to know when and how they can return items bought in-store or over the Internet. Having your policy clearly displayed provides a sense of security and encourages consumers to purchase your products.
Considerations for Small Businesses:
For small to medium sized businesses, refunds and returns are particularly important. Most SMBs rely on a small but loyal customer base. When creating your return policy, it is important to consider the needs of your customers and your business.
Depending on your operational abilities, your business may not be able to offer the same lenient policies that major online and retail stores provide. First, determine your business needs, and then incorporate your needs into your return policy. Always avoid using high-level legal language that can confuse consumers about the details of your policy. Your policy should be fair, justifiable, and easily understood.
How To Write a Return Policy:
1. Returns:
A business return policy should indicate if a customer is allowed to return goods that have been purchased or claim a refund on services that have been paid for. It is important to elaborate on the conditions of how and when customers can return items, what condition the items should be in, and what items cannot be returned.
2. Refunds:
The refund section of your policy should clearly state if your business offers refunds. If you do not offer any refunds, your policy should state this explicitly for all goods and services rendered. If you do offer refunds, define the type of refund available, the process, and the time-frame.
3. Exchanges:
Exchange policies can be incorporated into return policies or created separately. Exchanged goods can include goods or services of similar value. If you offer exchanges, your policy should include details about the condition of the goods being exchanged and the time in which they must be exchanged from the date of purchase.
4. Shipping:
Your shipping policy should be defined within your return policy. If a product is returned via mail, it is important to outline who is responsible for the shipping costs.
5. Warranty:
For businesses that sell warrantied products, it is always a good idea to include your warranty conditions inside your return policy as well as on your website or store entrance.
Return Policy Fraud - The Facts and Figures:
It is estimated that returns cost retailers around $351 billion in sales every year. While the majority of returns are valid, merchants lose around 6% of their revenue to return policy fraud. These figures only indicate cases where fraud has been identified. In reality the value could be a lot higher.
There are many reasons why customers want to fraudulently return items. The most popular reason is that customers simply want to "rent" the item and return it once they have used it. These items are exchanged or refunded because:
Return fraud is difficult to identify: There is no way of verifying the reason why an item is being returned.

Business want to preserve customer loyalty: Businesses process returns to avoid damage to their reputation and to keep their customer base.
FAQs:
What is a Return Policy?
A return policy is a document defining the conditions in which a customer can return goods or services for a refund or exchange bought in-store or online.
What information should be included in a Return Policy?
The condition of the item being returned.
If your business offers refunds/exchanges/store credit.
The time in which goods should be returned from date of purchase.
Shipping costs and return information.
Warranty information.
Store contact details.
What is the difference between a Return Policy and a Refund Policy?
Refund policies are often integrated into return policies. A refund policy defines when a purchase can be returned for a full or partial cash refund as opposed to an exchange of goods or for store credit.
Where should my Return Policy be displayed?
On your website.
On invoices.
On quotes.
On product labels.
When should I update my Return Policy?