Reolink Argus 2 Outdoor Wireless Home Security Camera
Learn more about the Reolink Argus 2 Outdoor Wireless Home Security Camera. Includes information on pricing, features, and frequently asked questions.
Updated on November 1st, 2019
The SMB Guide is reader-supported. When you buy through links on our site, we may earn an affiliate commission. Learn more
Pricing:
| Number of Cameras | Pricing |
| --- | --- |
| 1 Camera | $104.99 |
| 2 Cameras | $207.99 |
| 1 Camera + 1 Solar Panel | $125.99 |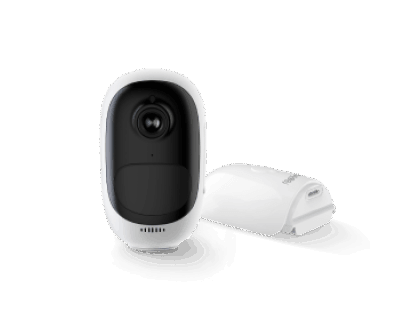 Review:
Pros: Eco-friendly powering option with a weather-resistant solar panel. Starlight CMOS Image Sensor for high-quality night vision.
Cons: SD card not included. Some issues have been reported with the 2-way audio.
Bottomline: The Argus 2 is a versatile, eco-friendly security option for the small business operating on a budget.
Key Features:
| Feature | Description |
| --- | --- |
| Video Resolution | 1080p HD at 15 frames/sec |
| Video Format | H.264 |
| Field of View | Fixed lens, 130° diagonal |
| Night Vision | Up to 10 m (33 ft.) |
| Digital Zoom | 6x digital zoom |
| Image Sensor | Starlight CMOS Image Sensor |
| Audio | High-quality speaker and microphone |
| PIR Detecting Distance | Adjustable up to 9 m (30 ft.) |
| PIR Detecting Angle | 120° horizontal |
| WiFi Standard | IEEE 802.11b/g/n |
| Operating Frequency | 2.4GHz |
| WiFi Security | WEP(ASCII)/WPA-PSK/WPA2-PSK |
| Operating Temperature | -10° to 55° C (14° to 131° F) |
| Weather Resistance | IP65 certified weatherproof |
Reviews:
| Source | Review |
| --- | --- |
| | We like the Reolink Argus 2 because it works just as well indoors as it does outside. Its starlight night vision gives you clear images up to thirty-six feet without any extra ambient light. This camera uses a rechargeable battery or solar power, so you have a lot of flexibility about where to place it. Setup is easy, but one glitch is that you have to set up cameras in the mobile app, which is only available on mobile devices. This can be tedious if you plan to set up multiple cameras around your property. |
| | I have the Argus 2, but it's a motion sensor only camera (I really love this camera for so many reasons, but it's not the best for this situation, IMO). I use one of them with a solar mount. Hidden in plain site and people never see it (but they sure see a "bullet camera"). The Argus2 works very well, but doesn't stay ON the network (to save the battery power), and that's HOW IT SUPPOSED to work (it records to an SD card). People get confused about it, but it will give you continual and good notifications. Now, the Great thing about the Argus2 is it's night vision. (the Argus 2 only). The other awesome thing about this camera is how many ways you can mount it. It takes the Arlo mounts. My neighbor has the original Arlo, and he hates it. The Argus 2 beats the crap out of the Arlo night vision (we compared). |
| | I am a big fan of the Reolink Argus 2. Rechargeable, battery operated; the crispest night vision I've seen anywhere (with a bit of ambient light you won't need the IR). SD card storage, viewable on phone. You can use different mounts: the magnetic mounts that come with it; other (Yi and Nest)) magnetic mounts also work. |
FAQs:
What is the difference between the Reolink Argus Pro and the Argus 2?
The Argus 2 can be used with an outdoor security mount or a wall magnet mount and features the Starlight 1080p sensor. The Argus Pro can only be used with an outdoor security mount and features a normal 1080p sensor.
How long does the Reolink Argus 2 battery last?
The Reolink Argus 2 runs on a rechargeable 3.63V battery with a capacity of 5200mAh. Reolink states that this battery will last for four to six months of normal usage, but that there are many factors that impact battery life, such as live streaming, motion detection, night vision, temperature, and Wi-Fi environment. Reolink also provides helpful hints to extend your camera's battery life.
Is Reolink's cloud storage free?
Reolink's basic cloud storage plan is free and includes 7-day cloud video history, 1GB of cloud storage, and supports 1 camera. For more storage space and camera support, you can subscribe to one of their paid plans. The Standard Plan is $4.99 /mo., the Premier Plan is $9.99 /mo., and the Business Plan is $14.99 /mo.
What is Starlight night vision?
Starlight night vision provides clear color images in low light conditions where other cameras have to turn on IR lights. Starlight cameras have larger sensors, wider apertures, and reduced shutter speeds to collect enough natural light to provide improved night vision.