Rehab Financial Group Reviews
Learn more about Rehab Financial Group's hard money loans. Includes information on pricing, features, and frequently asked questions.
Updated on March 31st, 2020
The SMB Guide is reader-supported. When you buy through links on our site, we may earn an affiliate commission. Learn more
The Rehab Financial Group is a hard money lender that offers first-lien loans for investors looking to acquire and rehab non-owner occupied, 1-4 family residential properties. Rehab Financial Group offers 100% of the purchase and rehab costs of your desired property.
Pricing:
Rehab Financial Group offers interest-only payments with no pre-payment penalties, early exit, or back-end fees.
Loan Details:
| | |
| --- | --- |
| Repair Funds | Up to 100% offered |
| Points | Starting at 2.0 points, paid at closing |
| Interest Rate | Starting at 10.99%, paid monthly |
| LTV | Up to 65% based on ARV on the rehab costs |
| Terms | 6 - 12 Months |
| Loan Size | $50,000 - $2,000,000 |
| Closing costs | Additional costs due at closing |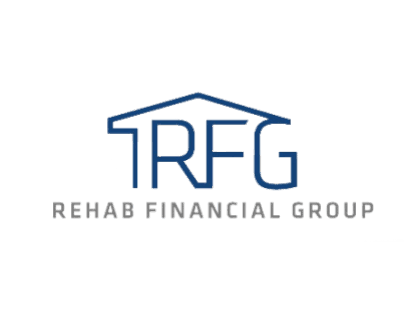 Review:
Pros: Offers up to 100% financing on purchase and repair costs, no pre-payment or early-exit penalty fees.
Cons: Must sell or refinance the property after 12 months to repay the loan, must live within 60 miles of the property.
Bottomline: Rehab Financial Group offers 100% financing with a 1-year term and competitive rates.
Key Information:
| | |
| --- | --- |
| Co-founder and President | Susan Naftulin |
| Founded | 2010 |
| Headquarters | Rosemont, PA |
| Number of employees | 2 - 10 |
| Contact Number | 1 (610) 645-9939 |
| Website | |
FAQs:
How much can I loan from Rehab Financial Group?
Rehab Financial Group will lend up to 65% of the ARV (after repair value) and calculates your loan based on the value of the property, your credit history, and your ability to make the loan payments.
Does Rehab Financial Group lend to LLCs, LPs, or corporations?
Yes, as long as the principal of the legal entity has a sufficient credit history and will personally guarantee the loan.
How fast can Rehab Financial Group close my loan?
Rehab Financial Group can close your loan in less than 2 weeks, as long as an acceptable title, appraisal, and inspection report have been received.
What are some Rehab Financial Group alternatives?