OpenSky Secured Visa Credit Card Overview
Read more about the OpenSky Secured Visa Credit Card with a list of features and benefits, pros & cons, and FAQs.
Updated on March 31st, 2020
The SMB Guide is reader-supported. When you buy through links on our site, we may earn an affiliate commission. Learn more
Rates and Fees:
| Rate or Fee Type | Amount |
| --- | --- |
| Annual Fee | $35.00 |
| Regular APR | 19.14% (variable) |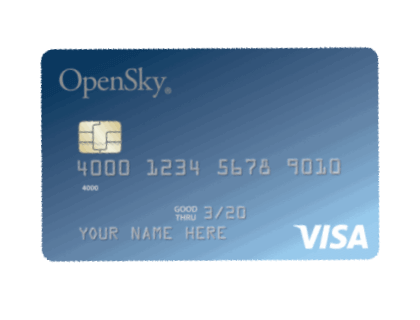 Review:
Pros: Provides credit tips, easy access to an account, and cardholders can set their own credit limits.
Cons: Does not offer any cashback, miles, or points.
Bottomline: Great choice for building credit and does not require any credit check during the application process.
Key Information:
| | |
| --- | --- |
| Parent Company | Capital Bank N.A. |
| Founded | 1999 |
| Headquarters | Rockville, Maryland |
| CEO | |
| Number of Employees | 51-200 |
| Address | 1 Church St, Ste 100, Rockville, MD 20850-4129 |
| Phone number | 1 (800) 859-6412 |
| Website | |
Features and Benefits:
Set your own credit limit.
Cardholders have the option to set their own credit limit as it is refined by the refundable deposit amount. The security deposit starts at $200 and can be increased to a maximum of $3,000. However, your limit will have to be approved first.
No credit check required during the application process.
Cardholders won't have to undergo a credit check when applying for a credit card. OpenSky believes in giving all applicants a chance to apply without their credit score being affected.
Email alerts and more.
You can set email alerts to receive payment reminders and notifications about any changes to your account.
Reviews:
| Source | Review |
| --- | --- |
| | I would recommend OpenSky secured. Lower APR, no credit check, and low AF. After you've had that a few months, and make your payments on time, you can apply for unsecured cards. You may even get Pre-approved offers in the mail like I did. |
| | I also would recommend OpenSky secured card for rebuilding. It does NOT graduate to secure but nonetheless offers the following benefits: No inquiry to obtain the card, One can deposit up to $3000. Depositing a larger amount is recommended if one is to seek higher limits later on, When this card reports, it does not report as secured, which is useful for any manual credit reviews that one may have later on, and It actually reports as its parent company, Capital Bank so does not even look like a secured card or like OpenSky |
| | Surprised no one has recommended OpenSky secured visa. I have one and happy with it so far, it works good for what it is. No credit check, doesn't graduate but also reports as a normal unsecured credit card. Annual fee of $35. |
| | Try a secured card from your bank. If that fails, try OpenSky secured Visa card. It's a pretty simple secured card that pretty easy to get approved for. I got approved, and I had no credit history at the time. It has a $35 annual fee, and they are slow to post your payment (takes about a week for your payment to clear and show on your account). |
| | OpenSky secured card might be something to consider. I had this card and never had any issues. But folks don't like it and say they have had negative experiences with it. |
FAQs:
How does OpenSky secured credit card work?
You can apply online for an OpenSky secured credit card. The credit line will depend on your refundable deposit, which starts at $200. With responsible use, cardholders can repair or establish their credit.
Does OpenSky report to credit bureaus?
Yes. OpenSky reports to the three major credit bureaus.
What are some OpenSky secured credit card alternatives?