OnPay
Discover more about OnPay - a top-rated payroll solution for small businesses. Includes OnPay pricing, ratings, reviews, and FAQs.
Updated on December 11th, 2018
The SMB Guide is reader-supported. When you buy through links on our site, we may earn an affiliate commission. Learn more
OnPay Inc., also known as Payroll Center, is an online full-service payroll solution for small businesses. It is known for its ease of use and ability to run payroll fast and efficiently, automate taxes, and perform HR tasks to simplify workflow.
Also Consider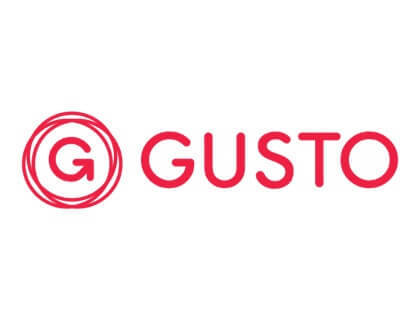 Get 1 month of Gusto FREE!
Start Free Trial
No extra fees.
Made for mobile.
Auto tax filing and digital paystubs.
OnPay Pricing:
| Plan Name | Monthly Pricing |
| --- | --- |
| Base Fee | $36.00 + $4.00 per employee |
OnPay Key Information Table:
| | |
| --- | --- |
| Co-Founders | Robert Griswold, John McDowell |
| Founded | 1982 |
| Headquarters | Atlanta, GA |
| CEO | Jesse Burgess |
| Number of Employees | 51-200 |
| Number of Customers | 1,000+ |
| Phone | 1 (877) 328-6505 |
| Address | 1230 Peachtree Street NE, Suite 1250, Atlanta, GA 30309 |
| Website | |
OnPay FAQs:
What is OnPay's price range?
OnPay payroll charges a base fee of $36.00 + $4.00 per employee depending on the number of active employees you have per month. Your first month with OnPay is free.
What features are included in OnPay payroll services?
OnPay capabilities include employee self-onboarding, payment via direct deposit, debit card or check, automated payroll taxes, unlimited pay runs, and fast performance. OnPay also integrates with top accounting, HR, and time-tracking software. OnPay is fully PCI compliant.
Is there an OnPay app?
No, but OnPay's site is mobile-friendly.
Where can I find good OnPay reviews to help me make a decision?
You can find detailed OnPay reviews on PCMag and Fit Small Business.
How do I get in touch with OnPay customer service?
The OnPay customer service phone number is 1 (877) 328-6505 and you can reach them on weekdays between 9am - 8pm (ET). OnPay also has a Knowledge Center which can be found under Resources on their webpage.
Where do I find the OnPay login page?
Visit OnPay's website and click Login in the top right-hand corner, or sign in directly at app.onpay.com/app/login.
OnPay Reviews:
| Reviewer | Rating | Review |
| --- | --- | --- |
| Jasha C. | 5/5 | Weekly pay reminders, and the interface is really easy to use. OnPay keeps track of the taxes and pays them on time. I really like the software, and it sure beats doing it yourself, or paying an accountant to do it, especially if you have few employees (like myself). I really like that the state and federal taxes and medicare are all handled by OnPay. |
| Jennifer G. | 5/5 | They have great customer service, easy payroll run, answer the phone with out any long wait. Never owned a small business before, they talked me through the set up, each step of the way. Very, very patient! |
| Mila K. | 5/5 | Great customer service, easy to use software, knowledgeable staff. |
| Kelly T. | 5/5 | For the very small business the price is great. We haven't found another payroll service that can touch what OnPay offers for us. Every question I have had has been answered satisfactorily in a reasonable period of time. Payroll is quick and easy to process. |
| Joshua B. | 4/5 | Software has all of the right features and the price is reasonable. Reports are easy to use. Customer support is swift and they work hard to resolve any issues. They are continuing to improve the system and software. We have occasionally found a bug that we needed to work through with the Onpay team. They were responsive though and helped to come to quick resolution in every case. |
| Isaac W. | 4/5 | It is very easy to get payroll up and running. Additionally, it has a good Quickbooks integration, however it doesn't tell you that the Quickbooks connection only lasts 30 minutes which is why you have to log in each time. It also has a great user interface and feels very modern and sleek. |
| Michelle P. | 5/5 | Great product and even greater customer support! Ease of use and the ability to make changes to our payroll online. Additionally there are so many features available with this product that makes using a payroll service obsolete. It is truly a one-stop shop for all of your payroll needs. |
| Tammy E. | 5/5 | I never imagined payroll could be this easy! I stressed every payroll cycle and every payroll deposit. If I made one mistake, it could throw off everything and cause me hours of frustration. Now, because it's in someone else's very capable hands, I can concentrate on the other many other aspects of my job. |
| Arek R. | 5/5 | Easy to operate for someone without experience in finance or HR, great price, running payroll is simple and effortless. The software is very intuitive and easy to use. I had no problem setting it up and like that employees are sent a link to input their personal and bank information upon hire/set-up. |
| Jim B. | 5/5 | Top quality service at minimal cost. I needed help setting up to use the software and the OnPay team made that a smooth process even for someone as ignorant about payroll processing as myself! I am very pleased with the service of the support team as well as the ease of use while entering payroll every week. |