OnePlus 6T Reviews
Learn more about the OnePlus 6 as a business smartphone. Includes user reviews, features, pricing, and answers to common questions.
Updated on March 31st, 2020
The SMB Guide is reader-supported. When you buy through links on our site, we may earn an affiliate commission. Learn more
The OnePlus 6T is one of the best smartphones for business. It offers fast performance and low power consumption, a user-friendly design, and the Oxygen Operating System creates a seamless software experience.
Pricing:
The OnePlus 6T costs between $499.00 and $619.00, but certain carriers may have special offers with contracts.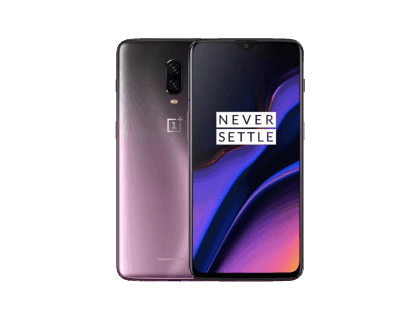 Review:
Pros: Has one of the fastest in-display fingerprint sensors and the battery charges quickly.
Cons: Does not charge wirelessly. No headphone jack.
Bottomline: The OnePlus 6T offers top-tier features at mid-tier prices. It is a great option for businesses with smaller budgets.
Specifications and Features:
| | |
| --- | --- |
| Battery | 3300 mAh |
| WiFi Hotspot | Yes |
| Connectivity | LTE/LTE-A, WiFi, Bluetooth, NFC |
| Processing Speed | 6 and 8 GB of RAM |
| Storage Space | 256 GB |
| Security | Fingerprint, face unlock |
| Charging | 5V 4A wired |
| Extra | RCS functionality |
Reviews:
| Source | Review |
| --- | --- |
| | I recently went from a Note 9 to a 6T and am absolutely pleased with the move. The camera on the 6T could be better, but overall it's been pretty amazing. |
| | I love it. Of course no device is perfect and I do have some, albeit minor, gripes with the device, but its so much more positive than it could ever be negative in terms of experience. This is the first phone that does justice to what, in my opinion, an Android flagship should be. |
| | i also switched from iPhone (7-8 years) to OnePlus 6T and i dont have any regrets by doing so. i absolutelly love this device. |
| | I also have the OP 6T I am very happy with it, I really love the UD fingerprint scanner, I can live without the headphone jack. But my problem is, that the screen is darker than my old phone(OnePlus 5)... |
| | 6T is my first OP phone, I switched to it after 4 years of Galaxy S6 so to say that I'm loving the experience so far is an understatement. The one problem I have is the vibration motor, it's very weak and I miss nearly all notifications when it's set to vibrate. I'm also dissapointed that there is only one speaker on the bottom. I have expected two speakers seeing how they got rid of the headphone jack. You'd think they'd fit two in. And there is a small camera problem I'm experiencing. When in 3rd party apps the front facing camera is much narrower than in the default camera app. Not sure if that's app compatibility or OOS problem but it'd be nice if it was resolved sometime soon. Apart from those minor details I can't complain. I'm in love with this phone and I'm hoping it'll last me for another 4/5 years to come without any problems like I've experienced with my last phone. |
FAQs:
Who is the manufacturer of the OnePlus 6T?
OnePlus Technology Co., Ltd.
What is special about the OnePlus 6T?
The smartphone has one of the fastest in-display fingerprint sensors. And, OnePlus claims half an hour is all you need to charge the phone.
Is it worth buying the OnePlus 6T now?
Yes. The phone offers great features, design, and functionality at an inexpensive price. If you don't need water resistance and wireless charging, it is a good option.
Will the OnePlus 6T be discontinued?
News reports say that while the OnePlus 7 and OnePlus 7 Pro have already been released, OnePlus will not be discontinuing the OnePlus 6T like it did the OnePlus 6.
Is OnePlus 6T better than OnePlus 7?
While the OnePlus 6T offers high-end features and functionality at a lower price, the OnePlus 7 Pro is a better phone. It offers a better screen, newer unlocking technology, a bigger battery, and increased processing power.
Does OnePlus 6T have wireless charging?
No, the OnePlus 6T 3700 mAh battery is wire-charged.
Is the OnePlus 6T 5G?
No, but OnePlus has reportedly said work is being done on a new line of smartphones that will support 5G.
How long does the OnePlus 6T battery last?
Some tests place the OnePlus 6T's battery life at around 9 hours, but there have been reports of it being as low as 4 hours.
Does OnePlus 6T have dual speakers?
No. It has a bottom-facing speaker.
Does the OnePlus 6T have a microSD slot?
No, the OnePlus 6T has a dual nano-SIM slot.
Is OnePlus 6T dual VoLTE?
Yes, the smartphone supports dual VoLTE.
Does OnePlus 6T have an audio jack?
There is no audio jack on a OnePlus 6T.
Does OnePlus 6T support fast charging?
Yes. OnePlus says on the website the battery needs only half an hour to charge enough to unplug and go.
Does OnePlus 6T work in USA?
Yes. It supports a broad range of bands used in the U.S.
Does OnePlus 6T come with a screen protector?
Yes, it comes with one screen protector pre-applied.