Nokia 6.2 Reviews
Learn more about the Nokia 6.1 as a business smartphone. Includes user reviews, features, pricing, and answers to common questions.
Updated on April 1st, 2020
The SMB Guide is reader-supported. When you buy through links on our site, we may earn an affiliate commission. Learn more
The Nokia 6.2 falls under the "budget" category and is one of the best smartphones for business. It is an upgrade from the Nokia 6.1 and boasts a 1080p HD display, a durable build, and regular Android updates, among other features.
Pricing:
The Nokia 6.2 sells for $250.00.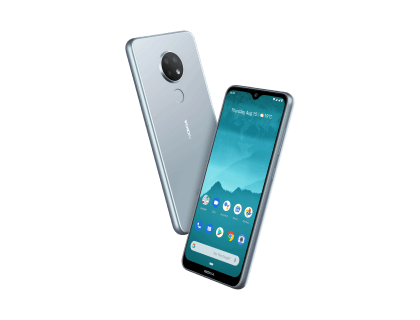 Review:
Pros: Affordable "budget" smartphone that comes with guaranteed Android updates.
Cons: Not waterproof.
Bottomline: The Nokia 6.2 is a reliable smartphone and excellent value for money, but might not make the cut for users who want the best of speed and long-lasting batteries.
Specifications and Features:
| | |
| --- | --- |
| Battery | 3,500 mAh |
| Wifi Hotspot | Yes |
| Connectivity | Bluetooth 5.0, NFC |
| Processing Speed | 3GB RAM |
| Storage Space | 32GB with expandable memory |
| Security | Biometric security |
| Charging | Wireless |
| Extra | Google Assistant |
FAQs:
Is the Nokia 6.2 any good?
The Nokia 6.2 has mixed reviews online. It's a budget phone, so users do not expect top-tier smartphone features, and are generally happy with the product. They like its large, bright screen, good battery life, frequent Android updates and low price tag. They don't enjoy its camera quality and average processor.
Is the Nokia 6.2 dual SIM?
The Nokia 6.2 has one SIM slot and an extra slot that can be used for either a SIM or expandable memory.
Is Nokia 6.2 a 4G phone?
Yes. The Nokia 6.2 is 4G compatible.
Does the Nokia 6.2 have a front camera?
Yes. The Nokia 6.2 has a 8 MP front camera.
Does the Nokia 6.2 have NFC?
The Nokia 6.1 is NFC compatible, with the exception of India.
Is the Nokia 6.2 waterproof?
The Nokia 6.2 does not have any waterproof rating.
Does Nokia 6.2 have Gorilla Glass?
Yes, the Nokia 6.2 has a layer of Gorilla Glass 3 on top of its display.
How much does Nokia 6.2 cost?
The Nokia 6.2 sells for $250.00.