Nokia 6.1 Reviews
Learn more about the Nokia 6.1 as a business smartphone. Includes user reviews, features, pricing, and answers to common questions.
Updated on November 18th, 2019
The SMB Guide is reader-supported. When you buy through links on our site, we may earn an affiliate commission. Learn more
The Nokia 6.1 falls under the "budget" category and is one of the best smartphones for business. It boasts a 1080p HD display, a durable build, and regular Android updates, among other features.
Pricing:
The Nokia 6.1 sells for $269.00.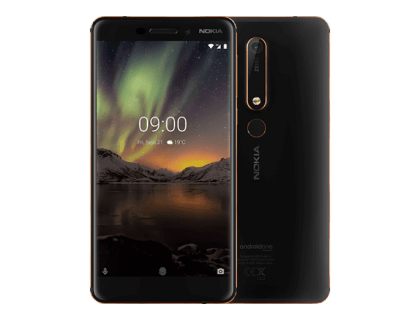 Review:
Pros: Affordable "budget" smartphone that comes with guaranteed Android updates.
Cons: Not waterproof and no dual camera at the back.
Bottomline: The Nokia 6.1 is a reliable smartphone and excellent value for money, but might not make the cut for users who want the best of speed and long-lasting batteries.
Specifications and Features:
| | |
| --- | --- |
| Battery | 3,000 mAh |
| Wifi Hotspot | Yes |
| Connectivity | Bluetooth 5.0, NFC |
| Processing Speed | 3GB RAM |
| Storage Space | 32GB with expandable memory |
| Security | Biometric security |
| Charging | Wireless |
| Extra | Google Assistant |
Reviews:
| Source | Review |
| --- | --- |
| | For $269, this is a very good handset with all the features and specifications you need. The camera, although finicky, captures shots good enough to post, and many issues can be fixed via software updates. On that point, updates are frequent, unintrusive, and guaranteed for two years (with security updates guaranteed for three years). Performance is good and the specifications are enough for most tasks, and battery life is excellent. The display is good, and the overall design looks good, though it's not the easiest to hold in the hand. All in all, you'll be getting what you paid for and a little more, such as an actual warranty. |
| | Kinda, smooth animations and transitions and game performance has increased. but the OS feels very heavy and still stutters. |
| | Only issues I've had with my 6.1 is an inconsistent fingerprint reader (could be because I always have sweaty hands) and a super shit camera experience which has been fixed with Android pie. The phone has been really great to me and is built like an absolute tank which is great for someone as clumsy as me. I've dropped it so many times glass facing the ground and the screen is still fine. Would recommend |
| | I have had mine for a couple months now and I have no complaints. I haven't experienced any random freezing like others so can't comment there. Battery lasts me 1-2 days depending on usage. As for the camera, the stock camera does suck but I installed gcam and it takes great daylight pictures and helps considerably with low light. I was debating on whether I should get the Nokia or go with either the Xperia XA2 or Moto X4, but I ultimately ended going with the Nokia because of the quick updates. I'm on Oreo 8.1 with the June security patch. Really satisfied overall |
| | I've been rocking mine for almost 3 months now, a few software clitches (mainly related to random freezing, camera and NFC) aside, this is an awesome handset, Build quality and software is gooood. |
FAQs:
Is the Nokia 6.1 dual SIM?
The Nokia 6.1 has one SIM slot and an extra slot that can be used for either a SIM or expandable memory.
Is Nokia 6.1 a 4G phone?
Yes. The Nokia 6.1 is 4G compatible.
Does the Nokia 6.1 have a front camera?
Yes. The Nokia 6.1 has a 16 MP front camera.
Does the Nokia 6.1 have NFC?
Yes, the Nokia 6.1 is NFC compatible.
Is Nokia 6.1 a good phone?
The Nokia 6.1 has mixed reviews online. While it is criticized for its camera quality and design, it is lauded for its frequent Android updates and low price tag.
Is the Nokia 6.1 waterproof?
The Nokia 6.1 does not have any waterproof rating.
What is the difference between Nokia 6.1 and 6.1 Plus?
The Nokia 6.1 Plus differs in a few ways.
Taller and wider body and screen size.
More powerful processor.
Upgraded camera.
Marginally better battery.
Does Nokia 6.1 have Gorilla Glass?
Yes, the Nokia 6.1 has a layer of Gorilla Glass 3 on top of its display.
How much does Nokia 6.1 cost?
The Nokia 6.1 sells for $269.00.