Netgear Arlo Pro
Learn about Netgear Arlo Pro features and pricing, see what customers have to say, get ratings, and answers to common questions.
Updated on November 18th, 2019
The SMB Guide is reader-supported. When you buy through links on our site, we may earn an affiliate commission. Learn more
The Arlo Pro by Netgear is a smart security camera with motion detection that is wireless, IP65 certified weather-resistant, rechargeable, and offers HD and audio. Base station comes with siren built-in.
Buy Now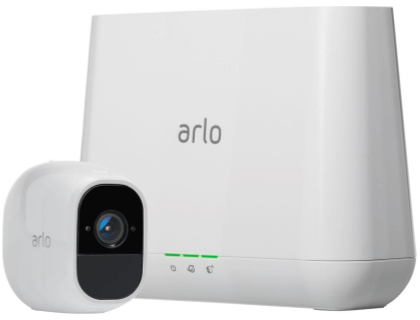 Buy on Amazon
100% Wire-Free
HD Quality
IP65 certified weather-resistant
Advanced Motion Detection
Pricing:
| Number of Cameras | List Price |
| --- | --- |
| 1 | $249.99 |
| 2 | $419.99 |
| 3 | $579.99 |
| 4 | $599.04 |
| 6 | $949.99 |
FAQs:
Where can I buy the Netgear Arlo Pro security system?
You can buy the Arlo and the Netgear Arlo Pro 2 online from sites like Amazon, or go to electronics stores like Best Buy.
What features does the Arlo Pro 2 by Netgear have?
1080p HD Quality.
Activity zones to detect motion in specific places.
3-second look back on triggered events.
Where can I find Netgear Arlo Pro Review information?
The Arlo Pro by Netgear Security System with Siren has been reviewed on Amazon more than 13,000 times and gets 4.1 out of 5.0 stars. On Bestbuy's website, it receives a 4.4 out of 5.0 stars from 5,767 reviewers.
What is the resolution of the Netgear Arlo Pro HD?
The Netgear Arlo Pro camera has a resolution of up to 1280 x 720.
Reviews:
| Reviewer | Rating | Review |
| --- | --- | --- |
| Matt | 5.0 | Great for do-it-yourselfers. |
| Alex | 5.0 | Great flexibility. |
| Rob | 3.0 | Too glitchy to trust. |
| Dora | 4.0 | Nice cameras, battery life not very long. |
| Berto | 2.0 | It's ok. |