Nest Cam IQ Outdoor Security Camera
Learn more about the Nest Cam IQ Outdoor Security Camera. Includes information on pricing, features, reviews, and frequently asked questions.
Updated on November 18th, 2019
The SMB Guide is reader-supported. When you buy through links on our site, we may earn an affiliate commission. Learn more
Pricing:
| Camera Packs | List Price |
| --- | --- |
| 1-pack | $399.00 |
| 2-pack | $798.00 |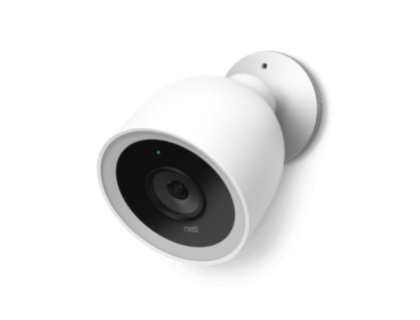 Review:
Pros: High-quality audio. Clear video quality. Includes an installation guide for DIY installation.
Cons: Requires a power cable. Some features are only available to subscribers to the cloud storage plan. No local storage.
Bottomline: The Nest Cam IQ Outdoor Security Camera is a well-designed, tamper-resistant security solution for your business.
Key Features:
| Feature | Description |
| --- | --- |
| Video Resolution | Up to 1080p (1920 x 1080) at 30 frames/sec, H.264 encoding, HDR |
| Camera | 1/2.5-inch, 8 megapixel (4K) color sensor, 12x digital zoom and enhance, close-up tracking view |
| Field of View | 130° diagonal |
| Night Vision | High-power 850 nm infrared LEDs |
| Security | 128-bit AES with TLS/SSL |
| Wireless | 802.11a/b/g/n/ac (2.4GHz/5GHz) 2x2 MIMO Wi-Fi; WEP, WPA, WPA2 encryption supported, 802.15.4 (2.4GHz), Bluetooth Low Energy |
| Operating Temperature | –40° to 113°F (–40° to 45°C) |
| Weather Resistance Rating | IP66 rating (weatherproof) |
| Audio | High-quality speaker, 3-microphone array |
| Sensors | Ambient light |
| Lights | Status light and RGB light ring |
| Other | RoHS compliant, REACH compliant |
Reviews:
| Source | Review |
| --- | --- |
| | If you are looking in the smart home consumer space then it is undoubtedly the Nest Cam IQ Outdoor. It is really solidly built, has a full 4K sensor that allows it to zoom in and follow people in frame and it taps into Google AI engine. I have one at home and it is heads and shoulders above pretty much everything on the market in terms of durability, features and image quality. It also has some of the best temperature and weather-proofing ratings if you live in a cold or wet climate. |
| | i have both iq outdoor and regular outdoor. normally streaming they have the same video quality but it is the facial recognition and zoom in feature and better audio that are worth the extra cost. |
| | I have the IQ, no experience of the standard outdoor. A number of things made me go for the IQ, specifically: 1. HDR, something my placement really benefits from. 2. Full duplex audio, though with hindsight, this wouldn't be on the list. 3. More secure mount design 4. A smaller hole is required to run the cable through the wall 5. The design means, at least for my setup, that the cable is entirely hidden |
FAQs:
What's the difference between the Nest Cam and the Nest Cam IQ?
The Nest Cam IQ is more expensive than the Nest Cam and provides more features, such as a 4K sensor for zooming in 1080p, facial recognition, and built-in speaker to function as a Google Assistant device.
Can you use the Nest outdoor camera without a subscription?
Yes. You can view the live stream of your Nest Cam as well as snapshots of instances of motion detection up to 3 hours in the past.
How far can the Nest outdoor camera see?
The Nest Cam IQ Outdoor Security Camera has a 130° diagonal field of view with up to 12x digital zoom. During the day, the camera can see as far as the human eye and at night it can see up to 50 feet.
Is there a monthy fee for the Nest Cam?
There is no monthly fee for the Nest cameras, but there is a subscription for Google Nest Aware. This subscription ranges from $5.00 to $30.00 a month, depending on the camera pack you choose, and you can save up to 50% on additional Nest Cams.
Is the Nest Cam IQ Outdoor Security Camera wireless?
The Nest Cam IQ is 802.11a/b/g/n/ac (2.4GHz/5GHz) 2x2 MIMO Wi-Fi; WEP, WPA, WPA2 encryption supported but does use an AC power adapter.
How much does it cost to install a Nest outdoor camera?
The Nest Cam IQ Outdoor Security Camera allows for DIY installation.
How do I hide my Nest Cam?
Buy colored camera skins to camouflage your Nest Cam.
Hide your Nest Cam in a tree or bush.
Tuck your Nest Cam into corners.
Can a Nest outdoor camera be used indoors?
Nest's outdoor cameras are not designed to be used in an indoor environment so it may not perform as well. You may also have problems with setting up your cameras as they require mounting.
What are some Nest Cam IQ Outdoor Security Camera alternatives?