Moto E5 Plus Reviews
Learn more about the Moto E5 Plus as a business smartphone. Includes user reviews, features, pricing, and answers to common questions.
Updated on March 31st, 2020
The SMB Guide is reader-supported. When you buy through links on our site, we may earn an affiliate commission. Learn more
The Moto E5 Plus falls into the "budget" category and is one of the best smartphones for business. It boasts a massive 5,000 mAh battery, expandable storage, and a bright, 6-inch display, among other features.
Pricing:
The Moto E5 Plus costs between $180.00 and $288.00.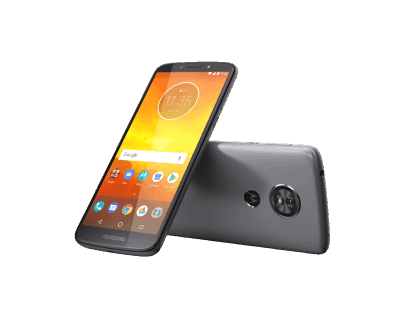 Review:
Pros: Long-lasting battery and a large, 6-inch display.
Cons: Moderate camera quality and only available on Sprint and Cricket.
Bottomline: The Moto E5 Plus is one of the best budget smartphones out there and despite its low price, it packs a ton of power and battery life, making it an ideal choice for business users.
Specifications and Features:
| | |
| --- | --- |
| Battery | 5,000 mAh |
| WiFi Hotspot | Yes |
| Connectivity | Bluetooth 4.2 |
| Processing Speed | 3GB RAM |
| Storage Space | 32GB with expandable memory |
| Security | Biometric sensors |
| Charging | Wired |
| Extra | Google Assistant |
Reviews:
| Source | Review |
| --- | --- |
| | This is an extremely affordable phone for any user who just wants an Android smartphone to make calls, check their emails, messages, and even play a game/youtube for a few hours a day. Personally, this is the first smartphone I've had in many years where I have not worried about charging it in the car or wherever I go. I can let it all hang out and just charge it whenever I like because I know it will last me for at least a day before I have to worry about where the nearest plug is. The phone is a bit tall even for my liking, but I hope that a new case will help me get a good grip on it. Who knows. Even without a case, I have been able to manage the phone with just one hand several times (even though awkward), but even that negative does not compare to the Moto E5 Plus' ability to hang in there with battery life, responsiveness, nicely/feely construction, and most of all, PRICE. |
| | So far pretty impressed with the signal on my e5 play; went from 1-2 bars in the far corner of my house (thick walls lol) to 4-5. I think it's using B71 here, but I haven't figured out how to really check yet. The real test will be how it performs on my commute... |
| | My mom cracked her S6 Edge Plus yesterday so I just bought this for her tonight. I'm worried about the camera being less than a lateral move but that's saying something when comparing a budget phone with an-almost $800 older flagship. The user interface is nice and slick. The screen looks good. The phone is a little narrower which should make it easier for even small hands to one-hand. I hope she likes it. So far so good. |
| | It is a great looking device Very sturdy and shiny. . I got mine yesterday and I only had time to take it out and get the software update. I haven't rally toyed with it much, but overall, it is as tall as the Note 9 and V10 (which I have both). I did notice the quality of the screen pales in comparison of the V10 and the Note 9, but that is not to take away from its beauty. |
| | The battery life and signal strength are both fantastic. There's a reason why Motorola's radio stuff is still one of the best. I'm a ham radio operator so I really know radio. |
FAQs:
Is the Motorola E5 Plus a good phone?
The Motorola E5 Plus has mixed reviews online. While it is criticized for its camera quality and overly-large size, it is praised for its extended battery life and screen real estate.
See our Motorola E5 Plus summary review.
What is the difference between Moto E5 Plus and Moto E5 Play?
While both are budget phones, the Moto E5 Plus differs from the Play in a few key areas.
More storage space (32GB vs 16GB).
More RAM (3GB vs 2GB).
Significantly larger battery (5,000 mAh vs 2,800 mAh).
TurboCharge for faster charging.
Stronger, more durable glass (Gorilla vs polymer).
Larger body and screen size.
See the full Moto E5 Plus spec breakdown.
When did the Moto E5 Plus come out?
The Moto E5 Plus came out on July 10, 2018.
How much is the Moto E5 Plus?
The Moto E5 Plus costs between $180.00 and $288.00.
Does the Moto E5 Plus have Gorilla Glass?
Yes, the Moto E5 Plus is layered with Corning Gorilla Glass.
Does the Moto E5 Plus have a removable battery?
No, the Moto E5 Plus has a non-removable battery.
Is the Moto E5 Plus water resistant?
While the Moto E5 Plus has a water-resistant coating, it has no official IP rating, making it unsuitable for use in wet conditions.
Does Moto E5 Plus support fast charging?
Yes, the Moto E5 Plus has 15W TurboPower charging which drastically increases charge times.
Does the Moto E5 Plus have a notification light?
No, the Moto E5 Plus does not have a notification light.