Mediacom Business Review
Learn more about Mediacom Business internet services. Includes information on Mediacom Business, pricing, customer reviews, and FAQs.
Updated on January 13th, 2020
The SMB Guide is reader-supported. When you buy through links on our site, we may earn an affiliate commission. Learn more
Small Business Pricing:
| Product | Monthly Price |
| --- | --- |
| Business Internet: Up to 60 Mbps download; 5 Mbps upload | $129.95* |
| Business Internet: Up to 100 Mbps download; 10 Mbps upload | $169.95* |
| Business Internet: Up to 300 Mbps download; 20 Mbps upload | $229.95* |
| Business Internet: Up to 1 Gbps download; 30 Mbps upload | $329.95* |
| Gigabit+ Fiber Internet | Contact for quote. |
| Business Wi-Fi (Add-On Service) | $5.99 |
| Business Phone | $39.95 for the first line; $29.95 for each additional line.* |
| Toll Free Number | $7.50* |
| Music Choice | $39.95 |
| Business Limited Basic TV | $43.00 |
| Business Basic TV (includes Music Choice package) | $83.95 |
| Business Internet, Phone, and TV Package | From $129.95 |
*When users sign a three-year contract. Excludes installation fee and recurring monthly charges. Price increases by $20.00 each year during the contract period.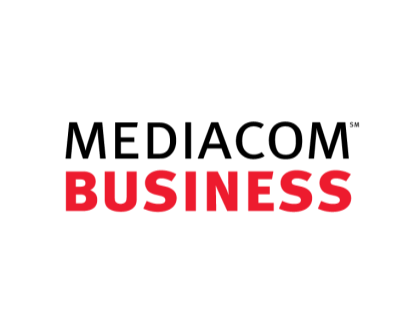 Review:
Pros: Fast internet speeds with no data caps. Offers 24/7 local support.
Cons: Requires a 3-year agreement. Higher pricing than competitors. Does not offer nationwide coverage.
Bottomline: Mediacom Business offers fast internet with 24/7 network monitoring and bandwidth scalability.
Key Information:
| | |
| --- | --- |
| Legal Name | Mediacom Communications Corporation |
| Founder | Rocco Commisso |
| Founding Date | Jul 01, 1995 |
| Address | 1 Mediacom Way Mediacom Park, NY 10918 |
| Number of Employees | 4600 |
| Number of Customers | 1400000 |
| Email | |
| Telephone | |
| Website | |
Mediacom Business News & Activity:
FAQs:
Is Mediacom reliable?
Mediacom Business offers high-speed internet and 24/7 network monitoring. Mediacom Business states on their website that they average over 99.99% reliability.
Is Mediacom a good internet service?
Medicom Business offers high-speed internet with download speeds ranging from 60 to 1000 Mbps and no data caps. However, they are more expensive than their competitors.
Is CenturyLink better than Mediacom?
CenturyLink is less expensive than Mediacom and offers wider coverage, but Mediacom offers faster internet speeds.
Does Mediacom do payment arrangements?
There are no payment arrangement options listed on Mediacom's website.
How much does Mediacom cost per month?
It depends on the product and plan that you choose. Mediacom Business's internet plans cost between $129.95 and $329.95 per month. Prices for Gigabit+ Fiber Internet are not disclosed on their website. Business phone solutions start at $39.95 per month for the first line and $29.95 per month for every subsequent line. The company also offers business TV services that range between $39.95 and $83.95 per month.
What is the best modem for Mediacom?
If you purchase a high-speed internet package of 500 Mbps and above from Mediacom, you should use a DOCSIS 3.1 cable modem.
Who is Mediacom owned by?
Rocco B. Commisso owns Mediacom.
What are some alternatives to Mediacom Business?
Customer Reviews:
mbo222
Reviewed: Jul 04, 2014
Source: SoWal
I will say that I switched to mediacom business class for my internet last year..whole different experience. Service w/in 24h and pleasant. yes its more expensive, but at least here you get what you pay for.
jeremycobert
Reviewed: Feb 09, 2017
Source: Reddit
Actual ICN user here from 2005-2007 or so. I was a network administrator for a large school district. We had 32 schools connected 5 at 5mb and the rest at 2.5mb's and we really had no choice to increase this as the back plane could not support our 10/100 switches. We upgraded to gig switches and had to drop the ICN and switch to Mediacom business in 2007. The difference was unbelievable in speed and we now had an up time around 99.8% compared the the ICN's 86%. So no thanks, I shudder at the thought of going backwards. Also, nobody bid on it because it operates at a loss of $36.1 million for the previous five-year period. Nobody can make it profitable.