Maximus Smart Security Light
Learn more about the Maximus Smart Security Light. Includes information on pricing, features, and frequently asked questions.
Updated on September 6th, 2019
The SMB Guide is reader-supported. When you buy through links on our site, we may earn an affiliate commission. Learn more
The Maximus Smart Security Light is an outdoor security camera that is designed to look like a simple outdoor light fixture, keeping your security camera hidden. The Maximus Smart Security Light will replace your current light fixture, is weatherproof, and simple to set up.
Pricing:
| Camera Light Design | List Price |
| --- | --- |
| Coach | $223.00 |
| Traditional Black | $223.00 |
| Traditional Bronze | $224.00 |
| Contemporary | $226.00 |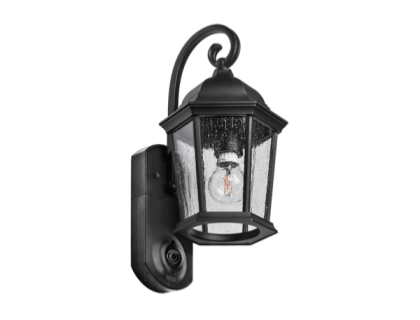 Review:
Pros: Features motion detection. Light is motion-activated from dusk to dawn and can be turned on or off through the Kuna app.
Cons: As a porch light there are limited placement options and only limited adjustments can be made to the field of view. A subscription is necessary to access all the features.
Bottomline: For a hidden camera that is aesthetically pleasing as well as functional, the Maximus Smart Security Light is a good option.
Key Features:
| Feature | Description |
| --- | --- |
| Camera Resolution | 720p HD |
| Field of View | 116° diagonal |
| Motion Sensing | Yes (PIR motion sensor) |
| Motion Detection Range | 6 ft. |
| Auto On/Off | Yes |
| Incandescent Wattage Equivalent | 60 watts |
| Connectivity | Wi-Fi, Bluetooth 4.0 |
| Siren | 100 db siren and high fidelity speaker |
| Works with | Google Assistant, iOS and Android devices |
FAQs:
Is Kuna and Maximus the same?
The Maximus and Kuna are two cameras that are owned by the same company, work on the same platform, and both function off of the Kuna app and Kuna Cloud.
Take a look at our guide to the Maximus Smart Security Light.
How much is Kuna monthly?
Kuna's plans range from $4.99 to $19.99 per month and include features such as Look Back, unlimited downloads, theft protection, Kuna AI, custom greetings, and discounts on future purchases. The cameras are a once-off equipment purchase.
Is Kuna compatible with Alexa?
Yes. You can use Alexa to control your Kuna security device.
Check out our guide to the Maximus Smart Security Light.
What is Kuna AI?
Kuna AI is a smart security feature that can recognize faces, objects, and vehicles and alerts you to the different motions it detects. In other words, Kuna AI can tell you if the motion it detects is a person or a car, as well as how many are in view.
How do I turn off my Kuna camera?
You can use your Kuna app to access your camera's features. You'll be able to turn the light on and off or set it to a schedule, use the microphone, adjust the sensitivity of the motion detection, and turn notifications on and off, among other things. You may need to subscribe to a Kuna plan to access all of these features.
Does Kuna work with Google Home?
Yes. You can use Google Home to turn your Kuna lights on and off.
How do you use the Kuna app?
You can use the Kuna app for a variety of features. If there is a specific issue you need help with, take a look at Kuna's help page for advice.