M&T Bank Small Business Banking
Learn more about M&T Bank business banking with features & benefits, rates & fees, and frequently asked questions.
Updated on February 10th, 2022
The SMB Guide is reader-supported. When you buy through links on our site, we may earn an affiliate commission. Learn more
M&T Bank is an American bank that provides a variety of financial solutions, including business bank accounts for businesses of all sizes. Business owners can set up business checking and savings accounts at M&T to securely manage their money.
Rates & Fees:
| | |
| --- | --- |
| M&T Simple Checking for Business | $10.00 /mo. |
| M&T Tailored Business Checking | $20.00 /mo. |
| M&T BizFlex Checking | $50.00 /mo. |
| Commerical Checking | $28.00 /mo. |
| Non-Profit Checking | $7.50 /mo. |
| M&T Medical Services Checking | $25.00 /mo. |
| M&T Professional Services Checking | $10.00 /mo. |
| M&T Business Interest Checking | $22.00 /mo. |
| Commercial Money Market Savings Account | $0.00 or $10.00 /mo. (depending on balance) |
| Commercial Savings Account | $0.00 or $5.00 /mo. (depending on balance) |
| M&T Market Advantage for Business Savings | $0.00 or $12.50 /mo. (depending on balance) |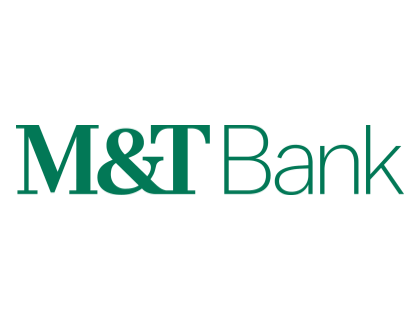 Review:
Pros: Over 2,000 ATMs nationwide. Checking fees can easily be waived.
Cons: Steep overdraft fees.
Bottomline: Fees are higher than some big banks, but M&T has a strong national network if you need a bank with easy accessibility.
Key Information:
| | |
| --- | --- |
| Legal Name | M&T Bank |
| Founding Date | Jan 01, 1856 |
| Address | 1 M&T Plaza, Buffalo, NY 14203 United States |
| Number of Employees | 17000 |
| Number of Customers | 2000000 |
| Email | |
| Telephone | |
| Website | |
Features & Benefits:
Customized banking options.
If you need a unique banking solution that meets the demands of your business, an M&T banking expert can help you by creating a financial set up that works for you.
Merchant services.
M&T has a host of convenient merchant services that can be integrated with your M&T business banking products to allow for seamless financial activity.
Online and mobile banking.
M&T allows you to have complete access to your bank accounts through their online and mobile banking platforms. With online and mobile banking, you can access your account information and make changes whenever and wherever you like.
Low monthly checking fees.
M&T's monthly fees for checking accounts range in price from $10.00 to $50.00, but these fees can be waived if your business maintains a high enough monthly balance.
FAQs:
What does M&T Bank stand for?
The "M&T" in M&T Bank stands for "Manufacturers and Traders Trust Company."
Does M&T use Zelle?
Yes. M&T uses Zelle, which is a digital payments network that sends money directly between almost any U.S. bank accounts mostly within minutes. M&T was among the first 30 banks to launch Zelle in the U.S.
What do I need to open a bank account at M&T?
Go to 3.mtb.com to learn how to open a M&T Bank small business bank account.
Is M&T Bank a national bank?
Yes. M&T Bank has more than 750 retail and commercial branches and more than 1,800 ATMs in eight states.
Where is M&T Bank?
M&T Bank has branches in Connecticut, Delaware, Maryland, New Jersey, New York, Pennsylvania, Virginia, West Virginia, and Washington D.C. They are headquartered in Buffalo, New York.
How many employees does M&T Bank have?
M&T Bank has more than 10,000 employees.
Where is M&T Bank's headquarters?
M&T Bank's headquarters are located at 1 M&T Plaza, Buffalo, NY 14203.
How can I contact M&TBank customer service?
You can contact M&T Bank customer service department by calling 1 (800) 724-2440.
Is there an M&T Bank Business account that is suitable for large cash balances?
You can open a Commercial Money Market Savings Account with M&T business banking if you want to earn interest on a large cash balance. This account has tiered interest rates.
Are there any M&T Bank alternatives?