iPhone 8 Reviews
Learn more about the iPhone 8 as a business smartphone. Includes user reviews, features, pricing, and answers to common questions.
Updated on November 18th, 2019
The SMB Guide is reader-supported. When you buy through links on our site, we may earn an affiliate commission. Learn more
The iPhone 8 is one of the best smartphones for business. It boasts a powerful A11 Bionic processor for excellent performance and speed, a new glass casing for extra durability, and excellent battery life, among other features.
Pricing:
| Storage | Price |
| --- | --- |
| 64GB | $599.00 |
| 256GB | $749.00 |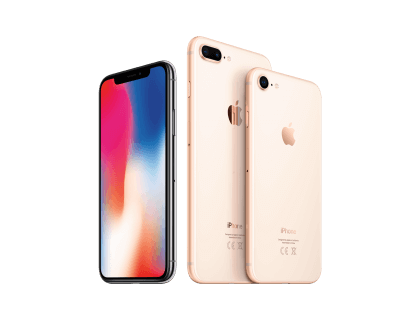 Review:
Pros: Fast processor and good battery life.
Cons: No headphone jack, so you'll need to buy an adapter to use your headphones.
Bottomline: The iPhone 8 is still an excellent option for business users, with its speed and durability guaranteeing a productive experience.
Specifications and Features:
| | |
| --- | --- |
| Battery | 2,691mAh |
| Wifi Hotspot | Yes |
| Connectivity | Bluetooth 5.0, NFC |
| Processing Speed | 2GB of RAM |
| Storage Space | 64GB, 256GB |
| Security | Touch ID, Two-factor authentication, Autofill passwords, USB restricted mode, Automatic iOS updates, |
| Charging | Wired/Wireless |
| Extra | Siri |
Reviews:
| Source | Review |
| --- | --- |
| | I upgraded from my old 6S to the 8, and it feels incredible. iPhone 8 is a beast, with great battery life (subjective), packed with A11, wireless charging, better camera, 4K 60fps, and touch id! Yes touch id for those who wants them rather than face id. I think it is safe to say that Apple will support the phone for 4-5 years later, so yeah I hope it answer your question. |
| | I got my 8 last October and I really enjoy it. I think it's the perfect size not too big or small. Also I couldn't justify spending $1000 on a phone that will be outdated in a couple of years. |
| | I'm loving this phone. I considered the 8+ for the display but ultimately can't deal with a huge phone.The iPhone 8 silver is what I ended up with. It's a major throwback to the all white iPhone 4. The build quality is superb. Battery life is damn impressive I only have to charge my phone once a day. True Tone is also really cool it makes reading content on all white backgrounds easier on the eyes. |
| | I also moved from a 6s to an 8 and am very happy. Solid upgrade and I don't have to learn the X interface. |
| | I was deciding between 256 8 or the 64 8 plus. I went with the 8 plus and couldn't be happier. Portrait mode is legitimately my favorite thing about the phone. With icloud storage, the lower storage isn't really a problem. I went from a 6 too, its such an upgrade. |
FAQs:
What is the price of an iPhone 8?
The iPhone 8 ranges from $599.00 to $749.00.
Is iPhone 8 a good phone?
iPhone 8 enjoys mostly favorable reviews. While it is criticized for not having a headphone jack, it is lauded for its impeccable speed and performance, long battery life, and a base model storage of 64GB.
What is new about the iPhone 8?
Glass back for wireless charging.
More durable glass.
New gold color.
Faster A11 Bionic processor.
Apple-designed GPU for better graphics.
Speakers are 25% louder.
True Tone Display.
Haptic feedback.
Less shutter lag.
4K video.
1080p slo-mo video.
Improved Optical Image Stabilization.
Wireless charging.
Is iPhone 8 discontinued?
No. The iPhone 8 was released in 2017 and can still be bought.
Which is better, iPhone 8 or iPhone 8 Plus?
The iPhone 8 Plus differs from the iPhone 8 in only a few ways.
Taller and wider body and screen.
Heavier.
3GB RAM as opposed to 2GB.
Dual camera.
Longer battery life.
Higher price.
Does iPhone 8 have Animoji?
No. Animoji is only available from iPhone X devices onward.
Will the iPhone 8 price go down?
Since the iPhone 8 came out in 2017, there have been new iPhone models that have succeeded it, lowering its price with every passing year. Since its release, its price has reduced from $699 to $599.