iPhone 11 Pro Max Reviews
Learn more about the iPhone 11 Pro Max as a business smartphone. Includes user reviews, features, pricing, and answers to common questions.
Updated on March 31st, 2020
The SMB Guide is reader-supported. When you buy through links on our site, we may earn an affiliate commission. Learn more
Pricing:
| Storage | Price |
| --- | --- |
| 64 GB | $1,099.00 |
| 256 GB | $1,249.00 |
| 512 GB | $1,449.00 |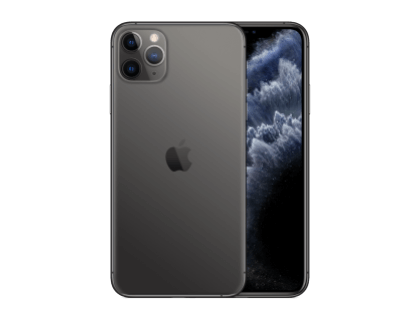 Review:
Pros: Significantly upgraded battery life and a large, beautiful OLED display.
Cons: No stylus or expandable storage.
Bottomline: The iPhone 11 Pro Max is a powerhouse of a device. With a long-lasting battery and excellent performance, it is the ideal smartphone for business.
Specifications and Features:
| | |
| --- | --- |
| Battery | Undisclosed, but stated to last five hours longer than its predecessor |
| Wifi Hotspot | Yes |
| Connectivity | Bluetooth 5.0. NFC |
| Processing Speed | RAM undisclosed |
| Storage Space | 64 GB/256 GB/512 GB |
| Security | Face ID, lockscreen, password |
| Charging | Wired/wireless |
| Extra | Siri voice assistant |
Reviews:
| Source | Review |
| --- | --- |
| | So I went from the 11 to the pro max. I was fine with the 11 but then my husband got the pro max and I loved that one so much more so I went and exchanged it |
| | The iPhone 11 Pro series have better cameras than a Samsung phone, better performance and battery life than a Pixel phone, and...well, let's let Huawei deal with its trade-ban issues first. Are they the best phones on the market today? They probably are, except that the market is no longer about the "best" phones. This year's iPhones are worth buying if you can afford them. And unlike yesteryears, you will make next to no compromise on these devices. |
| | In a year of foldable phones, 5G-ready handsets, and 120Hz screens, it's hard to look at the iPhone 11 Pro Max and say it's a groundbreaking release. However, what Apple has done is address the previous weaknesses of iPhones (subpar battery life and lack of camera focal length versatility). The result is a refined product that doesn't have a glaring weakness. Loyal iPhone users will absolutely feel a major upgrade if they switch to the 11 Pro Max, and who knows, maybe some Android fans can be won over by the advanced video capabilities too. |
| | Most of my qualms with the iPhone 11 Pro Max were quite minor, aside from the price. This is the best, most complete iPhone Apple has released since the iPhone 7, which itself was a perfecting (or rehashing, depending on your perspective) of two older iPhone models. Apple might be dragging its heels on new iPhone designs more than ever before, but at least it is upgrading the experience as much as possible in the meantime. |
| | The iPhone 11 Pro Max is a spectacular achievement for Apple, and one of the best phones you can find today.It is big and it is heavy, and it is most definitely expensive, but there's also something beautiful about the whole thing, and how it achieves more or less the entire package a 2019 smartphone could want in a design and finish that is obviously very premium. If big and premium is what you crave, you'll want to seriously check out the iPhone 11 Pro Max. Highly recommended. |
FAQs:
How much is the iPhone 11 Pro Max?
The iPhone 11 Pro Max starts from $1,099.00 for the 64 GB model.
See the full range of pricing options.
How big is the iPhone 11 Pro Max?
The iPhone 11 Pro Max has a 6.5-inch display with a body size of 77.8 mm x 158 mm.
See the full iPhone 11 Pro Max spec breakdown.
What is the difference between the iPhone 11 and iPhone 11 Pro?
The Pro version of the new iPhone differs from the standard model in a few ways.
Three lens camera for wider angles.
Brighter, OLED screen.
Larger screen size.
Matte finish instead of glass.
Stronger water resistance.
Larger storage options.
More expensive.
Does iPhone 11 Pro Max have 3D Touch?
No, the iPhone 11 Pro Max has Haptic Touch instead of 3D Touch, which offers very similar functions.
Why does the new iPhone have 3 cameras?
Allows for the three camera modes: Telephoto, Wide, and Ultra Wide.
Improves the accuracy of Portrait Mode.
Allows more light in which makes for better picture quality.
Allows for greater optical zoom without image degradation.
Does iPhone 11 Pro Max have reverse wireless charging?
No, the iPhone 11 Pro Max does not have reverse wireless charging, only wired and wireless.
How much RAM is in the iPhone 11 pro?
The RAM on the iPhone 11 Pro Max Pro is undisclosed.