How to Write a Business Proposal
Find out how to write a business proposal. Includes detailed steps, a free template, and frequently asked questions.
Updated on March 31st, 2020
The SMB Guide is reader-supported. When you buy through links on our site, we may earn an affiliate commission. Learn more
A business proposal is a formal document that one business submits to another when attempting a sale. The proposal presents a current problem and a detailed solution that can be provided for an agreed-upon fee. Essentially, a business proposal is a formal sales pitch that is presented in writing.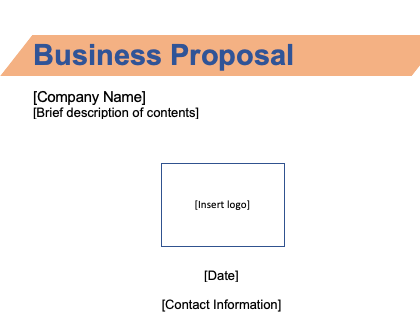 Business Proposal Template - Free Download
Use our free business proposal template in Microsoft Word format to create your own proposal.
How To Write a Business Proposal:
1. Gather information.
Before you start putting together a proposal, you need to learn as much as you can about the business you are approaching and what their current needs are. For example, if you run a consulting firm and you are putting together a proposal to help a manufacturing business expand into international markets, you need to gather all of the relevant information that they need to make an informed decision. This means laying out details like cost of entry, new equipment needed, additional labor costs, legal requirements, and so on.
2. Estimate costs and develop a pricing strategy.
All business proposals include a pricing section that breaks down your fees. Most do this in a table and sometimes include any costs that will be incurred while working on the project. Even if you don't include your own costs in the table, you will need to know what they are in order to establish a pricing strategy that will help you to generate a profit.
Total all possible costs that could be incurred while working on the project, and then mark up the total by a certain percentage so that you give yourself some margin for profit. Having a breakdown of costs can be helpful if you want to justify your price to the business that you are presenting the proposal to.
Another important item to include in your pricing strategy is a section about how payments can be made. Explain to the business how they can pay you and what your payment deadlines are.
3. Create an outline and a draft.
Now that you've done your research and established a pricing strategy, it's time to outline your proposal and write a draft. Your business proposal should include the following sections:
Title page.
Table of contents.
Executive summary.
Problem.
Proposal solution.
Within the "proposed solution" section, you can include subsections about your methodology, qualifications, benchmarks, and pricing.
4. Review and write an executive summary.
It may be easiest to write your executive summary after you have assembled the rest of your business proposal. This way, the information will be fresh in your mind and you will have a firm grasp of the overall proposal.
Take some time to review your proposal to ensure accuracy and add in any further information that may make it stronger.
5. Share your proposal.
Send your proposal to your potential client and allow them some time to review it and ask you questions. Some businesses prefer a hard copy of a proposal, while others will accept a digital version via email. Check with the business to find out what their preferred format is before you submit your proposal.
FAQs:
What should be included in a business proposal?
Title page.
Table of contents.
Executive summary.
Problem.
Proposed solution.
How do you write a good proposal?
A good business proposal clearly identifies a problem that currently exists, followed by a carefully planned solution to the problem. When describing the solution, it is always best to explain why you are qualified to deal with the problem.
How do you write a short business proposal?
A short business proposal should still include an executive summary, a statement of the problem, and a proposed solution. However, these sections can be condensed as you don't have to go into exhaustive detail. If you are asked to present your proposal in person, a short business proposal can be a good supporting document to bring.
What are the types of business proposals?
Request for proposal (RFP).
Request for information (RFI).
Request for quotation (RFQ).
Unsolicited proposals.
How do I write a business proposal for an investor?
If you are working on a plan to present to an investor, you need to put together a business plan, not a business proposal.
What is the difference between a business proposal and a business plan?
A business proposal is a document that one business submits to another when they would like to sell them goods or services. The proposal usually pertains to a project that the company may end up being hired to carry out. A business plan is a formal plan for the formation and development of a business.