How to Start a Real Estate Business
Detailed guide with helpful information on fees, costs, requirements, licenses, formation, marketing, and hiring. Also includes tips, FAQs, and checklist.
Updated on January 16th, 2020
The SMB Guide is reader-supported. When you buy through links on our site, we may earn an affiliate commission. Learn more
A real estate business participates in the buying, selling and management of real estate. Real estate businesses are generally comprised of real estate agents and associate brokers in order to facilitate real estate transactions. You, the owner, will be a licensed real estate broker, or will have to employ a licensed real estate broker to manage your operations.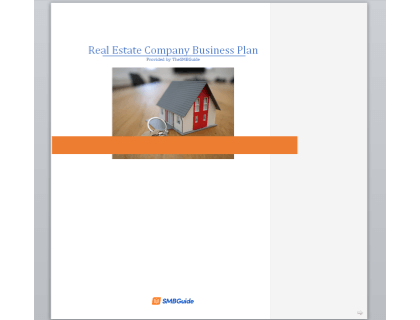 Real Estate Business Plan Template - Free Download
Use our real estate company business plan template in Microsoft Word format to jumpstart the planning process for your new real estate business.
Real estate continues to be a profitable sector in the U.S. A recent IRS report found that over the last 50 years, 71% of Americans who declared more than one million dollars on their income tax returns were in the real estate market. However, an estimated 87% of real estate agents fail in the first five years of their business venture, highlighting the difficulty of making a success of your business.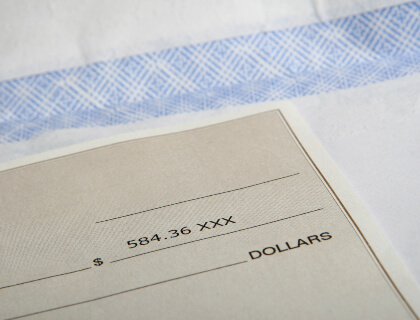 How much does a real estate business owner make?
Successful, well-established real estate businesses can make more than $100,000 a year, while successful real estate businesses in major housing markets can make upwards of $1,000,000 a year.
What is the cost of opening a real estate business?
| | |
| --- | --- |
| Real Estate Broker's License | $1,500.00 |
| Office lease deposit | $2,000.00 |
| First month's rent | $2,000.00 |
| Utilities, Telephone, and Internet | $250.00 per month |
| Office signage | $2,000.00 |
| Marketing | $2,000.00 per month |
| Employee salaries and rewards | Relative to number of employees |
How to Start a Real Estate Business:
1. Conduct extensive research.
The first step in starting your real estate business is to conduct in-depth research into the property market you're entering into. You need to know things like your niche market, who your competitors are, what will help you drive profits, etc. You also need to analyze the property market, understand its historical trends and make projections for future growth. The majority of this will be covered in your business plan.
2. Create a business plan.
Your business plan will serve as your founding document and reference point for managing your future operations. It also presents the case for your business's success as an investment and will determine how much funding you receive.
Essentials for a Real Estate Company Business Plan:
Summarize your business proposition.
Define your company structure.
Offer an extensive market analysis.
Detail your business offerings.
Describe your management plan and ownership structure.
Explain your marketing and advertising strategy.
Outline your financial projections.
3. Form a legal entity.
You will have to choose between being a sole proprietor, a corporation, a partnership, or a limited liability company. Limited Liability Company (LLC) is the most common type of legal structure for real estate businesses. LLC taxes are reasonable and they protect personal assets in the event that you default on a loan or are sued. Hire a lawyer or business consultant to help with the process.
There are, however, limitations to what an LLC can offer in terms of protecting a real estate business. While LLCs do offer such protection, because of the nature of the realty business, owners of small real estate firms are generally required to personally guarantee their company's debts. Moreover, an LLC will not protect your personal assets from the many malpractice lawsuits real estate companies typically face from dissatisfied clients, including misrepresentations, negligence, fraud, etc.
Real estate businesses in California may not register as LLCs.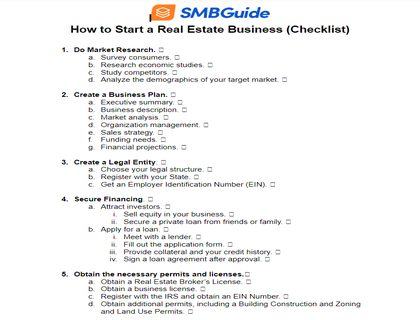 How to Start a Real Estate Business (Checklist)
Download our free How to Start a Real Estate Business Checklist in PDF format.
4. Obtain funding.
Before your real estate business starts turning a profit, there are two types of funding you will probably need: startup capital and operational capital.
Funding is needed for things like leasing an office, paying for various permits and licenses, budgeting for a marketing strategy, paying staff salaries, insurance, and utilities.
Startup Capital:
Read our articles on How To Get a Small Business Loan and How to Find a Financial Backer for help with securing startup capital.
The table below lists a host of specialized funding options for your real estate business.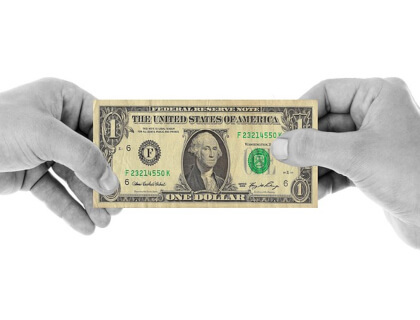 Funding Options for Starting a Real Estate Business:
5. Obtain the necessary permits and licenses.
In order to satisfy the legal requirements of starting a real estate business, you must pass your real estate license exams, obtain a federal, state, or local license, get a business license, and obtain various local permits.
Your first step is to obtain a Real Estate Broker's License. Obtaining this license requires a broker to have been a real estate agent for a certain number of years, have completed their pre-licensing education, and have passed their real estate licensing exam. The number of hours spent taking real estate classes will vary depending on state laws.
Business registration laws will differ from state to state. Real estate business owners will need to check their local government websites to find out more about state laws and procedures they need to follow, and whether the business sector they operate in requires any additional licenses. Find out more about obtaining a business license here.
Registering with the IRS is critically important to avoid tax penalties. LLCs, partnerships, C Corporations, and S Corporations are all required to obtain an EIN Number. Click here to apply for your EIN Number.
Additional permits include a Fire Department Permit, Building Construction Permit, Zoning and Land Use Permit, Sign Permit and Air and Water Pollution Control Permit.
It's very important that you both protect your intellectual property and not infringe upon others. We recommend consulting with a trademark attorney to oversee the process.
Once you've chosen a suitable business name, run that name against the U.S. Trademark Database to see if it's already in use. Be sure to create your web domain using the same name, as well as all your social media accounts. If you're unsure of the legal and financial aspects of selecting a business name, follow this handy guide.
6. Get business insurance.
Real estate businesses typically need the following types of insurance. General Liability Insurance, Professional Liability Insurance, Commercial Auto Insurance, and Commercial Property Insurance.
General Liability Insurance is the most comprehensive type of insurance. As a real estate business owner, the safety and security of your property is paramount to you, therefore placing a need for General Liability Insurance to cover risks involving damage to your property or the people inhabiting your property.
Professional Liability Insurance protects your business when clients sue you, asserting that your professional advice was erroneous, and that you are at fault for their transaction. In the real estate market, where client transactions involve large amounts of money, this type of insurance comes in handy.
Commercial Auto Insurance protects you and your employees in the event of an injury in a car accident with a company car.
Commercial Property Insurance applies to you if you own the building from which your business operates. This type of insurance protects your commercial property in the event of a fire, burglary, or other type of damage.
7. Hire a team.
The positions you might need to fill include a combination of core real estate skills and secondary skills. A good strategy is to focus on the core skills needed to run your real estate business and seek help from experts in areas like marketing, web design, graphic design, etc.
Your sales force will help you build a reputation with clients, create a strong brand, and manage your website and marketing material. Remember to keep your sales staff happy by rewarding them with bonuses for their hard work.
8. Establish an online presence.
Build a Website. Research shows that 44% of all real estate buyers go online to begin the process of finding a new home. It would serve you well to establish a strong online presence. Building a website is cheap and will be your starting point for attracting and engaging online leads. Make sure that your website is optimized for search engines and integrates well with your CRM software. All your marketing material will also lead clients to your website, so it should be clear and easy to navigate. Read our article on the best website builders to launch your website without any code.
Launch Campaigns. Use all the marketing channels at your disposal to promote your business. Positive word-of-mouth referrals from your clients is often the best form of marketing in the real estate business. Beyond that, there is still some value in the traditional route. Think about placing ads in newspapers and sending out mailers. Be sure to market your business online. Having an active social media presence is especially appealing to younger, first-time buyers.
Stay on Top of Leads. Be sure to have an efficient follow-up system for long-term lead conversion. If you're not consistently following up on leads, you'll fail to close on potential deals. But remember to play the long-term game. A lead will not convert to a sale in the short-term, but building a relationship over time might help you close a deal in the future.
Search Engine Marketing. When customers in your area search Google for real estate, for instance, they are likely to use search terms such as "properties near me." If you want customers to find homes in their vicinity, you need to be at or near the top of search results. Search Engine Marketing (SEM) helps you rank in Google search results, making you visible to more potential customers. SEM is a highly technical field, so you may want to partner with a marketing agency.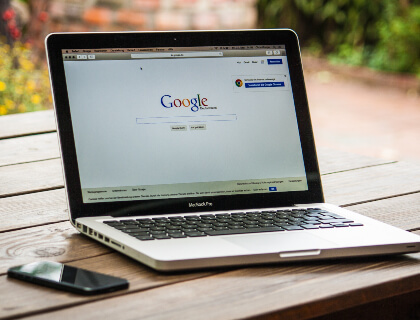 Local SEM Essentials for Real Estate Businesses:
Register for Google My Business.
Start a Yelp! profile.
Create a Facebook account.
Take photos of your properties.
Upload images and descriptions to all your accounts.
Encourage customers to rate you.
Research pay per click advertising.
9. Invest in the right technology.
There are numerous software tools for the real estate industry that will help you as you start your business. Check out the options below for some ideas.
Tech Tools for Real Estate Businesses:
Accounting software simplifies invoicing, bill payment, expense reports, financial reports, POS syncing and more for real estate business owners. We recommend FreshBooks, but check out our full list of options for something that best suits your needs, including free options.
Email marketing tools help real estate business owners stay on top of one of their primary customer communication channels. They assist in creating professional-quality emails, delivering them to a large audience, and staying out of the spam folder. Email is one of the most effective marketing channels and tends to see a high return on investment. We recommend Constant Contact, but our full list of options might have something more suitable. Explore our free options too.
Payroll software simplifies the employee payment process. We recommend Gusto, but search through our comprehensive list and check out free options too.
Property Management Software assists building owners and property managers in administering building units or multiple buildings, and simplifies the daily affairs of property management. We recommend Hemlane, but search through our comprehensive list and check out free options too.
Advice from Real Estate Business Owners:
| Source | Quote |
| --- | --- |
| | "That's what it's all about. It's about making opportunities to meet with prospective buyers and sellers. That's the toughest part. And then getting appointments to actually go and see them. Once you get in the door it's about being professional and sincere." |
| | "The problem with real estate is that it's local. You have to understand the local market." |
| | "Real estate is an imperishable asset, ever increasing in value. It is the most solid security that human ingenuity has devised. It is the basis of all security and about the only indestructible security." |
FAQs:
How do I start my own real estate company?
How can I start my own real estate business with no money?
Find a developer and sign a contract with them.
Explore different funding options.
Advertise your company on free real estate portals.
Nurture your leads.
Close your deals.
How successful are real estate businesses?
In the past 50 years, 71% of Americans who declared more than one million dollars on their income tax returns were in the real estate market. On the other hand, an estimated 87% of real estate agents fail in the first five years of their business venture, highlighting the difficulty of making a success of a real estate business.
How can I grow my real estate business?
Network regularly and actively.
Improve your time management.
Email your leads.
Hire a good assistant.
Ask for referrals.
Be proactive on social media.
How do you make money in real estate?
Commissions made acting as an agent.
When the value of a property increases over time.
When you collect rental income by leasing out the property.
By generating profit from business activity on the real estate.
Can you be an independent real estate agent?
Real estate agents that do not work under a real estate broker must first obtain their own broker's license in order to work independently. The rules differ from state to state with regards to licensing and education, but you will have to pass a course for a real estate broker's license and a real estate license.
How do I start an online real estate business?
Real estate businesses don't generally sort themselves into online and brick and mortar types. In fact, an online real estate company and an "offline" share all of the same practices. A big company with many clients and agents working for you might need a headquarters, but a small, new real estate company can work perfectly fine without a physical office.
What's the difference between a real estate agent and a broker?
A real estate agent is the starting point for real estate workers. They have completed their real estate license examinations and look at listings in the property market to help buyers find their potential homes. Real estate brokers have advanced from working as an agent. A broker can work independently, or hire agents. They have also furthered their real estate education and have advanced licensing.
How long does it take to become a Realtor?
Depending on the state you're operating in, aspiring realtors must spend between one and three years as a real estate agent before taking their real estate license examinations.
How much does it cost to go to real estate school?
You will have to find a qualified and credited real estate school in order to get your real estate license, with each state having different rules regarding the amount of hours of school to attend and the cost of your education. The minimum cost for classes is estimated at $300, while the minimum cost of taking the real estate examination is estimated at $350.
How can I get real estate clients fast?
Build an active online presence with strong web content.
Use webinars to create more leads.
Use only high quality images to promote your properties.
Work open houses.
Get involved in charitable causes for networking opportunities.
Invest in online public relations.
Use consistent niche branding.
Use Facebook advertising to promote your business.
Build your brand around your customer.
Give seminars and workshops.
What are the operating expenses of a real estate business?
Staff expenses: $5,000 + commission.
Rent: $2,000.
Marketing: $2,000.
Utilities: $250.
Insurance: $200.
Where can I find more resources like this?