How to Start a Publishing Company
Detailed guide with a downloadable checklist. Includes information on business formation, licensing, fees, equipment, facilities, and hiring.
Updated on July 6th, 2020
The SMB Guide is reader-supported. When you buy through links on our site, we may earn an affiliate commission. Learn more
Publishing is the act of producing and distributing literature, music rights, video games, and information. The industry is made up of many types of publishing companies. Some companies publish materials for wider public consumption, while others cater to niche markets.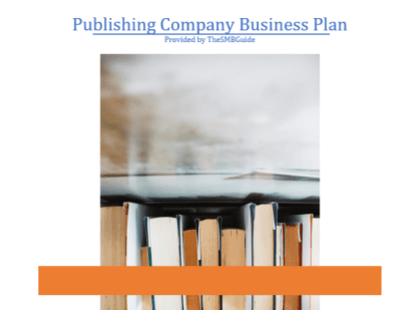 Publishing Company Business Plan Template - Free Download
This template will help you to build your business plan from gathering vital information to presenting it professionally.
How to Start a Publishing Company
1. Decide on the type of publishing company you want to start.
The first step to starting a publishing company is deciding what type of publishing company you want to start.
Trade: Aims for wider public consumption. Companies that publish magazines, newspapers, popular music, popular video games, and books for the general reading public all fall into this category.
Academic and educational: Focuses on research and educational material. Academic research journals and syllabus-oriented textbooks fall into this category.
Independent and regional: Is made up of small presses focusing predominantly on materials of local or regional interest, such as local histories and tourism pamphlets.
Boutique: Specializes in narrow, niche markets. Small presses publishing genre-specific fiction fall into this category, for example.
Self-publishing: The creator of the material pays the publishing costs and plays a much bigger role in the process.
Electronic: Offers an alternative to traditional publishing, sharing content across digital platforms only.
2. Give your business a name.
Having chosen what type of publishing you want to do, you can now give your company a name. There are a number of things to consider when naming your publishing company to successfully convey the values and mission of your brand.
Think specifics: What genre are you working in? What subject, and for what age groups?
Values: What are your business's core values? And what values does your market hold as important?
Discoverability: Your name should be easy to remember, spell, and pronounce.
Be original: Be creative. A unique name will set your company apart from the rest and will make it easier later when securing a domain name.
Check availability: Use the U.S. Patent and Trademark Office's trademark search tool to see if your name isn't already in use.
Trademark your business name: If you have decided on a publishing company business name, secure a trademark so that no one else takes it. You can register a trademark at www.uspto.gov. You can also protect the trademark in the 122 countries that are a part of The Madrid Protocol.
For more information about naming your business, check out How to Name a Business.
3. Decide on a distribution model.
The distribution model you choose will ultimately depend on the type of publishing your company will be doing, your goals, and your budget. The model you choose will impact the startup funding your business will need, the partnerships you will need to develop, and the overall strategy.
There are a number of distribution models to choose from.
Print-On-Demand: When someone purchases your publication online the order is sent to the printer, and then sent to the customer. Without having to print ahead of time and store inventory in a warehouse, print-on-demand is less risky and requires a lower investment in each title. However, the cost of printing is higher per unit.
Traditional: Publications are printed ahead of time and stored in a warehouse. A distributor then fulfills orders using your printed inventory. Off-set printing brings costs down when printing in bulk, quality is good, and copies of publications can be sent around as samples to buyers. However, as it carries storage, returns, and shipping fees, this model is expensive upfront.
Direct-to-reader: Cutting out most of the distribution chain, direct-to-reader distribution reaches readers usually through an online sales page. This includes ebooks carried by major online retailers. There is very little upfront cost and risk with this model, but a comprehensive marketing strategy is needed.
Publishing Company Metrics: Contribution Margin Per Book Sold
The contribution margin in book publishing is the earnings from each title after all the variable costs accrued in the production and distribution of the book have been covered.
It is important to calculate the contribution margin from each book because it tells you how much each sale contributes towards paying your fixed costs and establishes a benchmark for how many books you need to sell before turning a profit.
Here are the three steps for calculating the contribution margin for each book:
1. Book list price * number of books sold = total sales.
2. Total sales - variable costs = total contribution margin.
3. Total contribution margin/number of books sold = contribution margin per book.
Example:
A book sells for $16 and a total of 10,000 are sold. This adds up to the total sales of $160,000.

Take the $160,000 total sales and subtract the associated variable costs, which for this example come to $100,000. This gives you a total contribution margin of $60,000.

Now, divide the $60,000 total contribution margin by the 10,000 books sold, and you have your contribution margin per book: $6.
Each book you've sold has contributed $6 towards paying your fixed costs. If all your fixed costs have been paid, then each book is contributing $6 towards your profit.
Key Terms:
List price: The price on the cover of the book in the bookstore or online store.
Variable costs: Retailer discount, distribution, paper, printing, binding, cover design, cover art, line editing, copy editing, text design, layout, proofreading costs, marketing, and royalties.
Fixed costs: Rent, salaries, insurance, licenses, permits, property tax, utilities, etc.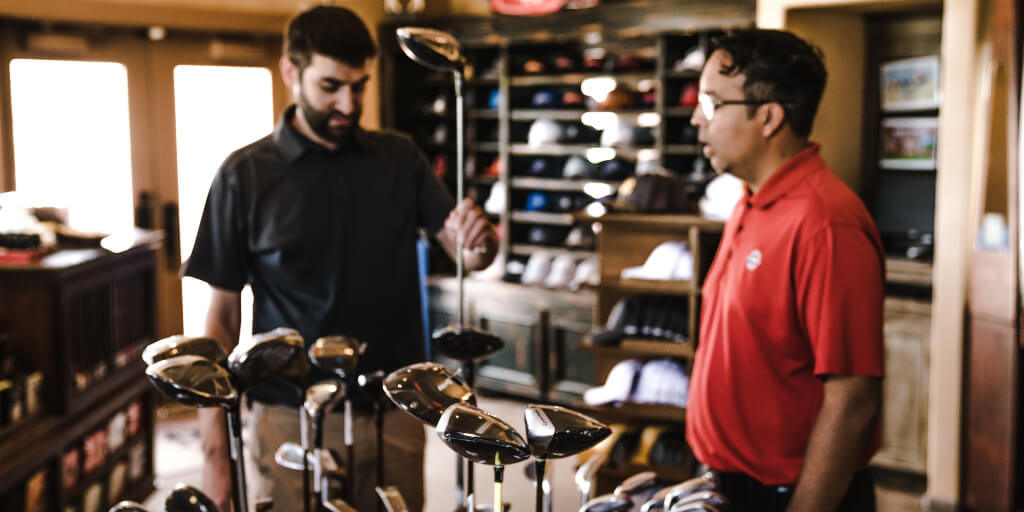 Learn more about creating and implementing sales strategies. Includes a free sales strategy template and examples of each strategy.
Jun 16, 2020
4. Create a publishing company business plan.
A business plan should describe your business and brand, show how your business will grow, define what it will need to succeed, and outline possible challenges your business is likely to face. This business plan is a road map for you in the early stages, and it can be used to get financing and attract partners.
Essentials for a publishing company business plan:
Executive summary.

Industry overview.

Market analysis.

Sales and marketing plan.

Ownership and management plan.

Operating plan.

Financial plan.
5. Form a legal entity.
You must set up your publishing company as a legal entity for professional, financial, and tax purposes. You have four basic structures to choose from.
Sole Proprietorship: A business that is owned and operated by just one person, who is then solely responsible for tax and liability issues.
Partnership: Two or more partners who share the business's tax and responsibilities.
Limited Liability Corporation (LLC): An entity that protects owners from liability, while passing taxes on to them. May use corporate or partnership tax rules.
Corporation: A distinct legal entity that assumes all liability and is taxed as a business at corporate tax rates. Has members and shareholders.
Independent publishing companies generally go with setting up an LLC. This helps them to avoid personal liability and double taxation, and is more flexible in terms of ownership and profit distribution. You can change this structure to a corporation later on, once your company has grown large and profitable enough.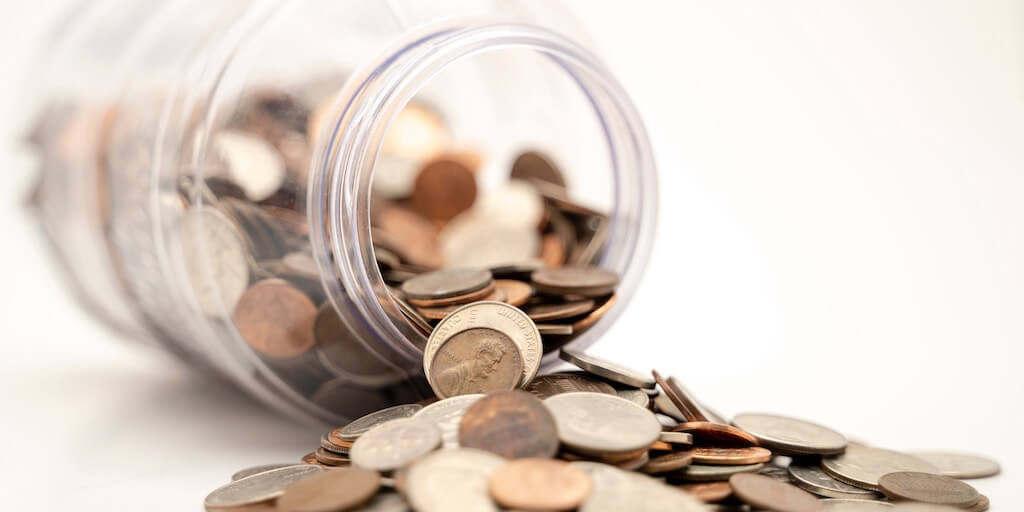 Learn more about starting a business when you have no money. Includes useful techniques and information about lean startups.
Jun 1, 2020
6. Secure financing.
Starting a publishing company at home requires very little initial investment other than the costs of getting your name out there and an initial product out to market. If your operation is a bit bigger it will need money for rent, salaries, supplies, etc. There are a few types of financing available to small business owners:
Debt financing: Offered by banks, government programs, and money lenders. You will have a certain amount of time to repay the loan with interest.
Meet with your local bank to find out more about small business loans, or find a qualified lender that offers SBA loans. Choose an option with interest rates that aren't too high.
Equity financing: Offered by investors. It is money they pay into the business for a stake in the business.
Business credit cards are great for short-term cash flow. Interest rates for credit cards are high, but are an option for short term injection of capital.
7. Purchase insurance.
Publishers are often at risk for copyright infringement and libel, which could end in financially-draining lawsuits. It is essential that you purchase insurance for your new publishing company to help you cover the costs associated with such lawsuits.
Your publishing company should purchase several types of insurance, including:
Media Liability Insurance.
Publisher's Perils Insurance.
Business Interruption Insurance.
Companies such as Insureon offer packages catering specifically to publishers and other businesses in the media industry.
8. Find an office.
If you're running a small operation, and outsourcing much of the work that goes into getting a published product out to market, an office other than one set up at home isn't really necessary. if you've decided having an office is a good idea, here is a great guide to leasing commercial property.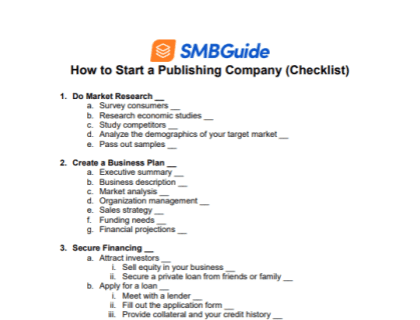 How to Start a Publishing Company - Checklist
This free checklist will help you set up your own publishing company.
Expert Advice on Starting a Publishing Company:
| Source | Advice |
| --- | --- |
| | "Let me mention three main trends in publishing. First, a significant sales shift toward online/e-commerce. Second, the growth of digital audio books. And third, the strength of print." |
| | "Publishing is full of generalizations, but a lot of the larger houses really wouldn't buy a book if they didn't think they'd sell at least 15,000 copies of it. So there were are all of these interesting, challenging manuscripts that small presses could and still do pick up over here in the U.S. At a small press you could sometimes sell 5,000 copies of a given literary book, which can be enough to get you in the black if you're paying a modest advance. And you believe in the work and hope it might break out in some way—winning a prize, for example; finding a wider audience." |
| | "So you're not looking for the next bestseller. Any book worth it's salt is going to be read and appreciated 20 years after it's first published. We take a long term view of publishing." |
| | "What we learned is that the worlds of Kindle-toting eBook readers and our beloved small press readership were still pretty different from each other. Although there's some definite crossover, we know for certain now that our friends, fans, readers, and yes, even critics, prefer their books (large or small) in their hot little hands." |
| | "The first duty of any publisher to their authors is to remain solvent." |
Tech Tools for Publishing Companies:
Accounting software can be used to manage expenses, run payroll, track revenue and royalties, and generate financial reports.
2. Page Layout Software.
Software such as Adobe Indesign can be used for creating layouts for print, desktop, and mobile.
3. Graphic Design Software.
Software such as Adobe Creative Cloud and Canva can be used to create covers, edit images, and create logos.
As your publishing company grows you may need to hire more employees. We recommend Betterteam and BambooHR.
5. Freelance Management Software.
Connecting with freelance editors and graphic designers will be very important in the beginning. We recommend Upwork.
9. Buy International Standard Book Numbers.
An ISBN is a 13-digit number used to help buyers and sellers identify your business as the publisher of a given book. Each title requires its own ISBN. They can be used for e-books, but aren't necessary.
You can buy an ISBN from any number of ISBN services. A single ISBN costs between $18.00 and $150.00. Buying them in bulk often brings the price per number down.
10. Hire employees or freelancers.
If you have started your company to self-publish, you'll play most of the roles found in the average publishing company. For a larger operation, you'll need help to produce, market, and distribute your published materials. You can decide to employ fulltime or make use of freelancers to fulfill different functions.
Expertise needed in a publishing company:
Editing.
Sales.
Design.
Public relations and marketing.
Bookkeeping.
You can use hiring software to help you streamline the process of posting jobs, accepting applications, scheduling job interviews, and sending out final job offers. Or you can connect to freelancers through platforms like Upwork.
Staffing agencies are also helpful. They often have access to large talent pools and can, therefore, reach more candidates, and they should help to save money and time.
11. Advertise.
If you want to grow your publishing company, advertising is key. You can use online advertising and other strategies to boost your presence and improve sales.
Create a company website. Register a domain name and build a site that explains who you are and what you offer. Having a website increases your visibility, discoverability, and legitimacy. Use a website builder to design a website or pay an expert to help you.

Start social media accounts for your business. Facebook and Twitter pages, in particular, will make it easier for people to engage with you. Be sure to keep these pages active and don't underestimate the value of engaging back.

Publish a blog. Blogs keep your website active and full of fresh, topical, and interesting information. They're also a great way to showcase your authors, books, magazines, newspapers, and games, and give you a strong platform for conveying your values, approaches, and mission.

Join your local publisher's association. Membership in your local publisher's association will give you access to exclusive events, professional development, networking opportunities, and the latest industry intelligence. It will also increase your company's visibility and credibility as a serious business.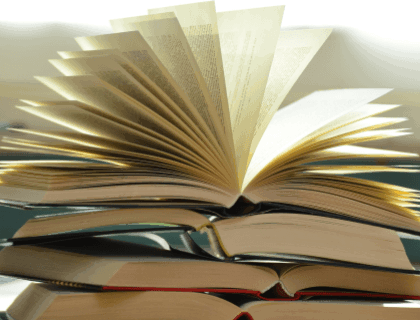 Best Books to Read Before Starting a Publishing Company:
Book Business: Publishing Past, Present, and Future by Jason Epstein.
The Self-publishing Manual by Dan Poynter.
Publishing for Profit by Thomas Woll.
The Book Publishing Industry by Albert Greco.
The Elements of Style by William Strunk Jr. and E.B. White.
The Chicago Manual of Style by The University of Chicago Press Editorial Staff.
FAQs: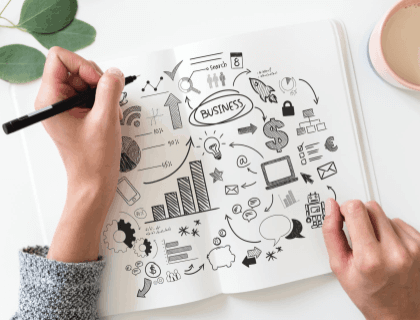 How do I start my own publishing company?
What does a publishing company do?
Publishing companies produce and distribute literature, music, games, and information.
How much does a publishing company make?
It is difficult to say how much publishing companies make on average, but according to the latest Association of American Publishers (AAP) report, the book publishing industry had estimated revenue of $258 billion in 2018. And in music publishing, an IbisWorld research report put the total revenue for 2018 at $6 billion.
What is an independent publishing company?
Independent publishing companies are small companies that are not part of large conglomerates or multinational corporations. The terms "indie press," "small press," and "independent press" are all used to describe these businesses.
How much does it cost to publish a book?
It costs anywhere from $0 to $50,000 or more. You could literally post a book to a free blogging site like WordPress, or you can have it printed on fine paper, distributed around the world and heavily marketed.
How do publishers make money?
Publishers take a small percentage of every sale after paying retail, distribution, author, production, and overhead costs. This percentage ranges between 5% and 12%.
How do I get an ISBN?
You can buy an ISBN from Bowker, an official source of ISBNs in the U.S.
How much do publishers pay authors?
Publishers often pay authors an advance on predicted sales and then pay royalties on every book sold. Royalties can follow a sliding scale such as up to 10 percent on the first 5,000 books sold, 20 percent on the next 5,000, and so on.
How do I start an online publication?
Pick a topic.
Choose a name.
Do market research.
Build your team.
Generate content.
Monetize the site.
Advertize.
How do I start a music publishing company?
Decide on the type of music.
Name your company.
Choose a distribution model.
Create a business plan.
Form a legal entity.
Hire employees.
Advertise.
How do publishing companies work?
Book publishing companies and music publishers buy the rights to produce and sell the works of authors and musicians and pay them royalties on each unit sold.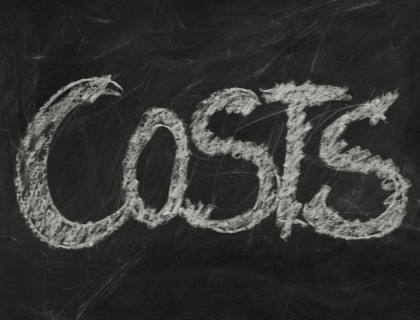 How much does it cost to start a publishing company?
It costs between $50.00 and $500.00 to register your company. After that, there are advertising costs, rent, and the expenses associated with getting an initial product out to market. These costs can range from thousands to millions of dollars, depending on the size of your operation.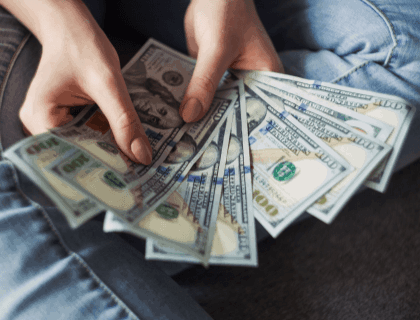 How much money does a publisher make?
Publishers make between $60,000 and $280,000 a year, according to our research. Publishers salaries depend on the type and size of the publishing company.
Does every book have an ISBN number?
Every edition of a book should have its own unique ISBN.
How much does it cost to get an ISBN number?
A single ISBN costs between $18.00 and $150.00.
Do authors pay publishers?
Not traditionally, no. Publishers pay authors royalties on sales.
Does your business need media liability insurance?
Yes, if your business needs media liability insurance to protect itself against libel, plagiarism, and invasion of privacy lawsuits.
How much does media liability insurance cost?
Media liability insurance policies cost $2,500.00 a year on average but can cost as little as $500.00 a year.
How do bookstores get their books?
Bookstores order books directly from publishers and distributors, but they also receive books from wholesalers.
What is an ISBN?
An ISBN is a 13-digit number used to help buyers and sellers identify your business as the publisher of a given book. Each title requires its own ISBN. They can be used for e-books, but aren't necessary.
What genre of books sells the most?
The top three best-selling genres are Romance/Erotica, Crime/Mystery, and Religious/Spiritual, in that order.
Can I be my own music publisher?
Yes, you can set up a music publishing company to publish your original music.
What is a micro-publisher?
Publishers with total revenues below a certain level are considered to be micro-publishers. Publishers publishing for a specific micro-market and those creating predominantly digital content shared across social media platforms, email, and public websites are also forms of micro-publishers.
How much money can you make from a self-published book?
Self-published authors can earn up to 35 percent on every printed book sold, and as high as 70 percent on every ebook sold.
How long does it take to publish a book?
According to our research, it can take anywhere from three weeks to six months. The process includes writing, editing, production, printing, and binding.