How to Start a Production Company
Detailed guide with helpful information on fees, costs, requirements, licenses, formation, marketing, and hiring. It also includes tips, FAQs, and a checklist.
Updated on July 1st, 2020
The SMB Guide is reader-supported. When you buy through links on our site, we may earn an affiliate commission. Learn more
Production companies source the funding, talent, expertise, and equipment needed for completing projects in the areas of film, television, music, radio, and live performances, and manage the processes behind the production of such works.
Research shows global media and entertainment revenue will reach $2.2 trillion by 2021, with the U.S. industry reaching a potential $825 billion by 2023.
The film and TV industry in the U.S. is made up of 93,000 businesses, employing 2,6 million people and paying total wages of $177 billion. The industry generates $17.2 billion in exports.
Over-the-Top streaming services are the fastest-growing distribution model globally, expected to reach $77.73 billion in revenue over the next four years.
The music industry in the U.S. had total revenues of $19.59 billion in 2018, with streaming services constituting 75% of the distribution. However, 52 million CDs shipped to consumers that year, too.
Producing for radio is still lucrative with ad spending expected to grow to $18.4 billion over the next four years. And, the relative newcomer, podcasts are experiencing a 7% growth in listenership every year. Podcast companies made $479 million in 2018, 53% more than in 2017. Revenues are expected to reach a billion dollars in 2021.
Follow the steps below to start a production company.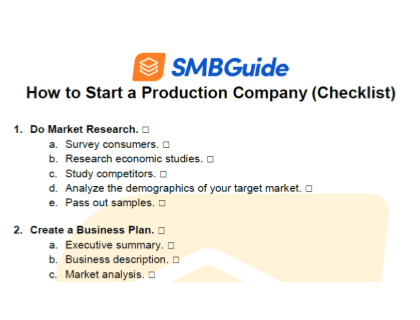 How to Start a Production Company Business Checklist - Free PDF
Stay on task and cover your bases with our detailed checklist.
How to Start a Production Company:
1. Do the research.
Research successful production companies, large and small.
Learn about how they got started, the challenges they faced, and what worked and didn't work.
In what ways did they innovate?
What have they been doing for years, and what are they doing now that is new?
How have they structured their businesses?
Do they own equipment or rent it?
How have they approached distribution?
Determine who your competitors are.
Focus on their reputation, strengths, weaknesses, and market share.
How do they go about funding projects or finding new clients?
What services do they offer, and what are their fees?
Study industry trends and shifts in audience expectations.
Learn about the technology that is driving changes in distribution and marketing.
How and when do people consume films, series, podcasts, etc?
What do people look for in these products?
2. Refine your concept.
Decide on what you want to produce.
Are you going to make films or television shows? Are you going into radio and podcasts? Is it live events and theatre you're interested in? Are you selling video production services?
To break it down further: if you're making films, what kind? Comedies? Historical drama? Are you Hollywood, or indy arthouse?
How can your work experience help you choose an area?
Describe your company in one sentence. One of the best ways to refine your concept is to fit the whole idea into one sentence that answers what your company does, how it does it, and why others should care.
Example: The agency is a full-service video production company specializing in business-to-business marketing videos.
Get feedback about your business from as many people as possible.
This is a great way to get direct, unfiltered, unbiased feedback from people in the industry, consumers, other production company owners, experts, etc.
Take the time to listen to the feedback, being mindful of why people love or hate the concept.
This is also a good way to start building up a network.
3. Give your business a name.
A name says a lot about a brand. There are a few things to consider before choosing a name that could help you land on one that is aligned with your company's values and identity.
Values: What are your business's core values? Why do you do what you do? And what values does your target market hold as important?
Discoverability: Your name should be easy to remember, spell, and pronounce.
Be original: Be creative. A unique name will set your company apart from the rest and will make it easier later when securing a domain name.
Once you've decided on a name, check that it is available by using the U.S. Patent and Trademark Office's trademark search tool. If it is available, register it as a trademark at www.uspto.gov.
For more information about naming your business, check out How to Name a Business.
4. Create a business plan.
A business plan should describe your business and brand, show how your business will grow, define what it will need to succeed, and outline possible challenges your business is likely to face.
This business plan is a road map for you in the early stages, and it can be used to get financing and attract partners.
Essentials for a production company business plan:
Executive summary.

Industry overview.

Market analysis.

Sales and marketing plan.

Ownership and management plan.

Operating plan.

Financial plan.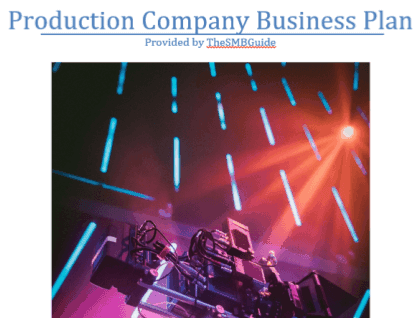 Production Company Business Plan Template:
Our Production Company Business Plan template will help you to gather and refine vital information and build your business plan.
5. Form a legal entity.
You must set up your production company as a legal entity for professional, financial, and tax purposes. Consult a lawyer and a tax professional to determine which legal structure makes the most sense for your business.
Independent production companies are generally set up as Limited Liability Companies, but there are a number of basic structures to choose from.
Basic Business Structures:
| Tax Structure | Description |
| --- | --- |
| Limited Liability Corporation (LLC) | An entity that protects owners from liability, while passing taxes on to them. May use corporate or partnership tax rules. |
| Sole Proprietorship | A business that is owned and operated by just one person, who is then solely responsible for tax and liability issues. |
| Partnership | Two or more partners who share the business's tax and responsibilities. |
| Corporation | A distinct legal entity that assumes all liability and is taxed as a business at corporate tax rates. Has members and shareholders. |
While going through the steps to making your company a legal operating entity, finalize an operating agreement. This sets out in legal terms how the company will be run, how labor will be distributed among partners (if there are any), and how any problems that arise will be addressed.
Questions to Ask When Creating an Operating Agreement:
What is everyone's reasons for joining the company?
What will every person contribute?
What does each individual hope to get out of the company?
How long will each individual commit to this project?
What is expected of everyone?
How will any disputes and challenges be handled?
How will responsibilities and authority be divided?
Who makes the final decisions?
6. Secure financing.
The amount of funding your company will need to get started depends on what type of production company you have, whether or not you will be leasing property, how many staff members are employed, and the equipment needed to become operational.
There are a number of funding options:
To understand part of the decision-making process behind business investments, read our article on debt-to-equity ratio.
Costs of Starting a Production Company:
| | |
| --- | --- |
| LLC formation | $50 - $500 |
| Computer | $1,000 - $3,000 |
| Office furniture | $200 - $500 |
| Software, internet, cyber security | $700 - $1,000 |
| Business Smartphone | $500 - $1,000 |
Tip:
In the beginning, rent the equipment you need for each project. This will keep startup costs down and gives you the chance to work with a range of equipment before deciding what is worth owning.
Loans and Grants:
| | |
| --- | --- |
| | Includes bank loans, credit cards, venture capital, SBA-backed loans, microloans, and crowdfunding. |
| | Also known as business capital loans, these are used to cover anything from wages to short-term debt repayment. |
| Short-term business loans | Easy-to-access small injection of capital to start a new project or purchase new equipment. |
| | Used for buying electronics, machinery, and vehicles. |
| | Regulated by the Small Business Administration, these help companies access funding at low-interest rates. |
| | Loans granted based on criteria other than credit scores only. |
| | Small business loans offering better rates or terms to minority-owned businesses. |
| Small business loans for veterans | Funding given to veterans, active service members and their spouses or widows. |
| | Seed money awarded through various programs to entrepreneurs from minority groups. |
| | Various amounts of seed money granted by organizations to help women entrepreneurs. |
Production Company Metric: Cost of Production
Whether recording albums, producing corporate videos or producing weekly podcasts, the cost of production tells you how much money your company uses to make one unit of production (a video, a song, a radio show). The cost of production becomes a factor later when working out how much to charge a client after adding your mark-up.
Formula:
Unit cost = (fixed costs + variable costs) ÷ number of units
For example:
Your video production company produces a corporate marketing video for a client. It takes two days to shoot and three to edit before delivery of the final product. Over those five days, your company rented equipment, paid for a location permit, and paid various freelancers (videographers, editors, voice-over artists, actors, sound engineers, etc). At the same time, your company pays monthly rental and utility costs plus software licenses and salaries.
How to calculate the cost of production:
Step 1: Add up all your variable costs for the five days.
Freelancer rates total: $10,000.
Equipment rental: $5,000.
Location permit: $2,000.
Transport: $1,000.
Catering: $1,200.
Variable costs total: $19,200.
Step 2: Work out the fixed costs for the five days.
Simply divide your fixed costs for the month by the number of days your business operates, and then multiply the result by the number of days needed to complete the production.
Rent: $2,000.
Software licenses: $1,000.
Lights and Water: $800.
Salaries: $10,000.
Total fixed costs for the month: $13,800.
For this example, let's say your company operates 20 days out of each month.
13,800 ÷ 20 = $690
Your company pays $690 toward fixed costs every single day. Now multiply that by the number of days required to produce the video.
690 x 5 = 3,450
Fixed costs over five days: $3,450.
Step 3: Calculate the cost of production.
Unit cost = (fixed costs + variable costs) ÷ number of units
Unit cost = (3,450 + 19,200) ÷ 1 Unit cost = 22,650 ÷ 1
Unit cost = $22,650.
For this example, it costs your company $22,650 to make the corporate marketing video.
7. Purchase insurance.
Production projects are expensive, involving a range of valuable equipment and many people, and so you'll need to make sure you are covered project-to-project in case of unforeseen events.
Companies such as Insureon offer packages catering specifically for businesses in the media industry. These packages cover cast and crew, equipment, third party property damage, etc.
Your production company should purchase several types of insurance, including:
Media Liability Insurance.
Publisher's Perils Insurance.
Business interruption insurance.
Read our comprehensive 2020 Guide to Small Business Insurance for more information on small business insurance.
8. Find an office.
If you're running a small operation, and outsourcing much of the work that goes into getting a product out to market, anything more than a home office isn't really necessary. If you've decided having an office is a good idea, or you're looking to create a studio space, here is a great guide to leasing commercial property.
Tech Tools for Production Companies:
Accounting software can be used to manage expenses, run payroll, track revenue and royalties, and generate financial reports. We recommend Freshbooks and Hiveage.
As your production company grows you might need to hire more employees. We recommend Betterteam and BambooHR.
3. Freelancer Management Software.
Connecting with freelance editors and graphic designers will be very important in the beginning. We recommend Upwork.
For managing a number of projects and teams of freelancers in different locations and on different work schedules, we recommend collaboration software such as Adobe Creative Cloud or DropBox Business.
For tracking equipment and production-related materials and documents, consider QuickBooks Desktop Enterprise or EZOfficeInventory.
6. Editing Software.
Depending on the nature of your production company you'll need editing software for turning raw material into a polished final product.
9. Hire employees or freelancers.
In the beginning, you'll play most of the roles found in the average production company, but you can start with a basic staff that will ensure your company gets off on the right foot.
Basic staff:
Head of development.
Head of production.
Head of post-production.
Sales and distribution head.
Certified public accountant.
For a small production company, it is best to build up a network of freelancers to tap into for each project. You can do that through platforms like Upwork.
For full-time staff you can use hiring software to help you streamline the process of posting jobs, accepting applications, scheduling job interviews, and sending out final job offers.
Common Rates for Film/Video Production Crew:
| Crew Member | Daily Rate |
| --- | --- |
| Director of Photography | $500 - $2,000 |
| Commercial Video Editor | $400 - $1,000 |
| Sound Technician | $300 - $700 |
| Gaffer | $300 - $600 |
| Grip | $200 - $600 |
10. Advertise.
If you want to grow your production company, advertising is key. You can use online advertising and other strategies to boost your presence, including networking.
Create a company website. Register a domain name and build a site that explains who you are and what you offer, and that allows you to showcase your work. Having a website increases your visibility, discoverability, and legitimacy. Use a website builder to design a website or pay an expert to help you.

Start social media accounts for your business. Facebook and Twitter pages, in particular, will make it easier for people to engage with you. Share snippets of projects you're working on and those you've completed.

Publish a blog. Blogs keep your website active and full of fresh, topical and interesting information. They're also a great way to showcase your writers, short films, trailers, music, etc., and give you a strong platform for conveying your values, approaches, and mission.

Network. Attend as many industry events as possible. The aim will be to form relationships with as many insiders as possible. The film, television, radio, and music industry is well-known for being network-driven. Get out there.

Join relevant guilds and societies. There are a number of guilds and societies dedicated to supporting and protecting the craft of producing films, music, radio, etc. Joining a guild or society offers you access to a larger network and support. Relevant guilds include: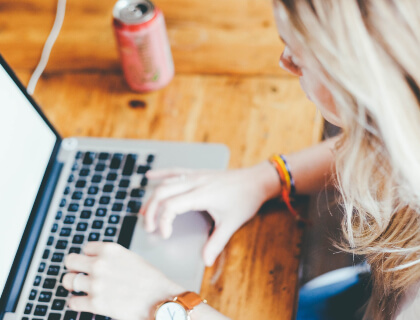 Local SEM for Production Companies:
Register for Google My Business.
Optimize your website with local keywords.
Create Facebook and Twitter accounts.
Buy pay-per-click ads.
FAQs:
What does a production company do?
Production companies source the funding, talent, expertise, and equipment needed for completing projects in the areas of film, television, music, radio, and live performances, and manage the processes behind the production of such works.
How much does it cost to start a production company?
It can cost anything from a couple of hundred dollars to hundreds of thousands to start a production company. It costs around $160.00 to register a company. Bigger operations can cost up to $85,000.00 to get started and cover running costs for the first six months.
What is the difference between a film studio and a production company?
The simple answer is that film studios own facilities where films and TV programs are made, and they also often do the distribution. Production companies make films, TV shows, podcasts, radio shows, video content, etc.
Is Netflix a production company?
Netflix is predominantly an OTT (Over-the-Top) service provider of films, documentaries, and series, but is also a production company in that it produces its own content.
What is a production manager responsible for?
Production Managers plan production schedules and ensure that the production process runs smoothly, on time, and within budget.
How do you create a production company?
How does a TV production company make money?
Television production companies make money either through accepting commissioned projects or by selling or licensing the ownership rights of a product (TV show) to a network.
What is a full service production company?
A full-service production company handles the entire production process from the planning and creative development phases right through to post-production.
What is media production?
Media production is the business of conceptualizing and producing material intended to inform and entertain mass audiences through various media channels such as TV, radio, and the internet.
What does a production assistant do?
A production assistant, or PA, does a variety of tasks involved in making a production. Being an entry-level position in the film and TV industry, PAs help with catering, answer phones, run errands, shuttle people and equipment around, and do just about anything asked of them.
What is a music production company?
A music production company records, manufactures, and distributes music.
What is an independent production company?
An independent production company is one that is not owned by a parent company.
What is the oldest film production company?
The Gaumont Film Company has been producing, co-producing, and distributing films since 1895.
Is a production company an LLC?
A production company can be set up as an LLC.