How to Start a Business in Vermont
Detailed guide to starting a Vermont business. Includes fees, registration, licensing, and formation information, along with a complete checklist.
Updated on March 31st, 2020
The SMB Guide is reader-supported. When you buy through links on our site, we may earn an affiliate commission. Learn more
Vermont may be one of the smallest states in the United States, but it is a popular place for small businesses because of its affordability. The government of Vermont welcomes new businesses and makes it easy for entrepreneurs to implement their ideas.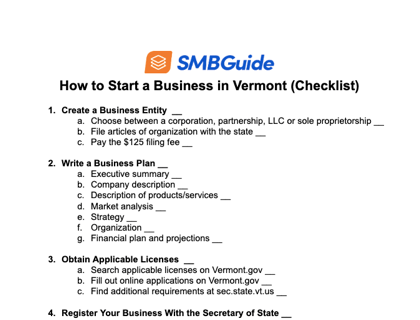 How to Start a Business in Vermont – Checklist
Use this free checklist to help you navigate each step as you start a new business in Vermont.
How to Start a Business in Vermont:
1. Create a business entity.
First, you need to form a legal business entity. This means that you will need to choose one of four options:
Limited Liability Company (LLC).
Partnership.
Corporation.
Sole Proprietorship.
Each legal structure has its own tax benefits. You need to decide which type of entity makes the most sense for your business model.
Many small business owners in Vermont opt to start out by creating an LLC. LLC's are easy to incorporate and they allow owners to shift any business liability from themselves to the corporation. They also create a corporate tax structure so that individuals do not have to bear the tax burden.
In a partnership, several partners maintain ownership and are responsible for paying the taxes through the individual tax returns.
Corporations have a fully-fledged corporate structure with members and shareholders, meaning that they have more reporting obligations than an LLC.
With a sole proprietorship, the business owner is the only person in the business and he or she bears both the tax burden and the liability. This model is popular with freelancers. A business is a sole proprietorship by default if it is not registered as a corporation, LLC or partnership.
It costs $125.00 to file your company's articles of incorporation in the State of Vermont. This filing is also considered to be your name registration if you are starting a new business. All business types can be registered online at sos.vermont.gov.
2. Write a business plan.
Before you start your new business in Vermont, you need to write a detailed business plan that outlines your strategy, finances, goals, and more.
Your business plan should include the following sections:
Executive summary.
Company description.
Description of products/services.
Market analysis.
Strategy.
Organization.
Financial plan and projections.
Investors, employees, and prospective business partners will all have questions about your new business. With a business plan, you can answer those questions and chart a course for the future.
3. Obtain applicable licenses.
The state of Vermont grants licenses and permits to businesses. These licenses and permits allow businesses to operate legally by certifying that they have met state standards for their industry.
To find out what specific licenses your business may need to operate in the state of Vermont, visit the state's online directory. Most of the licensing applications can be completed online.
Vermont also requires some businesses to be licensed by the Secretary of State. To find out more about the requirements for your profession, you can go to sos.vermont.gov/opr/professions and select your business category from the list of regulated professions.
4. Register your business with the Secretary of State.
If you already have a business entity in the state of Vermont, you may want to use a different name as your trade name or DBA (doing business as). If that his the case, you need to register your trade name with the Secretary of State.
To register a trade name in Vermont, you can log into sos.vermont.gov and file the form online. There is a $50.00 trade name registration fee.
If you have already established your business entity in the state of Vermont, then this step is not necessary.
5. Obtain an EIN and Vermont Tax Account.
By law, every business in Vermont that has employees must have an Employer Identification Number from the IRS. You can apply for an EIN online through irs.gov.
Businesses in Vermont also need a Vermont tax account so that they can remit sales taxes to the government. Corporate tax rates in Vermont range from 6% to 8.5%.
Most Vermont business owners now use the MYVTAX system to file and pay their state taxes online. You can register for an online account through the Department of Taxation website. Just go to myvtax.vermont.gov to sign up.
6. Register for Vermont Unemployment and Workers' Compensation.
Employers in Vermont are obligated to contribute to unemployment and worker's compensation through their payroll. By withholding these amounts from an employee's paycheck, employers ensure that unemployment and workers' compensation support are available if their employees ever need to access them.
If you paid $1,500 or more in gross wages during any quarter of a calendar year or employed one or more persons for at least 20 different weeks, then you need to register with the Vermont Department of Labor. You can register at uipublic.labor.vermont.gov.
7. Obtain municipal permits.
If your business is based in a city or small town, there may be municipal permits and licenses that you will be required to obtain before opening your doors. The best way to find out is by contacting your city's administration or small business department and requesting information. You can also contact your local chamber of commerce for more details.
Final Thoughts:
If you're ready to start a new business in the beautiful state of Vermont, you can use these steps to help get you moving in the right direction and pursue your dream of becoming a small business owner.
Check out How to Start a Business for more tips and information.
Other How to Articles for the Region:
FAQs: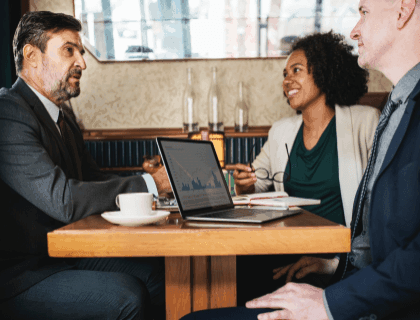 How do I form an LLC in Vermont?
How do I register my business in Vermont?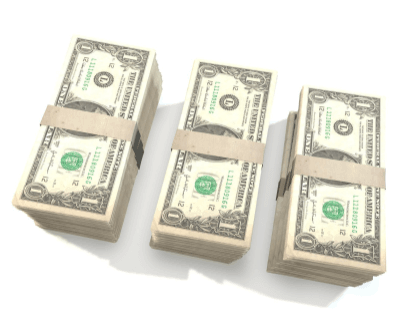 How wealthy is Vermont?
Vermont's wealth is relatively low when compared to the rest of the country due to its small geographical size and small population. In 2016, Vermont had a gross domestic product of over $26 billion.
How do I dissolve an LLC in Vermont?
You should close your business's Tax Account and then file Articles of Dissolution.
How much does it cost to start a business in Vermont?
It costs $125.00 to register/incorporate a business in the state of Vermont. Additional costs include applicable licenses, permits, marketing, etc.
How many small business owners are there in Vermont?
According to the Small Business Administration, there are 77,614 small businesses in the state of Vermont as of 2019, despite the state's small population.
What is the wealthiest town in Vermont?
In terms of income, the town of Chittenden is the wealthiest in the state with a median family income of $78,283.