How to Start a Business in Oregon
Step-by-step guide to starting your business in Oregon, including info on taxes, licenses, incorporation, and trademarks. Includes downloadable checklist.
Updated on June 26th, 2020
The SMB Guide is reader-supported. When you buy through links on our site, we may earn an affiliate commission. Learn more
Oregon boasts the country's fourth-lowest sales tax while ranking eight in highest economic growth prospects. With many fast-developing areas and easy access to startup capital, the Beaver State provides a superb platform for those who want to start a new business there.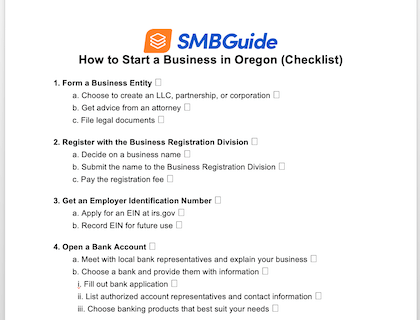 How to Start a Business in Oregon (Checklist) - Free Download
Download our free How to Start a Business in Oregon checklist in Microsoft Word format.
How to Start a Business in Oregon:
1. Determine your business structure.
One of the most important decisions that you make will be choosing the type of legal structure for your company. Your choice will have an impact on taxes, paperwork, personal liability, and your ability to raise funds.
You can choose from the following legal structures:
A sole proprietorship is the simplest structure and usually involves one individual who is solely responsible for the enterprise while a partnership is suitable for businesses with two or more owners.
A corporation is a standalone entity with shareholders.
A Limited Liability Company (LLC) allows the owners to benefit from both the corporation and partnership structure of a business.
Learn more about forming an LLC.
Businesses are regulated by Oregon state laws and must be registered through the Oregon Secretary of State.
2. Write a business plan.
Your business plan is the foundation of your new business and will serve as an invaluable guide for how to structure, run and grow your company. The business plan can fall into one of two common categories: traditional or lean startup.
The traditional plan is very detailed, takes more time to write, and is quite comprehensive, while the lean startup plan can be written quickly and only contains key elements.
A strong business plan can help you get funding and makes opening a new business easier. You can liaise with Oregon Business Xpress, a free service that offers business planning and consulting for small business owners in Oregon.
Filing Fees:
| Business Structure | Filing Fee |
| --- | --- |
| Corporation | $100.00 |
| Partnership | $100.00 |
| LLC | $100.00 |
3. Sign up for business banking.
Your business and personal finances must be kept separate to maintain accurate records. With a business bank account, you can easily obtain statements and access products that would not be available to you as an individual.
Best Banks for Small Businesses in Oregon:
Azlo.
US Bank.
JPMorgan Chase.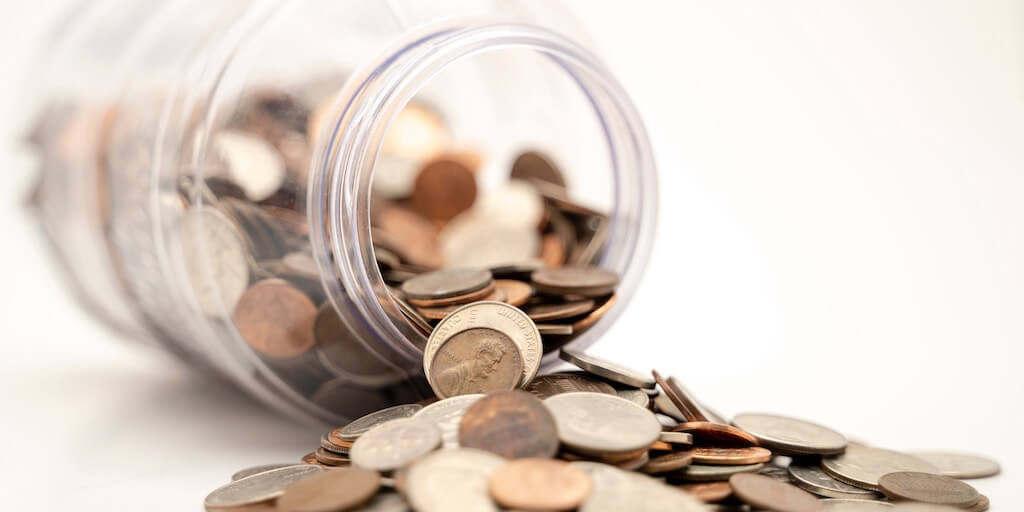 Learn more about starting a business when you have no money. Includes useful techniques and information about lean startups.
Jun 1, 2020
4. Seek funding.
Opening a new business often requires capital. If you are unable to fund your new business, you will need to take out a loan. There are three common ways to fund your business: commercial loans, business lines of credit and small business loans.
A popular organization that can assist you with small business loans in Oregon is the Oregon Credit Enhancement Fund that is available to the Oregon Small Business Community for access to obtaining capital.
Many small businesses apply for SBA Loans because they can be obtained quickly and they're backed by the government, so lenders are more likely to give them to entrepreneurs.
5. Decide on a business name.
Make a list of the names that you like and perform a Google search to find any conflicts with other Oregon business names.
Once this is done, you will need to do a trademark search to ensure that the business name that you chose has not already been trademarked. You can perform the trademark search at the U.S. Patent and Trademark Office and the Trademark Electronic Search System. These databases have a comprehensive list of business names that are registered together with their classification.
After you have confirmed that your business name is not trademarked, you need to check the Oregon Secretary of State website to ensure that your business name is not the same or similar to another corporation registered in Oregon. If no other business is registered in the State with the same name, you can register your business name with the Secretary of State.
To further protect your business name, you can register it on the U.S. Patent and Trademark Office website.
Once you have found a suitable name, make sure to register the matching web domain and social media handles, should you wish to market your business online.
Learn more about naming your company with our guide.
6. Request an Employer Identification Number (EIN).
Every business needs to have an Employer Identification Number (EIN). An EIN is simply a number that the IRS uses to identify your business entity for tax purposes.
Registering for an EIN is very easy—all you need to do is go to the IRS website. You can complete the application online, and save your EIN confirmation notice once you receive a number from the IRS.
7. Acquire business licenses and permits.
The state of Oregon does not require businesses to have a statewide business license. You may, however, need specific business licenses and permits depending on your location and the type of business you start in Oregon.
You can consult the Oregon License Directory to check if you require any state business licenses or permits.
You may also require a city or county permit and/or license, depending on your location. You will need to contact your local county or city clerk to determine your requirements.
8. Hire employees.
To start hiring you will need to register at the Oregon Employer Services Portal. Each employee will need to be registered within 20 days of their employment date. This does not apply to independent contractors.
You must have a Federal Employer Identification Number (FEIN) for your company in order to register employees.
Required Posters for Oregon Businesses:
Oregon State Minimum Wage.
Oregon Family Leave Act.
Oregon OSHA.
Oregon Domestic Violence.
Federal Minimum Wage.
Federal Family & Medical Leave Act.
EEOC "It's The Law".
Federal Polygraph Protection Notice.
Federal USERRA (military rights).
Equal Pay.
9. Check your business employer requirements.
Business employer requirements are specific to the type of business that you are starting and include various labor, safety and tax obligations that need to be met. You should consider hiring a tax or business attorney to ensure your business is fully compliant with the laws in Oregon.
If you are starting a business in Oregon, you will need to take note of the following important items:
Business Insurance
Oregon's law requires all employers to provide workers' compensation coverage to their employees. You can obtain more information from the Oregon Small Business Ombudsman.

Health insurance isn't a requirement for small businesses in Oregon.

The state of Oregon licensing boards may require certain types of insurance related to specific professions. You will need to consult the Licensing and Permit Board to check your requirements.
Unemployment Tax
In Oregon, your small business is required to establish an unemployment insurance tax account with the Oregon Department of Revenue and the Oregon Employment Department.

If your business is required to contribute towards unemployment insurance, you will be required to file quarterly reports.
Oregon Sales and Use Tax
There are no state sales tax requirements in Oregon. You may, however, have other tax obligations that you can confirm by contacting the Oregon Department of Revenue on 1-800-356-4222 or by email at payroll.help.or@state.or.us.
Other How to Articles for the Region:
FAQs:
How much does it cost to start a business in Oregon?
Oregon articles of incorporation cost $100.00 for LLCs, corporations, and partnerships.
How do I register a business in Oregon?
You can register your business with the Oregon Secretary of State Business Xpress service.
Do I need workers' compensation for my new business in Oregon?
All employers in Oregon are compelled to provide workers' compensation coverage to their employees.
Does my business in Oregon need to contribute to health insurance?
Health insurance isn't a requirement for small businesses in Oregon.