How to Start a Business in Ohio
Find out what you need to do in order to start your own business in the State of Ohio. Includes steps and frequently asked questions.
Updated on June 4th, 2019
The SMB Guide is reader-supported. When you buy through links on our site, we may earn an affiliate commission. Learn more
If you would like to start your own business in Ohio, there are a number of steps that you need to follow. In this guide, we'll tell you how to start a business in Ohio and give you the tips that you need to succeed.
The State of Ohio is very friendly to small business owners and entrepreneurs and offers easy access to information and resources that will help you as your business idea becomes a reality. In fact, 97.9% of all business in Ohio are small businesses, and they employ 46.2% of the State's workforce. Starting a business in Ohio is still hard work, but it is a rewarding process.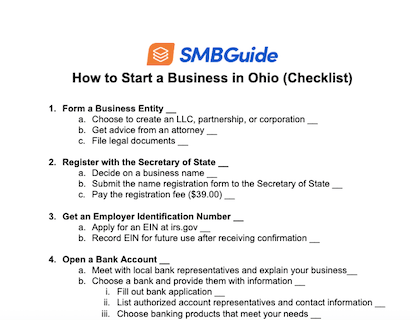 How to Start a Business in Ohio Checklist - Free Download
Download our "How to Start a Business in Ohio" checklist in PDF format.
How to Start a Business in Ohio:
1. Form a business entity.
You need to determine the legal structure of your business, whether you want it to be a partnership, LLC, or corporation. An LLC (Limited Liability Company) is subject to the rules and regulations of the State of Ohio since LLCs are State-governed entities.
Forming an LLC in Ohio:
Choose a name.
Designate a statutory agent.
File Articles of Organization with the Secretary of State.
Write an Operating Agreement.
Register for an Employer Identification Number.
If you don't like the idea of starting an LLC in Ohio, you can start a partnership or corporation instead. In a partnership, the tax burden is passed on to each of the partners. In a corporation, the corporation is a standalone entity and is taxed and has shareholders who are paid dividends.
A small business attorney can help you arrange the legal aspects of your new business and create a proper legal entity.
2. Register with the Secretary of State.
If you are going to start a business in Ohio is to register that name of your business with the Secretary of State. It costs $39.00 to file a name registration online, and you can do so by going to bsportal.sos.state.oh.us. You'll need to fill out the form and pay the fee when you submit it.
The easiest way to fill out the name registration form online is to create a profile on the Ohio Secretary of State website. This way, you can manage your applications through the site and view the status of your submissions.
Processing of a name registration takes 3-7 business days, but you can expedite the process by paying an additional fee and selecting one of the expedited options on the form. If no businesses with the same name exist, your registration will be approved and no one else in Ohio will be able to use the name in the future.
3. Get an Employer Identification Number (EIN).
Every business needs to have an Employer Identification Number (EIN). An EIN is the number that the IRS uses to identify your business when it comes to the taxes that you deduct from your employee's wages.
Registering for an EIN is very easy - all you need to do is go to irs.gov/businesses/small-businesses-self-employed/apply-for-an-employer-identification-number-ein-online. You can complete the application online, and save your EIN confirmation notice once you receive a number from the IRS.
4. Open a bank account.
A small business bank account is a necessity when you are starting a business. Your business finances need to be kept totally separate from your personal ones in order to maintain accurate records. With a business bank account, you can easily obtain statements and access products that would not be available to you as an individual.
It's easy to set up a business bank account. All you need to do is meet with a business representative at a local bank. They can advise you as to what kind of account would be best for your business, and help you set up an account in the name of your business. You can also authorize other employees or company representatives to have access to the account.
Best Banks for Small Businesses in Ohio:
PNC.
Huntington National Bank.
Fifth Third Bank.
5. Register with the Ohio Department of Taxation.
By law, any business in the State of Ohio must register to change and remit sales tax by obtaining a vendor's license. In other words, you need to be registered with the Department of Taxation in order to sell your goods or services and charge sales tax. You can register very easily through the Ohio Business Gateway. Just go to ohio.gateway.gov and click "Create an Account." Once you have set up your account, you can input your tax information, update the details of your business, and more.
Ohio has added most of their business services to the Ohio Business Gateway, simplifying the management process for small business owners and making State compliance faster than ever before.
6. Hire employees and report them to the State.
If you have decided that you need to hire new employees for your business, you have a legal obligation to report those new employees to the State. This can be done through the Ohio New Hire Reporting Center. Go to newhire-reporting.com/OH-Newhire and register for an account. After you have entered details about your business and payroll information, you can use the portal to report new employees.
New employees are classified as anyone you hire who has not previously worked for your business. They must be reported, regardless of how much work they intend to do for you, or for how long. This is applicable not only when you are opening your business, but each and every time you hire a new person.
7. Obtain applicable state licenses and permits.
Every type of business and industry has specific standards that must be met and regulations that must be adhered to. Operating your business in Ohio without the applicable permits could lead to fines and other more serious legal ramifications.
If you are opening a bar, you will need an Alcoholic Beverage Permit. If you are starting a climbing wall, you will need a Climbing Facility permit. There are permit and license requirements for almost every business, so make sure you know what is required for your business.
You can view the full list of licenses and permits from the State of Ohio by going to https://business.ohio.gov/wps/portal/gateway/business/manage/licenses.
8. Purchase insurance.
There are many moving parts when you are starting a small business in Ohio, and it takes a lot of effort. It is always wise to protect your business with insurance. There are a number of types of insurance that you may want to purchase, including:
It is important to note that in Ohio, workers compensation insurance is mandatory. By law, all businesses must purchase workers compensation coverage to pay for an employee's wages in the event that they are injured on the job and unable to work for a period of time.
Automobile insurance is also mandatory in Ohio for small businesses that have employees who must drive as a part of their job. Most small business owners bundle auto insurance with their other coverage to save money.
9. Keep up with on-going requirements.
Business owners in Ohio should always pay attention to State regulations regarding their industry and/or business entity. Even after you start your business, there are some requirements that are ongoing.
An Ohio LLC must pay an annual Commerical Activity Tax if their receipts are in excess of $150,000.00 in a year. Likewise, Ohio corporations must pay the same tax if their annual receipts exceed $150,000.00.
Starting a Business in Ohio FAQs:
How much does it cost to start a business in Ohio?
At a minimum it costs $164.00 to start a business in Ohio - $125.00 to incorporate an LLC and $39.00 to register a business name.
Where can I apply for an Ohio business license?
You can apply for whatever licenses and permits that you need to do business in Ohio by going to business.ohio.gov.
Are there any specific rules for an LLC in Ohio?
In Ohio, you must file Articles of Organization with the Secretary of State to form an LLC. The fee is $125.00. An operating agreement is not mandatory in Ohio, but it may help you to organize your business.
Do I need workers' compensation?
By law, small businesses in Ohio must provide workers' compensation to their employees in case they are injured on the job.
How do I register a business name in Ohio?
You can register a business name with the Ohio Secretary of State by filling out the name registration form and paying the $39.00 fee. You can learn more at www.sos.state.oh.us.
Fees for Starting a Business in Ohio:
| Fee Type | Cost |
| --- | --- |
| Name Registration | $39.00 |
| Filing Articles of Organization | $125.00 |
Final Thoughts:
With a host of online resources and a friendly small business community, the Buckeye State is a great place to do business. If you are planning on starting a business in Ohio, use these steps and tips to get the ball rolling and create a legal business entity.
For more information about starting your own business, be sure to check out How to Start a Business.
Other How to Articles for the Region: