How to Start a Business in Massachusetts
Detailed guide with helpful information on Massachusetts fees, requirements, licenses, and formation. Includes resources, FAQs, and downloadable checklist.
Updated on June 4th, 2019
The SMB Guide is reader-supported. When you buy through links on our site, we may earn an affiliate commission. Learn more
Massachusetts has a lot to offer aspiring small business owners including young talent, a growing economy, and a booming technology industry. In 2018, 99.5% of Massachusetts businesses were classified as small business, employing 1.4 million people.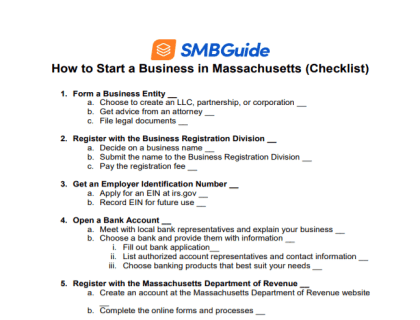 How to Start a Business in Massachusetts Checklist - Free PDF
Stay on task and cover your bases with our detailed checklist.
How to Start a Business in Massachusetts:
1. Choose a business structure.
Before you can register your business with the state, you need to choose your business structure. There are four popular business structures:
A sole proprietorship is easier to set up and gives the business owner control. There is no legal difference between the owner and the business.
A partnership is similar to a Sole Proprietorship, with two or more people involved. Partners can share management duties and profits.
A Limited Liability Company (LLC) offers the benefits of a corporation and partnership. It separates the owner/s and the business financially and legally.
A corporation is a separate legal entity that can be held legally liable, be taxed, and make a profit.
Your business structure should provide you with the best balance of legal protection and financial benefits.
For small business owners, an LLC is a good option. With an LLC, owners can protect their personal assets and pay a lower tax rate than they would with a corporation. It's also easy to set up and run, with minimal paperwork.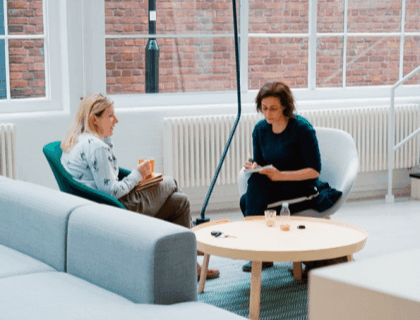 Forming an LLC in Massachusetts:
Name your LLC.
Choose a resident agent.
File the Articles of Organization.
Create an operating agreement.
Obtain an EIN.
2. Register your business name.
By law, your business name must be registered with the Massachusetts Secretary of State (SOS). For LLCs and corporations, you first need to check if your business name is available to reserve. You can perform a business entity search on the Massachusetts SOS database.
In Massachusetts, you can reserve a business name for 60 days by filing an online Application of Reservation of Name with the SOS. In addition, you can download, print, and mail in the form. Mailing details are available on the form. There is a $30.00 filing fee.
For a sole proprietorship or a partnership whose business name is different from the owner or individual partners, you will need to file a notarized assumed name certificate with the city or town where your business is situated. The certificate must be renewed every four years.
Learn more about how to name your business.
3. Get an Employer Identification Number.
You need a federal Employer Identification Number (EIN) if you plan on hiring employees or if your business is taxed separately. Issued by the IRS, an EIN is used to identify employers that are required to file different business tax returns.
You can complete an online application at the IRS website. There is no filing fee.
4. Open a bank account.
To ensure your business finances are organized, consider opening a separate business bank account. Banks have various accounts for businesses of all sizes. Contact your local bank to learn about the different offers.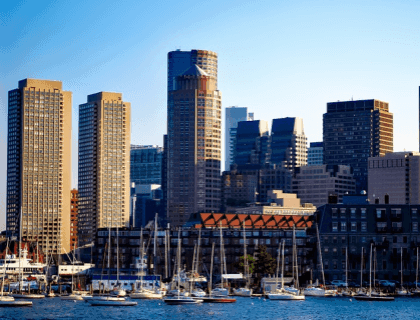 Best Banks for Small Businesses in Massachusetts:
Azlo.
Century Bank.
Citizens Bank.
Avidia Bank.
5. Register with the Massachusetts Department of Revenue.
To sell goods in Massachusetts, you need to register for a sales and use tax registration certificate with the Massachusetts Department of Revenue (DOR). In addition, if you plan on hiring employees, you will need to register for employer withholding.
For both types of registration, you can use the online MassTax Connect.
6. Hire employees and report them to the State.
Federal law requires all employers to report new and re-hired employees with the Massachusetts New Hire Reporting Program within 14 days of employment. In Massachusetts, the new hire reporting requirements apply to all business owners regardless of the number of employees or contract type. This process has to be repeated with each new employee.
You can report new employees online at MassConnect. Alternatively, you can download the New Hire Form, and mail or fax it to the Massachusetts Department of Revenue. Mailing information is available on the form.
To help you run payroll, consider using a payroll company. Here is a list of the best payroll companies in Boston.
7. Obtain appropriate state licenses and permits.
Depending on your type of business, you may require additional permits and licenses to operate. Regulatory licenses cover areas such as health, the environment, construction, and professional services.
To find out what licenses your business may need, you can check the Licensing and Regulation section of the DOR website. For businesses that offer professional and occupational services, you can check the Professional Licenses & Permits section.
8. Get insurance.
There are different types of business insurance available, including:
Mandatory insurance:
In Massachusetts, all employers of one or more individuals must carry workers' compensation insurance. There are certain exemptions to this law. For more information, contact the Massachusetts Executive Office of Labor and Workforce Development.
In addition, businesses that employ drivers must carry minimum automobile insurance.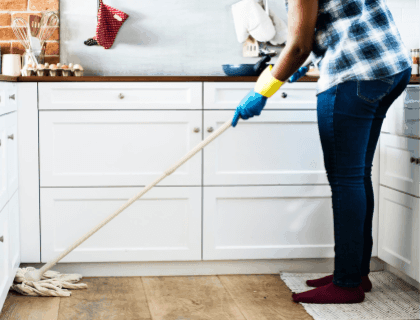 Massachusetts Exemptions for Workers' Compensation Insurance:
Domestic workers that work less than 16 hours a week.
Members of a limited liability company (LLC).
Partners of a limited liability partnership (LLP).
Sole proprietors of an unincorporated business.
It's important to note that employees who are not members of an LLC or LLP must still be covered for workers' compensation.
9. Keep up with on-going requirements.
To legally operate your business, you need to stay up to date with the latest federal, state and local regulations that apply to your business or industry.
For LLC businesses, an annual report must be filed with the Massachusetts SOS before the anniversary date of the filing of its original certificate of organization. There is a $500.00 filing fee.
A corporation is also expected to hand in an annual report with the SOS. There is a $125.00 filing fee.
FAQs:
How much does it cost to register a business name in Massachusetts?
It costs $30.00 to register a business with the Massachusetts Secretary of State.
Where can I apply for a Massachusetts sales tax license?
To apply for licenses and permits in Massachusetts, you can go to MassTax Connect.
Are there any specific rules for an LLC in Massachusetts?
To form an LLC in Massachusetts, you need to file Articles of Organization with the SOS. The filing fee is $275.00. Even though it's recommended that businesses get an operating agreement, it is not required in the state of Massachusetts.
Do I need workers' compensation?
Yes, employers who hire one or more employees must carry workers' compensation insurance.
How do I register a business name in Massachusetts?
You can register your business online with the Massachusetts SOS.
Fees for Starting a Business in Massachusetts:
| Fee Type | Cost |
| --- | --- |
| Name Registration | $30.00 |
| Filing Articles of Organization | $275.00 |
| Annual Reports | $125.00 - $500.00 |
Other How to Articles for the Region: