How to Start a Business in Illinois
Detailed guide with helpful information on Illinois fees, requirements, licenses, and formation. Includes resources, FAQs, and downloadable checklist.
Updated on June 4th, 2019
The SMB Guide is reader-supported. When you buy through links on our site, we may earn an affiliate commission. Learn more
Illinois is the sixth most populous state in the U.S. with the fifth largest economy by GDP. The Prairie State boasts world-class infrastructure, education, and technology, and its diverse economy attracts people from all over the United States and the world.
If you would like to start a business in the Midwest, read our detailed guide below. It contains helpful information and steps to starting a business in Illinois.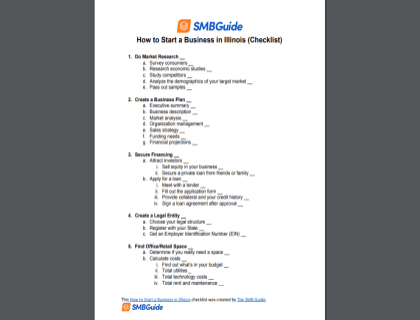 How to Start a Business in Illinois Checklist - Free PDF
Stay on task and cover your bases with our detailed checklist.
How to Start a Business in Illinois:
1. Create a legal entity.
When starting a business, you need to determine what legal structure it will have. There are various types of business structures, but the most common ones include a sole proprietorship, a limited partnership (LP), corporation, and limited liability company (LLC).
If you decide to become a sole proprietor, you do not have to register your business with the state and may report income via your personal income tax return. However, corporations and LLCs need to be registered with the State.
It is advisable to speak to a small business attorney to assist you with arranging and setting up the legal aspects of your business structure.
For more information, refer to the Illinois state website at www2.illinois.gov.
2. Register with the Secretary of State (SOS).
If you have established a sole proprietorship or general partnership, and your business name is different from your full legal name, you will need to register an Assumed Business Name (DBA) with your county clerk's office. You can do so in-person, via email, or online.
For all other entities (LLC/LP/LLP, etc.), you will have to file Articles of Organization with the SOS. You can do so by filing the appropriate paperwork online or by mail. Keep in mind that you will also have to provide the details of a registered agent with a permanent address in Illinois, for service of process.
Next, you will need to register your business with the IRS so that you can pay federal and state taxes. Depending on your business activities, you may need to pay additional taxes, so be sure to contact your local revenue department for further information.
3. Get an Employer Identification Number (EIN).
All business entities must obtain an EIN or Federal Employer Identification Number (FEIN) if they pay wages, or file any pension or excise tax returns for the purchase and selling of alcohol, tobacco, or firearms.
You can apply for your EIN online by going to www.irs.gov. This service is free of charge.
4. Open a small business bank account.
It's important to open a bank account for your business so that you can manage your money and records separately from your personal assets.
To open a bank account, you will need your Social Security number or EIN, as well as your articles of incorporation, and business license.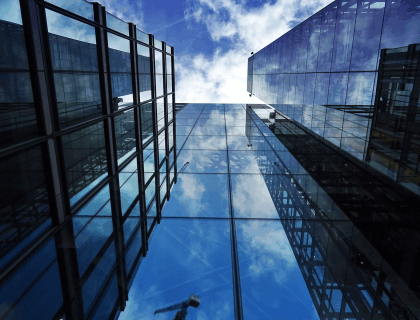 Best Banks for Small Businesses in Illinois:
Azlo.
Associated Bank.
Bridgeview Bank Group.
Byline Bank.
5. Register with the Illinois Department of Revenue.
In Illinois, most businesses are required to be registered and/or licensed by the Illinois Department of Revenue (IDOR).
If you plan on hiring employees, buying or selling products (wholesale or retail), or manufacturing goods, you must register with the IDOR. This applies to sole proprietors as well.
You can either register electronically or fill out and mail Form Reg-1. Once you receive your Certificate of Registration, you must display it in a prominent location in your place of business.
6. Hire employees and report them to the State.
All employers must report new hires to the Illinois Department of Employment Security (IDES), and follow the requirements set out by the IDES. This includes paying unemployment insurance contributions and submitting quarterly wage reports.
You can report new employees at www.ides.illinois.gov.
You will also need to set-up payroll to withhold taxes for your employees. To find out how to do this, read How to do Payroll: The Ultimate Guide. You can also outsource your payroll to a payroll company in Illinois, or speak to a certified tax practitioner to assist you with preparing taxes.
7. Obtain applicable state licenses and permits.
Before conducting business, you must obtain the applicable licenses and permits for your business from the Illinois Department of Financial and Professional Regulation (IDFPR). To determine which licenses and permits you need, go to www.idfpr.com.
Note that the City of Chicago has its own licensing requirements and application fees according to the industry you're in. For more information, go to www.chicago.gov.
In Illinois, many counties restrict advertising, regulate pricing or have zoning regulations. To find out if any of these restrictions apply to you, contact your city or county clerk.
8. Purchase insurance.
Acquiring small business insurance is important to protect your company from any loss, property damage, or lawsuits brought against you. And if you have permanent or temporary employees, you are responsible for providing workers' compensation in case of accidental death, injury, and occupational diseases experienced during the course of employment.
There are several types of business insurance that you can purchase: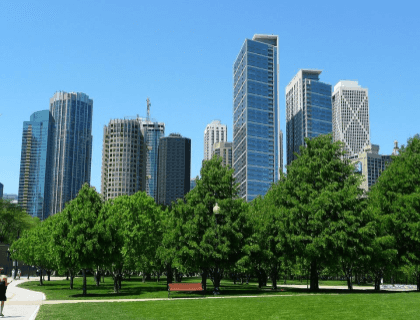 Best Places to Start a Business in Illinois:
Itasca.
Deerfield.
Oak Brook.
Lincolnshire.
Peru.
Burr Ridge.
Lisle.
Starting a Business in Illinois FAQs:
How much does it cost to start a business in Illinois?
The cost to register an Assumed Business Name in Illinois varies according to your city or county, but you can expect to pay between $5.00 and $50.00. The cost to file Articles of Organization with the SOS is $150.00, plus a minimum franchise tax of $25.00.
Where can I apply for an Illinois business license?
You can apply for various business licenses via www2.illinois.gov.
If you are in Chicago, you can apply for a business license in-person or electronically on the Chicago Business District site.
Are there any specific rules for an LLC in Illinois?
Yes, if you are forming an LLC you will need to file Articles of Organization with the SOS, along with the filing fee. Your LLC must meet the naming and formation requirements of the state, which you can view on the SOS website at www.cyberdriveillinois.com.
Do small businesses pay sales tax in Illinois?
Yes. Depending on your line of business, you may have to pay sales, excise, and utility taxes. For more information, go to www2.illinois.gov.
What are some good resources for small businesses in Illinois?
Fees for Starting a Business in Illinois:
| Fee Type | Cost |
| --- | --- |
| Register Assumed Business Name | Varies by county/city |
| Filing Articles of Organization | $150.00 |
| Minimum Franchise Fee (for incorporating) | $25.00 |
Final Thoughts:
With a vibrant business climate and a wealth of resources, now is as good a time as any to start a business in Illinois.
For more on starting a small business in Illinois, read our guide on How to Start a Business.
Other How to Articles for the Region: