How to Start a Business in Georgia
Detailed steps to starting a Georgia business, with information on fees, formation, registration and licensing. Includes FAQs and a downloadable checklist.
Updated on November 26th, 2019
The SMB Guide is reader-supported. When you buy through links on our site, we may earn an affiliate commission. Learn more
There are a number of steps you need to follow if you would like to start your own successful business in Georgia, which you will find in this guide.
Georgia ranks number one in the U.S. for its small business climate, and number three overall for the best state to start a business.
But even in this business-friendly climate, it is important to remember that your business idea in Georgia needs to be researched and planned carefully before it becomes a reality.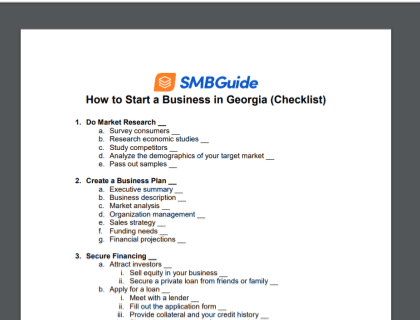 How to Start a Business in Georgia Checklist – Free PDF
Download our How to Start a Business in Georgia checklist in PDF format.
How to Start a Business in Georgia:
1. Create a business entity.
Deciding on a business entity isn't easy. For this reason the Secretary of State's (SOS) Corporations Division advises prospective business owners to consult with both an attorney and an accountant during this process.
In Georgia you need to file your new business with the SOS's Corporations Division. You can either visit their offices in Atlanta, or visit sos.ga.gov to file your new business.
The main business entities you can choose from in this state are partnerships, limited liability companies (LLCs), S corporations, C corporations or sole proprietorships.
By Georgia law, some out-of-state entities that do business in Georgia are also required to file with the Corporations Division.
2. Register your business name with the Secretary of State.
When starting a new business, you can reserve your name for 30 days at a cost of $25.00 while filing your paperwork—this will save you time and money. Original filing fees cost $100.00.
3. Get an Employer Identification Number (EIN).
An Employer Identification Number (EIN), also called a Federal Employer Identification Number (FEIN) is your business's equivalent of a social security number. Every business in Georgia that hires staff is required by law to have an EIN.
Even if your business doesn't have employees, you need an EIN. Banks often ask for an EIN to open a business account, or to loan your business money or issue credit cards. You need an EIN when filing tax returns (except if you trade as a sole proprietorship), and other entities you do business with such as wholesalers will ask you for an EIN as well.
You need to apply for an EIN after forming your legal entity, as the legal name of your business needs to match the business name on the EIN application. Registering an EIN is free, and takes only a few minutes. Go to irs.gov to apply for your EIN.
4. Open a business bank account.
Once you receive your EIN, you can open a business bank account.
A business bank account keeps your business funds separate from your personal funds, thereby offering you limited personal liability protection. It also keeps your customers' personal information secure, and offers them purchase protection.
Another benefit of a business bank account is that it enables you to get your employees to do your business's daily banking tasks.
When you open a business bank account, it is important for you to select the right type of bank account, provide the correct documentation, and deposit funds into the account.
5. Register your business to pay tax.
To register your business to pay tax you need to visit an office of Georgia's Department of Revenue or visit the Georgia Tax Center (GTC) website at gtc.dor.ga.gov.
Businesses in Georgia pay franchise tax. Read our article on franchise tax for more information.
6. Apply for Georgia licenses and permits.
Applying for a business license and starting a business can be a complicated process, therefore the Georgia SOS recommends that you involve an attorney or an accountant.
In some cities and counties of Georgia, you first need a state tax identification number, a trade name registration and zoning approval for your business location before you can apply for a business permit. You may also need to apply for professional licenses, corporate registrations and other special operating permits before you apply for a business license in Georgia.
Your local Chamber of Commerce or development authority can give you advice on business licensing in your area. You can also visit Georgia's SOS First Stop Business Information Center at sos.ga.gov, which provides information and contacts for state regulatory requirements pertaining to small businesses.
7. Decide on your location.
Research found Georgia's biggest cities have the most businesses in the state, but the most profitable businesses are in the smaller cities and suburbs. Six of Georgia's top ten places to start a profitable business have a population of less than 60,000, and they have a higher average revenue per business than Georgia's larger cities by population.
8. Purchase insurance.
If you employ three or more persons—part- or full-time—in Georgia, you are required by law to have workers' compensation insurance. As many as five officers in a corporation can waive coverage for themselves in Georgia.
All drivers in Georgia are required by law to carry minimum automobile insurance. It is a good idea to invest in a commercial vehicle policy if you use your vehicle or truck for business, even though it is not required.
There also are other types of insurance that you may want to purchase:
Commercial liability insurance is not mandatory for all businesses in Georgia. This type of insurance limits your business's risk exposure, as there is generally no cap on the number of compensatory damages that can be awarded in this state.
It is recommended that small businesses invest in coverage between $500,000 and $1 million. High-risk businesses or those with a high volume of interaction with the public are advised to increase their coverage.
If you run your business from home, your homeowner's or renter's insurance has limited coverage for business liability and loss.
9. Hire employees and report them to a state directory.
Once you start hiring employees, it is important to know that all employers in Georgia are required to report newly hired and re-hired employees to a state directory within 10 days. This includes temporary employees, but not contractors.
You can visit the Georgia New Hire Reporting Center at ga-newhire.com, and register at the bottom left of the page to report your new employees.
Employees younger than 16 who have not graduated from high school need a work certificate or work permit from their school. There are various restrictions regarding the types of businesses that are allowed to hire minors in Georgia, as well as the hours they are allowed to work.
You can visit sos.ga.gov to get more information on hiring employees in Georgia.
10. Keep up with ongoing requirements.
After you start your business in Georgia, there are ongoing requirements you should pay attention to.
For instance, you need to renew your business registration in Georgia by April 1 every year with the SOS's Corporations Division. This costs $50.00, and there's a $25.00 late-payment fee. You can either submit a hard copy of your renewal at your nearest Corporations Division office, or visit ecorp.sos.ga.gov to renew your business online.
Georgia imposes both a corporation net worth tax and a corporate income tax. Your business may be liable for one, or both of these.
How your business in Georgia is taxed depends on its legal form. LLCs that elect to file taxes as corporations, S corporations and C corporations are liable for net worth tax. C corporations also pay Georgia's corporate income tax at a flat rate of 6% of federal taxable income, with adjustments.
If your taxable business is distributed to you personally, you are required to pay personal state tax on it.
Your business may be liable for taxes in Georgia if it generates income from Georgia, even if it is located or was formed outside Georgia.
Taxation for Various Business Forms in Georgia:
| Company Form | Taxation |
| --- | --- |
| C Corporation | Required to pay Georgia's corporate income tax of 6% of federal taxable income, with adjustments. Also required to pay corporation net worth tax. |
| S Corporation | Pass-through entity. Not required to pay federal income tax. Taxable business income is passed through to individual shareholders, based on their share of the corporation's income. |
| Limited Liability Corporation (LLC) | Pass-through entity. Not required to pay state or federal income tax. Option of having an LLC classified as a corporation, which is liable for Georgia's 6% corporate income tax as well as corporation net worth tax. |
| Partnership | Not required to pay Georgia's corporate income tax nor the state's net worth tax. Taxable business income is distributed to individual partners, who are required to pay tax on their distributed amount on both their federal and state tax returns. |
| Sole Proprietorship | Not required to pay Georgia's corporate income tax nor the state's net worth tax. Taxable business income from your business is distributed to you as the sole proprietor, on which you pay federal and state tax. |
Fees for Starting a Business in Georgia:
| Fee Type | Cost |
| --- | --- |
| Name Reservation | $25.00 |
| Original Filing Fee | $100.00 |
| Regular Annual Registrations | $50.00 |
Final Thoughts:
With its low tax rates, large numbers of well-educated workers and good support services, the Peach State is a good place to start your own business. If you are planning to start a business in Georgia, follow the steps in this guide to realize your plans.
To learn more about starting your own business, take the time to read How to Start a Business.
Other How to Articles for the Region:
FAQs:
How much does it cost to get a business license in GA?
Small-business owners in Georgia must apply for a business license that corresponds with the type of business they operate or service they provide. Therefore, the cost of business licenses varies. If businesses charge a membership fee to the public for access, they will require a buying service license that costs $50.00 and is valid for one year.
How do I start an LLC in Georgia?
Choose a Registered Agent in Georgia.
File the Georgia Articles of Organization.
Create an Operating Agreement.
Obtain an EIN.
How do I start a business in Georgia with no money?
Use services to generate cash flow and fund a product-based business.
Get creative to discover funding sources.
Grind it out and look for business, even if you don't get paid for it.
Use your current resources in different ways to generate income.
Get a loan or a line of credit to help with the early stages of your business.
Locate an accelerator if you can hit the market swiftly.
Crowdfund and allow the public to invest a small percentage of money in return for future buy-in.
Use a business incubator to provide funding designed specifically to financially assist a startup company.
How long does it take for LLC approval in Georgia?
Routine processing for LLC formation usually takes four to six weeks.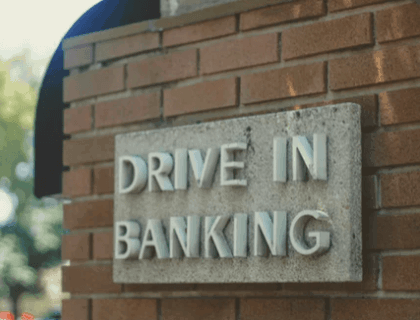 What are the best banks for small businesses in Georgia?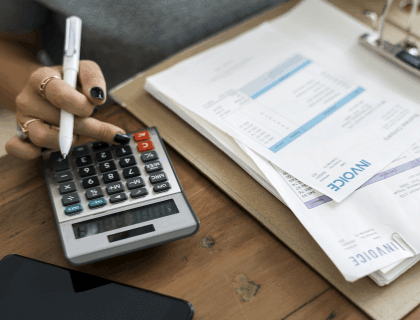 How do I register my business online for tax in Georgia?
Select your business type and complete the required fields.
Verify your address.
Select the accounts you are registering and complete the required information.
Enter your NAICS code.
Add the records of your officers or responsible parties, and complete the required information for each.
Create a logon for the Georgia Tax Center.
Choose authentication options for your account – text, email, or both.
Review your information and submit.
Print the confirmation page or write down the number that you receive.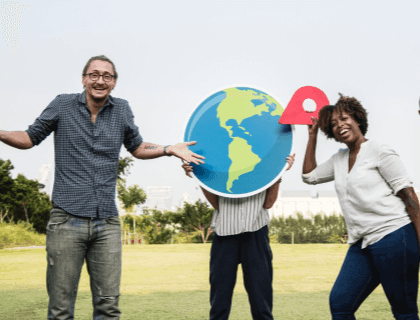 What are the top 10 places to start a business in Georgia?
Waycross.
Carrollton.
Jesup.
Alpharetta.
Doraville.
Vinings.
Garden City.
Cumming.
Norcross.
Dalton.
How much does it cost to start a business in Georgia?
To start off with, it will cost your business $100.00 to create a business entity and $25.00 to reserve your business name.