How to Start a Business in California
Find out what you need to do in order to start your own business in the State of California. Includes steps and frequently asked questions.
Updated on March 31st, 2020
The SMB Guide is reader-supported. When you buy through links on our site, we may earn an affiliate commission. Learn more
The State of California is a major hub for businesses and entrepreneurs. In fact, 99.8% of businesses in the Golden State are small businesses (3.9 million), creating employment for nearly half of the population of California.
Below, we provide a step-by-step guide on how to start a small business in CA and answer a few commonly asked questions.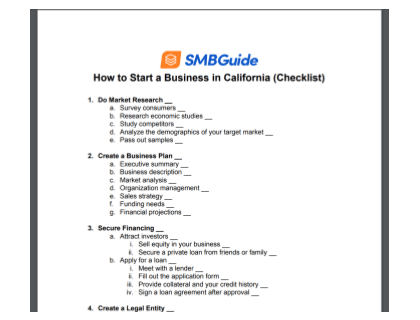 How to Start a Business in California - Business Plan Template
Download a free business plan checklist and follow our steps to starting a business in California.
How to Start a Small Business in California:
1. Do market research.
Market research includes deciding type of products or services you are planning to provide, what problems they aim to solve, who your potential customers are, and how you intend on attracting them to buy what you are selling.
You will also need to decide whether you need to hire employees, and most importantly, how much money you will need to get started and where you will source it from. Once you have answered all these questions, you should have a good outline of how to start a company in California.
2. Create a business plan.
Your business plan should detail financial resources, ownership, marketing, production, and other important information on how to run a business successfully during the early stages.
For more information on how to write a business plan, refer to our handy checklist above. Make sure that your business plan is as comprehensive as possible, as you'll be showing the plan to potential investors and lenders in the near future.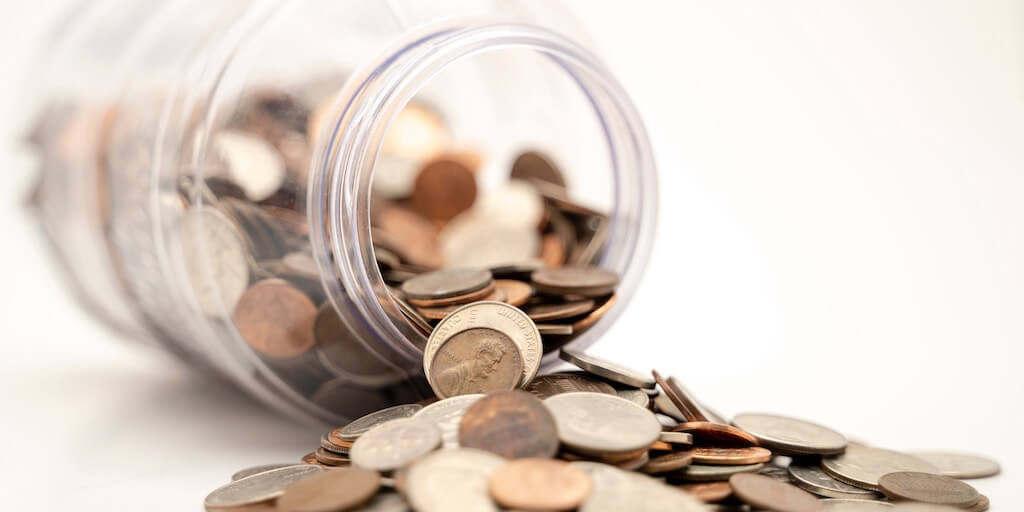 Learn more about starting a business when you have no money. Includes useful techniques and information about lean startups.
Jun 1, 2020
3. Secure financing.
Financing a small business can take the form of personal savings, secured and unsecured loans, as well as funding from friends and family.
Here are a few places where you can get assistance with securing startup capital in California:
Small Business Development Centers.
Small Business Loan Guarantee Program.
Financial Development Corporations.
California Capital Access Program.
Industrial Development Bonds.
You can also check out our article on Small Business Loans - Best Lenders and Loans for 2019.
4. Choose a legal entity and business name.
The type of legal entity that you choose will affect your business in many ways, including how your business will be taxed and how you manage and run your business. We recommend consulting with an attorney and tax accountant to help you determine which business entity is the best option for you.
For Limited Liability Company (LLC), Limited Partnership (LP), or Limited Liability Partnership (LLP), status you must comply with statutory name requirements, as you may not register a name that is already in use. Be sure to do a preliminary search of business names using the California Business Search tool at BusinessSearch.sos.ca.gov.
5. Register with the Secretary of State.
Next, you will need to register your business with the state. You can do so by e-filing on the Secretary of State website, or in person by filling in the necessary forms and submitting them at the Secretary of State's Business Programs Division filing counter. It costs $100.00 to register a corporation, and $70.00 to register an LLC, LP, or LLP respectively.
6. Register a Doing-Business-As name, if applicable
If you choose to do business under a name other than your business' legal name, you will have to file a fictitious business name with the county clerk or recorder closest to your business location. This is important as you want other businesses and startups to be able to find your fictitious business name if they do a name search in your county.
If you do not register a Doing-Business-As (DBA) name, you may not be able to enforce your business agreements. This also applies to businesses that are required to operate under a different name to obtain licenses and permits. Refer to your county's website for requirements, forms, and fees.
7. Choose a location and check local zoning regulations.
If you intend on purchasing or leasing a building, renting retail space, or operating your business from another location (including your home), you are required to contact the city and county where you plan on conducting business before finalizing any plans to ensure that you comply with zoning regulations. You can also contact your Local Community Development Department for more information.
8. Obtain specialty licenses and permits, if applicable.
Visit the CalGold website at calgold.ca.gov for detailed information on business licenses, permits, registration requirements, and fees. Once you know which licenses and permits to apply for, visit the Department of Consumer Affairs to obtain your licenses and permits.
If you are hiring employees you will also need to obtain an Employee Identification Number (EIN) so that you can manage and file income tax for your staff. To obtain your EIN, go to www.irs.gov and apply online. Once all validations have been made, you will receive your EIN immediately.
9. Complying with Tax Regulations in California.
California levies three types of business taxes - corporate tax, franchise tax, and alternative minimum tax (AMT). Corporate tax (8.84%) and AMT (6.65%) applies to C corporations and certain LLCs. In contrast, S corporations only pay 1.5% of corporate tax.
Franchise tax is imposed on S corporations, LPs, LLCs, and LLPs, which is either a minimum of $800.00 per year or an amount based on net income, whichever amount is greater. Read our article on franchise tax for more information.
Sole proprietors (excluding LLCs with one member) are only subject to personal income tax as their businesses are not registered with the state.
10. Purchase insurance.
Every small business needs small business insurance to protect it against any damage or legal issues that may arise. By law, you are also responsible for providing your employees with state disability insurance, unemployment insurance, and equal employment opportunities.
11. Ongoing Secretary of State filing requirements.
All corporations and LLCs are required to file a Statement of Information (SOI) with the Secretary of State within 90 days of registering the business. Thereafter, stock corporations and foreign corporations must file an SOI on an annual basis, while LLCs are required to file biennially. An SOI, also known as an annual report, can be filed online at bizfile.sos.ca.gov for a fee of $20.
Fees for Starting a Business in California:
| Fee Type | Cost |
| --- | --- |
| Business registration (Corporation) | $100.00 |
| Business registration (LLC, LP, LLP) | $70.00 |
FAQs:
How much does it cost to get a business license in California?
A small business license in California usually costs between $70.00 and $100.00.
Where do I go to get a business license in California?
For a business license, you can apply through the Department of Consumer Affairs, and for a seller's license, you can apply via the Department of Tax and Fee Administration.
Is a business license required in California?
Yes. All business owners must have a general business license in the city in which their business is located. Businesses that operate in unincorporated sections of the state must obtain their license or tax certificate through that county.
How long does it take to get a business license?
The time frame for receiving your license will vary depending on the type of business entity you are creating.
How long does it take to form an LLC in California?
Forming an LLC in California can take 3 to 5 business days in quiet periods and up to 7 business days during peak filing periods.
How much does it cost to start a business in California?
Registering a business in California costs between $70.00 and $100.00, depending on your business structure.
Are there any specific rules for an LLC in California?
In California, you must file Articles of Organization with the Secretary of State to form an LLC. The fee is $70.00.
How do I register a business name in California?
You can register a business entity through the Secretary of State.
Is an employer required to reimburse for mileage in California?
Yes, mileage reimbursement is a requirement in California. The standard IRS rate for reimbursement is 54.5 cents per mile. Employers do not have to follow this rate and can instead repay the exact expense incurred by the employee.
How do I start a home business in California?
If you are planning to start a home business, use the steps provided in our detailed guide to help you get the ball rolling. You can also check out IRS publication 587 to work out tax deductions for a home business. Bear in mind that certain businesses require specific licenses and permits, so be sure to refer to calgold.ca.gov to learn more.