How to Start a Business in Alaska
Step-by-step guide with helpful information on how to start your own business in Alaska. Includes resources, FAQs, checklist, fees and license info.
Updated on March 31st, 2020
The SMB Guide is reader-supported. When you buy through links on our site, we may earn an affiliate commission. Learn more
If you're thinking of starting a business in Alaska, our detailed guide will provide you with all the steps and information you need to open a business in the Last Frontier state.
Alaska is the northern-most state in America, bordered by Canada to the east and the Pacific Ocean to the south-west. Oil, gas, and tourism are the biggest drivers of the economy, while fishing, timber, mining, and agriculture are also high on the list. Small businesses account for 96.4% of the business population, according to the Small Business Administration.
With a population of 739,795 Alaska is certainly not crowded. However, the state welcomes over one million visitors each year, creating the need for thousands of jobs.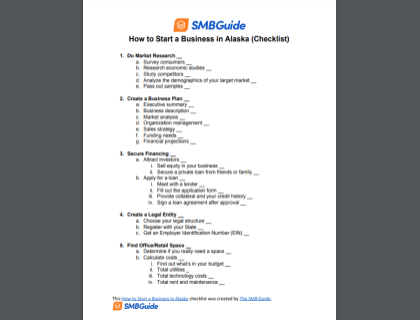 How to Start a Business in Alaska Checklist - Free Download
This How to Start a Business in Alaska checklist [PDF] will help you to thoroughly prepare and organize your business, from getting started to marketing your business.
How to Start a Business in Alaska:
1. Create a business plan.
A business plan is the blueprint for your business and will enable you to get funding from investors or lenders. It provides an overview of your business and puts in place the strategies you will need to successfully launch and operate your business.
2. Secure financing.
Once you've created your business plan, you will have a clearer idea of how much money you will need to start your business. There are many ways to fund a small business. You can opt to get a loan from friends and family, secure a small business loan from a bank or alternate lender, sell equity in your business, or apply for a small business grant from the state.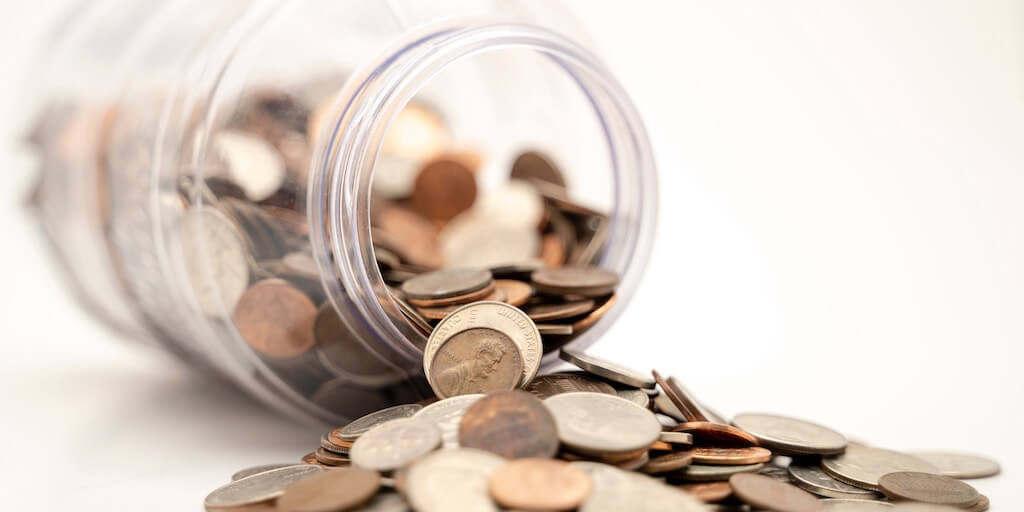 Learn more about starting a business when you have no money. Includes useful techniques and information about lean startups.
Jun 1, 2020
3. Create a legal entity.
Once you have selected a business structure and name, you will only be able to operate and advertise under the exact name on your business license. Before you can register your business, you will need to do thorough research to determine if your business name is free.
Search the corporation, business, and professional licensing database here to see if your chosen name is already in use. For more information on reserving your business name, visit the Alaska government webpage here.
Next, you will need to determine your line of business and obtain your NAICS code before you can register. NAICS stands for North American Industry Classification System and was developed by the U.S. Census Bureau to classify businesses according to their line of business.
You can view all of the State of Alaska NAICS codes here.
4. Get a Federal Tax ID.
As you are starting a new business, you will need to apply for a federal tax ID, also known as an Employee Identification Number (EIN). Alaska does not impose a sales or income tax on businesses, which means you will only have to pay corporate and federal taxes.
You can apply for your EIN online at www.irs-ein-tax-id.com, and you will receive it via email on the same day.
5. Obtain applicable state licenses and permits.
In Alaska, if you are starting a Limited Liability Company (LLC), the cost to file Articles of Organization with the state is $250.00. A regular business license will cost you $50.00 per year and must be renewed after one or two years.
You may apply via post or online by filling out the Business License New Application form on the state commerce website.
Depending on your line of business, and your city or county, you may need to obtain special permits and licenses to operate. Refer to alaska.gov or contact your local municipality for more information.
6. Find office/retail space.
Once you've sorted out the financial and legal aspects of your business, you can now start searching for office or retail space. To help you get started, read our guides on How to Lease Commercial Real Estate and How to Pick a Business Location.
According to the Alaska Department of Labor and Workforce Development, the top cities for business include Anchorage, the Kenai Peninsula, Valdez, Fairbanks, and Juneau.
7. Purchase insurance.
It's important to purchase business insurance to protect your personal and business assets from any liability such as lawsuits or property damage. And if you have employees, by law you are responsible for providing them with workers' compensation, as well as unemployment and disability insurance. You can learn more about business insurance by reading our 2019 Guide to Small Business Insurance.
8. Hire employees.
Now that you have registered your business and obtained your EIN, it's time to start hiring employees. Following a structured process will enable you to identify and attract the best candidates for your business.
If you're a first-time employer or simply need some help with this step, you might want to try one of the various hiring tools available to streamline the process.
When you're ready to start hiring, follow the steps outlined below.
9. Develop business relationships.
Developing relationships with your vendors and suppliers, as well as your employees and customers, is an essential part of business success. A strong relationship with your suppliers will allow you to secure discounts, source products urgently, and sort out any issues that may arise timeously.
You might also want to join an association in your line of business, enabling you to learn about new trends and developments in your industry and allow you to connect with other businessmen and women.
10. Brand and advertise.
Branding and advertising enable you to spread the word about your business and encourage customers to buy your products or services. There are many tools and services that you can employ to help build your brand, from advertising to marketing automation tools.
As a business owner, you must ensure that your business appears in local internet searches so that customers can find you, and that you have a presence on social media. There are a variety of tools and resources that you can use to advertise your business, both through traditional and digital marketing.
Minimum Fees for Starting a Business in Alaska:
| Fee Type | Cost |
| --- | --- |
| Name registration | $50.00 |
| Filing articles of organization | $250.00 |
Final Thoughts:
Alaska is a business-friendly state that welcomes small business owners and entrepreneurs. The fact that there is no individual income tax or state sales tax is a great advantage, plus the vast number of small businesses is a good indication that you can make a decent living in the Last Frontier.
For more information about starting your own business, be sure to check out How to Start a Business.
Other How to Articles for the Region:
FAQs:
How do I start an LLC in Alaska?
You can form an LLC in Alaska by filing Articles of Organization with the Alaska Department of Commerce, Community, and Economic Development. The processing time is 10 to 15 business days.
How do I start a corporation in Alaska?
In order to start a corporation in Alaska, you need to file Articles of Incorporation with the State of Alaska Corporations Section. You can file the document online or by mail and will cost $250 to file. Once this has been filed with the state, that document officially creates your Alaska corporation.
How much does it cost to start a business in Alaska?
The minimum cost to start a business in Alaska is $50.00 for a business license and $250.00 to start an LLC.
Do you get money for moving to Alaska?
Yes. The Alaska Permanent Fund Dividend (PFD) ensures that eligible Alaskans are paid an annual dividend from state mineral royalties. Residents are required to apply to receive their PFD amount. For more information about the PFD fund and eligibility requirements, visit pfd.alaska.gov.