Gold Delta SkyMiles Business Credit Card from American Express Overview
Learn more about the Gold Delta Business Credit card from American Express with features and benefits, pros and cons, and FAQs.
Updated on January 16th, 2020
The SMB Guide is reader-supported. When you buy through links on our site, we may earn an affiliate commission. Learn more
Rates and Fees:
| Rate or Fee Type | Amount |
| --- | --- |
| APR for Purchases | 17.99% (Prime Rate + 12.49%), 21.99% (Prime Rate + 16.49%) or 26.99% (Prime Rate + 21.49%). |
| APR for Cash Advances | 27.49% (Prime Rate + 21.99%). |
| Penalty APR | 29.99% (Prime Rate + 25.99%). |
| Annual Membership Fee | $0.00 for the first year, then $95.00. |
| Cash Advance | Either $5.00 or 3.00% of the amount of each cash advance, whichever is greater. |
| Foreign Transaction Fees | None. |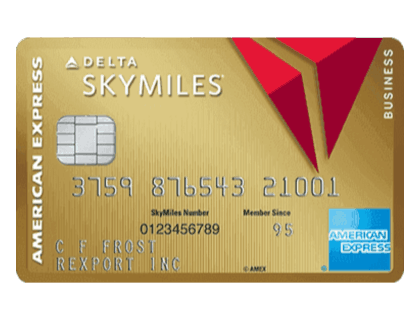 Review:
Pros: Bonus miles, priority boarding, no intro annual fee.
Cons: High fees for infrequent travelers, card not accepted by small shops.
Bottomline: Ideal option for small business owners who travel often.
Features and Benefits:
Earn bonus points in the first three months.
If you spend $1,000.00 using your Gold Delta SkyMiles Business Credit Card in the first three months, you will earn 30,000 bonus points.
Free checked baggage.
With the Gold Delta SkyMiles Business Credit Card, your first bag can be checked for free on Delta flights.
No international fee.
Traveling abroad for business is easy and affordable for Gold Delta cardholders because there are no fees for using the card internationally, regardless of the currency that you are being charged in.
Save on purchases with Delta.
Save 20% on select in-flight purchases when you use your card.
FAQs:
How do I use American Express SkyMiles on Delta?
You can use your American Express SkyMiles to purchase flights. Simply log in to delta.com and then search for and select a flight marked as "Pay with Miles eligible." You can view the different payment options on the "Trip Summary" page and choose to pay with Miles, money, or a combination of the two.
Can I cancel my Delta American Express Card?
If you want to cancel your Delta American Express Card, you can call the customer service number displayed on the back of your card for assistance.
How do I redeem my Gold Delta rewards?
You can redeem your rewards anytime by logging into your account at delta.com.
What kind of benefits does the Gold Delta SkyMiles Business Credit Card offer?
Flights.
Seat upgrades.
Car rentals.
Merchandise.
Gift cards.
Miles do not expire, and there are no limits to how many you can earn.
How do I get in touch with Delta American Express customer service?
The American Express Delta Skymiles customer service number is 1 (888) 781-6736.
What are some alternatives toGold Delta SkyMiles Business Credit Card?
Customer Reviews:
Pakron
Reviewed: Mar 07, 2017
Source: Reddit
Very decent to good. Standard would be considered 50k/$50/$2k spend. You can get $100 statement credit from applying directly from delta.com. I think you have to search for a flight first, any flight. But only 50k pts. Highest I ever heard of was 70k and that was targeted. Don't think you can get 60k/$100 or 70k/$100 but who knows with cc companies.