What is Form 941?
How to fill out Form 941 tax return form. Includes 941 Form instructions and frequently asked questions.
Updated on March 1st, 2019
The SMB Guide is reader-supported. When you buy through links on our site, we may earn an affiliate commission. Learn more
Form 941 is an employer's quarterly federal tax return form which is filed four times a year. Employers use Form 941 to report income taxes, social security tax, and Medicare taxes withheld from employees' paychecks.
Employers are responsible for filing Form 941 tax form at the end of each quarter ending March 31, June 30, September 30, and December 31 each year.
Who must file Form 941?
All businesses that employ workers must pay quarterly payroll tax, excluding employers of household employees and farm employees. In addition, seasonal employers do not have to file Form 941 for one or more quarters in which they have not paid any wages.
Social security and Medicare taxes (FICA) still apply to the wages of household employees who earn $2,100.00 or more in wages in 2019. These taxes also apply to election workers who are paid $1,800.00 or more in cash or an equivalent form of compensation.
If these exceptions do not apply to you, you must still file Form 941 each quarter even if you did not pay wages during that quarter.
Employers must file Form 941 for:
Wages you have paid.
Tips your employees reported to you.
Federal income tax you withheld.
Both the employer and the employee's share of social security and Medicare taxes.
Additional Medicare Tax withheld from employees.
Current quarter's adjustments to social security and Medicare taxes for fractions of cents, sick pay, tips, and group-term life insurance.
Qualified small business payroll tax credit for increasing research activities.
How to fill out Form 941:
1. Print your details in Block One.
In the first block, enter your name, address, and EIN at the top of page 1. Also, enter your name and EIN at the top of page 2.
Print your business's legal name exactly as it appeared when you applied for your EIN, but leave the "trade name" line blank if your business title is the same as your personal name. Do not use your SSN or ITIN numbers. Next to the first block, check the box for the quarter you are filing for under "Report for this Quarter of 2019."
2. Fill out Part One.
Under Part 1, answer the questions for the quarter you are filing for and fill in the required wage amounts and taxes withheld.
3. Fill out Part Two.
Part Two asks you to tell the IRS about your deposit schedule and tax liability for the quarter you are filing for.
4. Fill out Part Three.
Part Three ask you to tell the IRS about your business. If a question does not apply to your business, leave it blank.
5. Fill out Part Four.
Part Four asks if the IRS may speak with your third-party designee. If you have one, enter your designee's name and phone number, as well as a five digit pin number, and check the "Yes" or "No" block.
6. Fill out Part Five.
Finally, print and sign your name and write your phone number in the space provided.
7. Fill out the Payment Voucher Form 941-V.
If you are making a payment with Form 941, fill out the payment voucher and the IRS will use the voucher to credit your payment.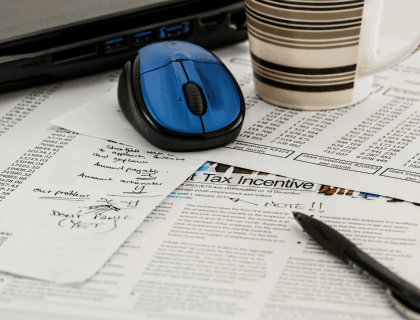 What is a 941 tax form?
Federal Form 941 is a quarterly tax return form that employers with employees must file on a quarterly basis. All employers who pay wages and withhold federal income tax from their employees' paychecks must file Form 941.
941 Form FAQs:
Where can I file Form 941?
You can file a paper tax return by mailing it to the mailing address listed for your state. Note that there are two different mailing addresses, one for filing with a payment and one for filing without a payment. You can also file your tax returns and pay your federal taxes electronically by going to IRS.gov/EmploymentEfile.
What is the Form 941 mailing address?
Refer to www.irs.gov/pub/irs-pdf/i941.pdf to find the Form 941 mailing address for your state.
Where can I mail form 941 without payment?
All Form 941 tax returns without payment can be mailed to a specific Internal Revenue Service address for your state. Refer to the PDF above for more information.
Can I file form 941 online?
Yes, the IRS encourages employers to e-file Form 941 payroll tax form online at IRS.gov/EmploymentEfile. You may be required to pay a fee.
What is the Social Security and Medicare tax rate for employees?
The Social Security tax rate for employees is 6.2% and the base limit is $132,900.00. The Medicare tax rate for each employee is 1.45%.
Can I get a tax professional to file for me?
Yes, you are allowed to outsource your payroll duties, however it is your responsibility to ensure that your tax returns are filed and that deposits are made on time. For more information, go to IRS.gov/OutsourcingPayrollDuties.
Where can I pay my federal tax deposit?
All federal tax deposits must be made via EFT using the Electronic Federal Tax Payment System (EFTPS). You can also arrange for a tax professional or trusted third party to make the electronic deposits on your behalf. Note that for an EFTPS deposit to be on time, you must submit the deposit by 8 p.m. Eastern time the day before the date that the deposit is due. For more information on making federal tax deposits, go to EFTPS.gov or call 1 (800) 555-4477 or 1 (800) 733-4829 (TDD).
How to file IRS 941 Form online:
Go to IRS.gov/EmploymentEfile and select Option 1 or Option 2 to e-file Form 941. Option 1 allows you to file the tax return forms yourself using IRS-approved software. Option 2 allows you to hire an authorized IRS e-file provider (tax professional) to file the forms on your behalf.