First National Bank
Learn more about the regional bank, First National Bank. Includes information on their services, customer reviews, and frequently asked questions.
Updated on November 8th, 2019
The SMB Guide is reader-supported. When you buy through links on our site, we may earn an affiliate commission. Learn more
First National Bank (FNB) is a regional bank with approximately 380 locations across Pennsylvania, Ohio, Maryland, West Virginia, North Carolina, and South Carolina. FNB offers a range of commercial banking, consumer banking, wealth management, and insurance solutions, as well as business and personal banking products and services.
Business Banking Services:
Business checking.
Business savings.
Bank treasury management.
Online and convenience services.
International services.
You can take a look at FNB's website to learn more about each individual service.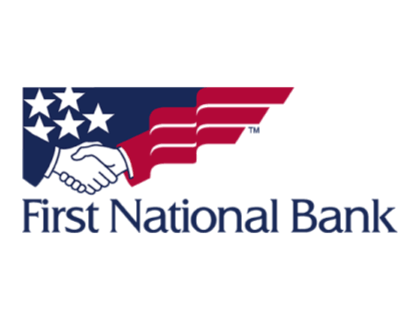 Review:
Pros: No minimum balance required to open a business checking account. Has a Free Checking Account option for small businesses.
Cons: Most business checking accounts do not earn interest. No discounts offered on business loans, lines of credit, remote deposits, or merchant services.
Bottomline: FNB is a low-cost option with 150-500 (depending on the checking account type) free monthly transactions for small businesses.
Key Information:
| | |
| --- | --- |
| Founded | 1864 |
| Headquarters | Pittsburgh, Pennsylvania |
| Number of Employees | 10,000 |
| President/CEO | Vincent Delie Jr. |
| Address | One North Shore Center, Pittsburgh, PA 15212 |
| Phone number | 1 (800) 555-5455 |
| Website | |
Reviews:
| Source | Review |
| --- | --- |
| | First National Bank. I also have both business and personal checking accounts. The only problem I ever had was when I lived in south central PA for 4 years, I had to switch banks because they weren't in that area. When I moved back to Pittsburgh, I went back to them. |
| | The only bank I truly recommend you avoid is F.N.B. They had a security breach in October that caused an error where even though we had a positive balance we kept getting overdraft fees and bounced checks. No amount of calling customer service or talking to branch managers fixed it. And then they closed our other account because they first was reading overdrawn and tried to send us to collections. We had to involve the Banking department and are currently in a legal battle to get our money back. We actually won the first hearing but the bastards filed an appeal. DO NOT BANK WITH F.N.B. |
| | I've banked with First National (FNB) since i moved here. they have free checking and savings. I've never had an issue with them. |
| | I have a FNB account and they are actually beginning to catch up with PNC tech-wise. They're also integrating with Zelle next year for instant Venmo-like payments that I'd imagine will be free of charge, which is enticing if you pay friends for stuff often. |
| | I haven't been with anyone other than FNB for a very long time. But in that time I have changed cellphone service providers, internet service providers, and pretty much everything else multiple times because service levels pissed me off. That should give you an indication. |
FAQs:
Does First National Bank offer personal loans?
Yes. FNB offers the following personal loans:
Home Equity Loan.
Home Equity Line of Credit.
Auto Loan.
Credit Card.
Cash Installment Loan.
Cash Reserve Personal Line of Credit.
Mortgage.
Home Ownership and Rehabilitation.
Is First National Bank the same as First National Bank of Omaha?
No. First National Bank of Omaha is owned by First National of Nebraska. First National Bank only has branches in Pennsylvania, Ohio, Maryland, West Virginia, North Carolina, and South Carolina.
Does First National Bank have free checking?
Yes. FNB offers free personal and business checking accounts.
The Freestyle Personal Checking Account requires a minimum of $50 to open an account, but there are no monthly service charges and the account comes with a free debit card.
The Free Small Business Checking Account does not require a minimum amount to open the account, has no monthly service fees, offers 150 free transactions a month, and comes with an ATM or Debit card.
What are some First National Bank alternatives?