Digium IP Phone
Learn more about the Digium IP Phone. Includes pricing, features, customer reviews, and frequently asked questions.
Updated on November 18th, 2019
The SMB Guide is reader-supported. When you buy through links on our site, we may earn an affiliate commission. Learn more
The Digium D60 IP Phone is a multi-line phone system, designed exclusively to take full advantage of the flexibility and customization of Asterisk and Switchvox. The D60 IP Phone has a 4.3 inch color display, 2-line keys, dual 10/100 Mbps network ports, multiple line appearances, context sensitive soft keys, and advanced applications.
Buy Now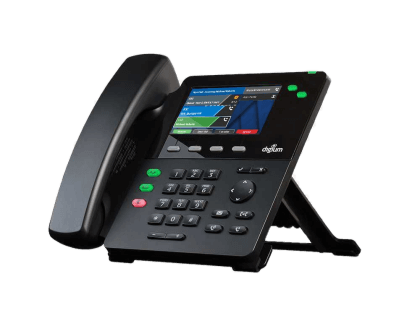 Buy now on Amazon
4.3 inch full-color LCD display.
2 line appearance keys.
4-way navigation controller.
Pricing:
| Phone | List Price |
| --- | --- |
| Digium D60 | $138.98 |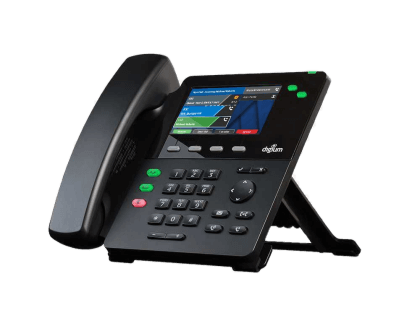 Review:
Pros: Easy to install and features many advanced applications. Designed for Asterisk and Switchvox.
Cons: No Bluetooth capability and has a limited rapid dial and busy field key capabilities.
Bottomline: This entry-level phone is easy to use and install, designed for use by any employee of a company.
Features:
| Feature | Details |
| --- | --- |
| Display | 4.3 inch, 480 x 272 pixel full-color LCD |
| Line Registrations | 2 |
| Feature Keys | 4 |
| Navigation controller | 4-way |
| Rapid Dial/Busy Lamp Field Keys | Up to 1 key/1 contact |
| Ethernet LAN and PC Port | 10/100Base-T |
| Built-in Bluetooth | No |
| Power over Ethernet (POE) | Yes |
| Advanced Phone Applications | Yes |
| Message waiting | Yes |
| Volume control | Yes |
Reviews:
| Source | Review |
| --- | --- |
| | Solid phone, good quality. |
| | Right out of the box you know that it is a quality product. It is easy to assemble, setup and get running. The screen and button layout is logical and feels natural. |
| | The screen on these phones are of such good quality and all the features are so cool. I cannot recommend them enough. |
FAQs:
Do I need a license or a key to use the D60 IP Phone with my other Digium system?
No, if the system has a license for the station. If you have a Switchvox system, you will need the subscription license, which you can find in the updates section of the Switchvox administration suite.
Does the Digium D60 IP Phone come with an AC adapter?
No. You can buy the power adapter on the Digium website, Amazon, CDW, or VoIP Supply.
Can the Digium D60 IP Phone be mounted on a wall?
Yes, but you will need the 1TELD011LF wall mount kit which is available on Amazon.
What features are included in the Digium D60 IP Phone?
A 4.3 inch, 480 x 272 pixel full-color LCD display.
2 line registrations.
4 feature keys.
Headset, speaker, and mute keys.
Volume control.
2 switched 10/100Mbps Ethernet ports.
5 volt DC power port.
What are some alternatives to the Digium IP Phone?