Customers Bank
Learn more about the regional bank, Customers Bank. Includes information on pricing, customer reviews, and frequently asked questions.
Updated on November 4th, 2019
The SMB Guide is reader-supported. When you buy through links on our site, we may earn an affiliate commission. Learn more
Customers Bank is a regional bank that operates in Pennsylvania, New York, Rhode Island, New Hampshire, Massachusetts, and New Jersey. They are a full-service bank that offers small business, multi-family, mortgage, and consumer loans aimed at boosting the communities in which their branches operate.
Minimum Deposit:
Customers Bank requires a minimum deposit of $50 to open one of their Business Checking Accounts.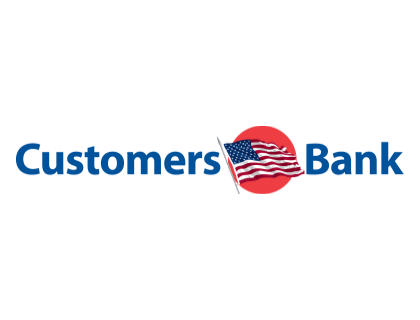 Review:
Pros: Little to no monthly service fees. Offers a wide variety of commercial loans.
Cons: Relatively high fees for wire transfers.
Bottomline: With little to no transaction fees and service costs, Customers Bank is geared toward small businesses.
Key Information:
| | |
| --- | --- |
| Founded | 1997 |
| Headquarters | Wyomissing, PA |
| CEO | |
| Number of Employees | 501-1,000 |
| Phone number | 1 (866) 476-2265 |
| Address | 1015 Penn Ave, Wyomissing, PA 19610 |
| Website | |
Reviews:
| Source | Review |
| --- | --- |
| | My favorite bank! Everyone is so friendly, and they offer the best rate of return for money market accounts in the area. Also, I love that Customers Bank reimburses for all ATM fees so you can use any ATM and never have to pay a fee! ... Finally, their smart phone app. is so convenient: you can deposit checks and pay bills just by taking a photo of the check or bill. |
| | We had a problem and instead of them helping us thru it they decided to close our account. |
| | Used to bank with Bank Mobile until it was moved to Customers Bank. unfortunately everything great about Bank Mobile went away. The company no longer even lists an email address on their website. trying to close my account but can't. I guess it will just sit there work no money in it since there is zero self service options and contacting the company is a joke. |
| | Walked into my local branch to deposit a check and either cash or deposit several travelers checks I had. The bank told me they do not accept or process travelers checks and refused to cash them or take them as a deposit. I got a snippy attitude from the manager and the teller there who made me feel that travelers checks were something no one would have on hand and were basically useless. So, I made my other deposit, left and called another local bank who advised me they would be happy to handle travelers checks for an account holder. Looks like I know where I'm moving my accounts to. This is not the first time I've had a bad customer derive experience at this branch of Customers, but they will not have the chance to do it to me again. |
| | I originally had posted a negative comment about a troubling situation i was having on here earlier regarding my debit card. Right after i posted it I received a phone call from the president of the bank to rectify the situation. I'm thrilled to say that my debit card is now working thanks to him. While the situation was very frustrating, I'm very pleased that he cared enough to take the time to reach out and address the situation. I'll be staying with customers bank for that reason. Thank you. |
FAQs:
Where is Customers Bank located?
Customers Bank's headquarters are in Wyomissing, PA. However, they have branches throughout Pennsylvania, New York, Rhode Island, New Hampshire, Massachusetts, and New Jersey.
What is Customers Bank's routing number?
Customers Bank's routing number is 031302971.
What are some Customers Bank alternatives?