Capital One Spark Miles for Business Overview
Learn more about Capital One Spark Miles for business with key features, a list of pros & cons, and frequently asked questions.
Updated on July 1st, 2019
The SMB Guide is reader-supported. When you buy through links on our site, we may earn an affiliate commission. Learn more
Capital One Spark Miles for Business is a Capital One small business credit card that allows you to earn travel rewards points on all of your purchases.
Capital One Spark Miles Features & Benefits:
Unlimited rewards.
There is no limit to the travel rewards that you can earn with your Spark Miles card. Simply put: the more you spend, the more you earn. You can also redeem points at any time with no minimum.
Free employee cards.
Do your employees need access to your business credit card? With a Capital One Spark Miles account, you can add cards at no extra charge.
Customized spending reports.
Customized quarterly and yearly spending reports from Capital One will show you where your money is going, making it easier to create budgets and file your business taxes.
Visa travel benefits.
A Spark Miles credit card gives you access to Visa business benefits like car rental insurance, travel assistance and purchase security. With these benefits, you can even access emergency medical services while you are traveling for business.
Rates & Fees:
| Rate or Fee Type | Amount |
| --- | --- |
| Annual Fee | $95.00 |
| Variable APR | 18.74% |
| APR for Cash Advances | 24.74% |
| Penalty APR | 31.15% |
Key Information:
| | |
| --- | --- |
| Founder | Richard Fairbank, Nigel Morris |
| Founded | 1988 |
| Headquarters | McLean, VA |
| Number of Employees | 10,000+ |
| Number of Customers | 3,000,000+ |
| CEO | Richard Fairbank |
| Address | 1680 Capital One Drive, McLean, VA 22102 |
| Phone Number | +1 877-383-4802 |
| Website | |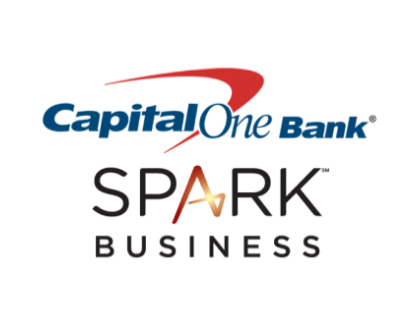 Review:
Pros: Annual fee is waived for the first year. Free employee cards.
Cons: Requires a credit score of 700 or more.
Bottomline: A useful credit card for small business owners looking to collect rewards on their travel expenses.
Pros & Cons:
| Pros | Cons |
| --- | --- |
| No international transaction fees. | Points are limited to travel-related promotions. |
| Early spending bonus of 50,000 miles. | Higher APR than most travel cards (18.74%). |
| No fees for transferring the balance of points from another account. | Requires a very high credit score to qualify. |
FAQs:
How do I redeem my Capital One miles?
You can redeem your Capital One travel miles any time by logging into your account at capitalone.com and visiting the "Rewards" page.
How many bonus points do I get when I sign up for a Capital One Spark Miles credit card?
You can earn 50,000 bonus miles if you spend at least $4,500.00 in the first three months. 50,000 points are equal to $500.00.
What is the Capital One annual percentage rate (APR) for cash advances?
Currently, the APR for cash advances is 24.74% with Spark Miles. The penalty APR is 31.15%.
Similar Products to Capital One Spark Miles:
Reviews:
| Reviewer | Review |
| --- | --- |
| | "Another vote for the Capital One Spark card. We are getting $500/mo + back via the 2% cash back, which has been a much better value for us than the miles we were getting previously with an Citi AAdvantage American Airlines card.I have a reminder setup to request a statement credit at the end of each month and it hits our P&L as income.Something else to be aware of is that some business cards will hit your personal credit score. The Capital One Spark card I have does, but the Citi AAdvantage card I had previously doesn't.I pay in full every month so it actually improved my credit score a few points as it added $30K in available credit with 0% utilization, but if you are going to carry a balance you could take a hit on your personal credit score - especially if your available credit utilization is high." |