Capital One Spark Cash for Business Overview
Find out more about the Capital One Spark Cash for Business credit card with features & benefits, pros & cons and other useful information.
Updated on January 22nd, 2019
The SMB Guide is reader-supported. When you buy through links on our site, we may earn an affiliate commission. Learn more
Capital One Spark Cash for Business is a small business credit card that gives you 2% cash back for all of your business purchases.
Capital One Spark Cash Features & Benefits:
2% cash back.
With the Capital One 2 cash back credit card, you earn 2% on all of your purchases. Your rewards are unlimited and you can redeem them at any time. That means more money in your pocket the more you use your Capital One 2 cash back card.
Low annual fee.
Capital One Spark Cash for business is affordable, with an annual fee of only $95.00. Even better, the first year is free!
Cash bonus for new members.
If you're ready to start using your new Spark card, Capital one will give you a $500.00 cash rewards bonus if you spend at least $4,500.00 in the first three months that your account is open.
Free employee cards.
Business accounts are usually used by more than one person. With Capital One's 2 percent cash back business credit card, you can order free employee credit cards. Employee credit cards can also be used to earn rewards.
Capital One Spark Cash for Business Rates & Fees:
| Rate or Fee Type | Amount |
| --- | --- |
| Annual Fee | $95.00 |
| Variable APR | 18.74% |
| Penalty APR | 31.15% |
| APR for Cash Advances | 24.74% |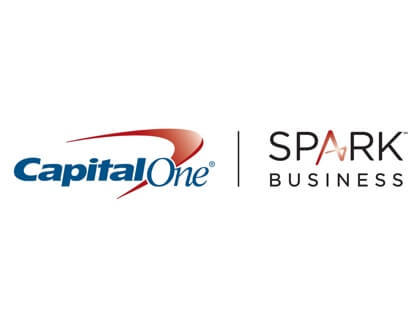 Capital One Spark for Cash Review:
Pros: Free international transactions. Very secure.
Cons: Difficult for first-time applicants to qualify.
Bottomline: If you have an excellent credit score, Capital One Spark Cash for Business could save your business a lot of money.
Capital One Spark Cash Pros & Cons:
| Pros | Cons |
| --- | --- |
| Generous cash back rewards. | High APR (18.74%). |
| No fees for international transactions. | No travel rewards like other business credit cards. |
| Purchase records can be downloaded for Quickbooks. | Requires an excellent credit score in order to qualify. |
| Fraud coverage and alerts via text, email or phone. | The application process is more rigorous than most. |
Capital One Spark Cash for Business FAQs:
Does Capital One Spark have foreign transaction fees?
Capital One Spark does not charge any transaction fees when you used your card internationally. This makes it a convenient payment option on business trips.
How do I redeem my Capital one Spark rewards?
If you have started to earn cash back from your Capital One credit card purchases, you can redeem your rewards at any time by logging into your capitalone.com account and visiting the "Rewards" page.
Does the Capital One Spark credit card have annual fees?
The fees are waived for the first year, and after that, the card has an annual fee of $95.00.
Similar Products to Capital One Spark Cash: