Capital One Secured Mastercard Overview
Learn more about the Capital One Secured Mastercard credit card with a list of features and benefits, pros & cons, and FAQs.
Updated on March 31st, 2020
The SMB Guide is reader-supported. When you buy through links on our site, we may earn an affiliate commission. Learn more
Rates and Fees:
| Rate or Fee Type | Amount |
| --- | --- |
| Annual Fee | $0.00 |
| Purchase APR | 26.49% |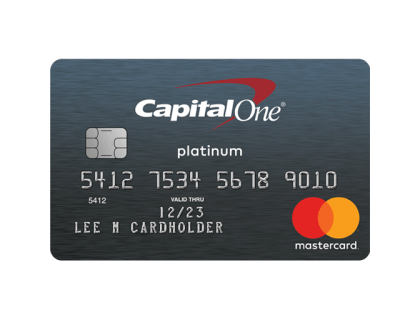 Review:
Pros: 24/7 customer support, no annual fees, and starts with a $200 credit limit.
Cons: No cash back, miles, or reward points.
Bottomline: The Capital One Secured Mastercard is a great credit card for cardholders looking to build their credit score. It offers low fees and doesn't require an annual fee.
Key Information:
| | |
| --- | --- |
| Founder | Richard Fairbank, Nigel Morris |
| Founded | 1994 |
| Headquarters | McLean, Virginia |
| Number of Employees | 10,000 |
| CEO | Richard Fairbank |
| Address | 1680 Capital One Drive, McLean, VA 22102 |
| Phone number | 1 (877) 383-4802 |
| Website | |
Features and Benefits:
Initial credit line.
Once cardholders give the minimum required security deposit of $49, $99, or $200, they'll receive an initial credit line of $200. In addition, you can get a higher credit line if you deposit more money before the account opens.
Higher credit line after the first five payments.
Cardholders are able to access a higher credit line once the first 5 months' payments are completed on time. There is no additional deposit required.
Mobile access.
With the help of a mobile app and 24/7 access, you are able to do your banking online and while traveling.
Personalized payments.
Choose when and how you'd like to make monthly payments. Payment methods include check, online, and at a local branch.
Travel and retail benefits.
Cardholders will not have to pay foreign fees and will have access to 24-hour travel assistance services, additional warranty protection at no additional costs, and travel accident insurance.
Reviews:
| Source | Review |
| --- | --- |
| | I highly recommend Capital One's secured card for rebuilding. I was very surprised to see such a high increase in such a short time. It's definitely motivating to know that with a little research and discipline you really can pull your score up. |
| | I would recommend Capital One secured card over CITI or BofA. You can easily add to the deposit and unsecured CLI are granted with good credit, so you can make this grow into a decent limit. |
| | I highly recommend Capital One Secured Credit Card for the following reasons: Great Customer Service, Works with People with Limited or Bad Credit and Amazing Credit Booster |
| | I also recommend Capital One's secured credit card. You start off with a refundable deposit and after 5 months of on-time payments you automatically qualify for a limit increase. |
| | I would recommend Capital One's secured credit card. You only have to pay $50 deposit, no yearly fees just pay it on time every month and they'll continue to raise your credit limit. |
FAQs:
How does a Capital One Secured Mastercard work?
A Capital One Secured Mastercard requires a refundable security deposit of $49, $99, or $200, which is held as collateral. With responsible use, cardholders will be able to build and rebuild their credit score.
Will Capital One secured card help my credit?
It depends on how you use the card as your activity will be reported to credit bureaus. If you use the card responsibly and make payments on time, the card issuer will report this activity and your credit score will improve. However, if you miss payments, this will negatively impact your credit score.
How long does it take for Capital One secured credit card to become unsecured?
Every situation is different as it will depend on the cardholders use of the card. Cardholders have reported upgrading from a secured credit card to an unsecured credit card between 8 months and 2 years, according to our research. If your credit score continues to rise, so will your chances of getting an unsecured credit card.
Is Capital One Secured Mastercard good?
The Capital One Secured Mastercard is a good card to help you build your credit score. With low fees and ample upgrade potential, the card offers a range of features and benefits to help get you started.
What is my credit limit on a Capital One Secured Mastercard?
Once you make the required deposit of $49, $99, or $200, your credit limit will start off at $200. However, you can increase this amount after 5 months if payments are done on time. The maximum credit limit is $1000.
How many times does Capital One increase your credit limit?
You can increase your credit limit with Capital One for an unlimited amount of times. However, you can only change your credit limit every 6 months.
What are some Capital One Secured Mastercard alternatives?