Brady BMP71-QC 115160 Label Printer with Quick Charger Review
Learn about the Brady BMP®71-QC 115160 Label Printer with Quick Charger. Includes pricing, features, and frequently asked questions.
Updated on June 7th, 2019
The SMB Guide is reader-supported. When you buy through links on our site, we may earn an affiliate commission. Learn more
The Brady BMP71-QC 115160 Label Printer is a label printer that enables businesses to print up to 1,000 labels at a time. The Brady BMP71-QC is able to print in 300 DPI on more than 30 different types of material.
Buy Now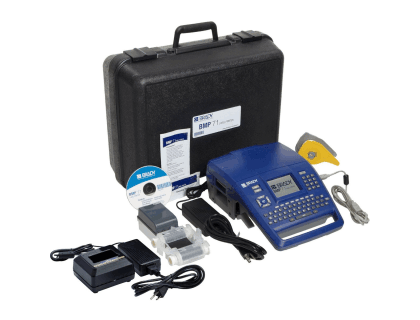 Buy on Amazon
Quick charge the printer in approximately one hour.
Large, graphical, full color display with indicators.
Built-in wizards for easy label creation.
Wide variety of label materials.
Key Features:
| Feature | Description |
| --- | --- |
| Product Number | 115160 |
| Printer Speed | 1.5 in/sec |
| Print and Color Capabilities | Thermal Transfer / Monochrome |
| Print Resolution | 300 dpi |
| PC Compatibility/Standalone | Standalone and PC Connect |
| Connectivity | USB Port B |
| Software Compatibility | LabelMark Software, Brady Workstation Apps |
| Power Supply Options | NiMH Battery, AC Adapter |
| Warranty | 2 years |
| Dimensions (WxHxD) | 9.5 in x 13.0 in x 4.6 in |
| Weight | 4.9 lbs (without tape, batteries) |
| Screen Size | LCD, Color, 3.5 in, QVGA |
| Backlit Screen | Yes |
| Keyboard Style | QWERTY, Number Keypad |
| Special Characters Quantity | Depends on Regional Keypad |
| Max Print Width | 1.92 in |
| Font Types Available | (2) Brady Alpine, Brady Fixed Width |
| Font Size (pts) | 4 thru 174, autosizing |
| Multi-line Label | 25 |
| Label Print Rotation | Yes |
| Data Serialization | Yes, multiple and linked |
| Barcode Capabilities and Types | Code 39, Code 128 and more using Brady Workstation |
| Memory Capacity | 200 MB |
| Data Transfer from PC | Yes |
| Print Preview | Yes |
| Symbols Available | 500+ |
| Label/Ribbon Supply | Separate label roll and ribbon cartridge |
| Material Formats Supported | Continuous, die cut labels and custom |
| Media Width | 0.235 in to 2.00 in |
| Quantity of Label Parts Available | 300+ label parts and customs |
| Label Retention Feature | Yes |
| UPC | 662820801825 |
| UNSPSC | 45101520 |
| Patent Number(s) | US D635183, 8333524, 8328442, 7999836, 7893951, 6929415, 5951177, 5918989. |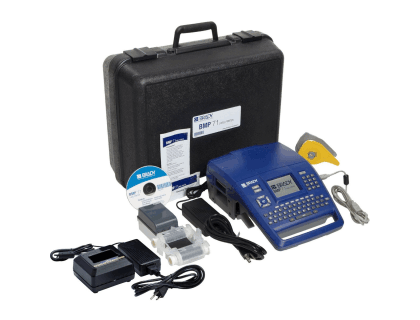 Review:
Pros: Portable, easy to use, fast printing, QWERTY keypad.
Cons: No built-in cutter, only 200 MB memory capacity.
Bottomline: A versatile printer that allows you to take care of your printing needs throughout your business.
Pricing:
The Brady BMP71-QC 115160 Label Printer with Quick Charger retails for $954.99.
Overview:
The BMP71-QC Printer is our most versatile labeler for on-the-job printing. It prints on over 1000 label parts, and has a convenient handle and rechargeable battery.
Desktop and portable sign and label printer for creating multi-line signs and labels to identify wires, circuit boards and other industrial items.
Versatile labeler prints on more than 1,000 label parts, and has a convenient carrying handle.
Easily import and export generated label files, lists and graphics to the printer through USB 2.0 port and a USB flash drive.
Compatible with M71 Series label tape cartridges, fits BMP61, TLS 2200 and HandiMark cartridges with included roll adapter.
Applications:
Circuit Board.
Datacom.
Electrical.
General Identification.
Inspection Repair.
Pipe Marker.
Rating & Name Plates.
Safety.
Wire & Cable.
Available Languages:
Bulgarian.
Czech.
Danish.
Dutch.
English (US).
Finnish.
French (France.
German.
Hungarian.
Italian.
Norwegian.
Polish.
Portuguese (Portugal).
Romanian.
Russian.
Slovak.
Slovenian.
Spanish (Spain).
Swedish.
Types of Materials:
Outdoor vinyl.
Nylon cloth wire ID.
Heat-shrink wire ID.
Self-laminating wire ID.
Removable cloth wire ID.
Tedlar Wire ID.
Datacomm cable tags (3).
Standard Polyester (4).
Aggressive adhesive polyester (2).
Metalized Polyester (3).
Non-adhesive tag.
Polyimide/Electronics materials (6).
Tamper resistant materials (6).
Outdoor reflective.
Glow-in-the-dark.
ToughStripe floor tape.
ToughWash (2).
Repositionable vinyl.
Raised panel labels (engraved plate alternative).
Cartridge Series:
M71 series.
BM71.
MBulk.
PTL series with adapter.
Some BMP61 labels with adapter (TLS and BMP61 ribbons not compatible).
Charger Overview:
For use with the battery for the BMP71 Printer from Brady.
Charges battery in one hour.
Box Includes:
Hardcase.
Charger/AC Adapter.
(1) Roll of M71-31-423 White Die Cut Labels.
(1) M71-R6000 Black Ribbon Cartridge.
Media Adapter.
Rechargeable Battery.
USB Cable.
Quickstart Guide.
Drivers CD.
Users Guide.
Tutorial.
2-year Limited Warranty.
FAQs:
What type of materials can the BMP71-QC Label Printer print on?
The BMP71-QC Label Printer prints on 45 types of premium label materials, including PermaSleeve wire markers, indoor/outdoor vinyl, and polyester die-cut labels.
Does the Brady BMP71-QC 115160 Label Printer with Quick Charger have a built-in cutter?
No, the Brady BMP71-QC does not have a built-in cutter.
Do you need a computer to run the Brady BMP71-QC 115160 Label Printer, or is it a self-running machine?
The Brady BMP71-QC Label Printer can be used as a stand-alone printer or connected to your PC.
Where can I buy the Brady BMP71-QC 115160 Label Printer with Quick Charger?
You can buy the Brady BMP71-QC Label Printer with Quick Charger by clicking on the link above, or from sites like Megadepot and Amazon.
What are some Brady BMP71-QC 115160 Label Printer with Quick Charger alternatives?