Brady BBP33-C 129961 Label Printer with Auto Cutter
Learn about the Brady BBP33-C 129961 Label Printer with Auto Cutter. Includes pricing, features, and frequently asked questions.
Updated on July 17th, 2019
The SMB Guide is reader-supported. When you buy through links on our site, we may earn an affiliate commission. Learn more
The Brady BBP33-C 129961 Label Printer is a label printer that features automatic set-up and calibration, allowing you to print labels in four easy steps. The Brady BBP®33-C is used to create labels for a wide range of items in various industries.
Buy Now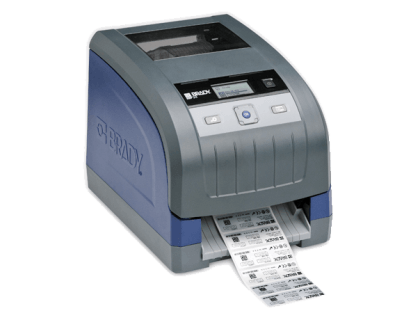 Buy on Amazon
Automatic label set-up with no calibration.
20 second material changeovers.
Comes with a 5-year warranty.
Key Features:
| Feature | Description |
| --- | --- |
| Product Number | 129961 |
| UOM | Each |
| Print Technology | Thermal Transfer |
| Print Resolution | 300 dpi |
| Max Print Width | 4" |
| Max Print Speed | 4" per second |
| Barcode Symbologies - Linear | Codabar A,F, Code 128 Subsets A,B,C, Code 16K, Code 39, Code 93, EAN 8/13/128, EAN/UCC 128, EAN/UPC Extension 2, EAN/UPC Extension 5, FIM, HIBC, Interleave 2 of 5, JAN 8,13, MSI, Plessey, UPC A,E |
| Barcode Symbologies - 2D | Aztec, Codablock F, Code 49, Data Matrix, Micro PDF 417, MIL-STD-130M, PDF 417, QR Code, UPS MaxiCode |
| Media Widths | 0.5" to 4.25" |
| Minimum Label Dimension (Performance at minimum label dimension is dependent on label text and size of print run; users should test suitability for their application.) | 0.25" |
| Label Creation and Setup | Automatic (PC software reads data on chip and automatically sets up label size, color, fonts, etc.) |
| Maximum Labels per Day | 3000 |
| Color Printing Capabilities | Single print color on a label (some pre-printed multicolor supplies also available) |
| Auto Cut-Off | Yes |
| X-Y Plotter Cutting (cutting out shapes and text) | No |
| PC Connect or Stand Alone Operation | PC Connect only |
| Calibration Required | No (no waste) |
| Compatible Software | Brady Workstation Apps, MarkWare™ Software, Labelmark™ Software, Codesoft™ Software, Windows® based driver for 3rd party software use |
| Power Supply Voltage | 100 to 240 V @ 50 to 60 Hz |
| Applications | Cable & Wire Marking, Circuit Board Marking, Facility ID, Industrial ID |
| Label Material Types | Paper, Polyester, Polyimide, Polyolefin, Polypropylene, Vinyl |
| Memory | 4 GB |
| Plug Type | EU, UK, US |
| UPC | 662820986010 |
| UNSPSC | 45101519 |
| Warranty | 5 years |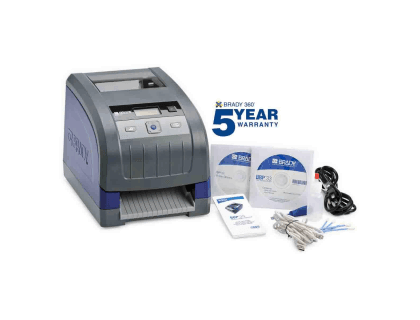 Review:
Pros: Fast printing, auto cut-off, no wastage, 5-year warranty.
Cons: PC connection only.
Bottomline: A sturdy and fast printing machine that prints up to 3,000 labels per day.
Pricing:
The Brady BBP33-C 129961 Label Printer with Auto Cutter retails for $1,350.00.
Description:
PC-connect only facility & safety ID printer with no calibration set-up, no label waste and 20-second supply changeovers. Revolutionary ease of use makes it ideal for training multiple users and saving wasted time and wasted label cost.
Overview:
The BBP®33 Printer is a whole new way to make labels: no tedious setup, difficult-to-load materials or wasted labels! It's unbelievably easy - the way label making should be.
No calibration or wasted labels - the printer "reads" your cartridges and then automatically sets up the label correctly in your Brady software.
20-second material changeovers with foolproof "drop-in" ribbon and label cartridges.
Impressive material lineup - with over 550 parts and 40 materials, this printer meets your primary labeling needs and so much more.
Label materials for safety & arc flash, wire & panel, pipe markers, 5S, general die cut, production line facility, rating plates and circuit boards.
Applications:
Circuit Board.
Datacom.
Electrical.
General Identification.
Hazardous Materials.
Inspection Repair.
Laboratory.
Lean / 5S.
Pipe Marker.
Rating & Name Plates.
Safety.
Wire & Cable.
Available Languages:
Bulgarian.
Czech.
Danish.
Dutch.
English (US).
Estonian.
Finnish.
French (France).
German.
Hungarian.
Italian.
Norwegian.
Polish.
Portuguese (Portugal).
Romanian.
Russian.
Slovak.
Slovenian.
Spanish (Spain).
Swedish.
Turkish.
Application & Comments:
Facility & safety ID.
Electrical.
Laboratory and Electronics ID.
Signs.
Pipe Markers.
Lean/5S.
Arc Flash Labels.
GHS & chemical labels.
Equipment labels.
Panel & pushbutton labels.
Reflective & glow-in-the-dark labels.
Tagging.
Magnetic and cold-temp labeling.
Wire labels and sleeves.
Metalized.
Polyimide & static disappative labeling.
Ribbon & Label Roll Installation:
Labels: Supplied in cartridge, drops into place, 15-sec changeover.
Ribbon: Supplied in cartridge, snaps into place, 5-sec changeover.
Connectivity Options:
Standard: USB, Ethernet.
Optional: WiFi, WiFi Direct.
Lab Material Types:
Extremely aggressive 8-10 year outdoor vinyl with high tack and chemical resistance, plus wash down material, reflective, 10-hour glow-in-the-dark, engraved plate substitute, 33 other materials.
Types of Labels Available:
Continuous material.
Pre-printed die cut.
General die cut.
Wire labels & sleeves.
Box includes:
Power Cord.
USB Cable.
Drivers CD.
Stylus Cleaning Kit.
Cleaning Kit.
Cutter Cleaning Tool.
Quick Start Guide.
Documentation Holder.
FAQs:
Does the Brady BBP 33-C Label Printer cut the labels to a custom size?
Yes, the Brady BBP 33-C Label Printer can be programmed to whatever size you require, and will cut the backing paper between each label to size.
See more Brady BBP 33-C Label Printer key features.
Where can I buy the Brady BBP33-C 129961 Label Printer with Auto Cutter?
You can buy the Brady BBP 33-C Label Printer by clicking on the link above, or from sites like Megadepot and Amazon.
Find out more pricing information.
What are some Brady BBP33-C 129961 Label Printer with Auto Cutter alternatives?
See our complete guide.