Blackberry Key 2 Reviews
Learn more about the Blackberry Key 2 as a business smartphone. Includes user reviews, features, pricing, and answers to common questions.
Updated on March 31st, 2020
The SMB Guide is reader-supported. When you buy through links on our site, we may earn an affiliate commission. Learn more
The Blackberry Key 2 is one of the best smartphones for business. It boasts a two-day battery life for extended use, an intelligent keyboard, and a highly durable exterior, among other features.
Pricing:
The Blackberry Key 2 sells for $649.00.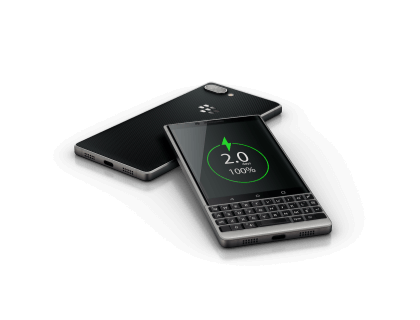 Review:
Pros: Advanced security features, two-day battery life and a physical keyboard.
Cons: Smaller screen due to physical keyboard.
Bottomline: The Blackberry Key 2's winning features are tempered only by a frustrating screen size, but it is still a good choice for business.
Specifications and Features:
| | |
| --- | --- |
| Battery | 3500 mAh |
| Wifi Hotspot | Yes |
| Connectivity | Bluetooth 5.0, NFC |
| Processing Speed | 6GB RAM |
| Storage Space | 64GB with expandable storage |
| Security | Biometric sensors, cryptographic key protection, rollback protection, unrootable software, full-disk encryption, privacy shade. |
| Charging | Wired |
| Extra | Physical keyboard |
Reviews:
| Source | Review |
| --- | --- |
| | Just upgraded my KEYone to a KEY2 and I've been very happy with it. May be different for you, as you've never owned a BlackBerry device, but it's a solid phone for what I use it for and the keyboard is fantastic. |
| | I forgot battery is extra solid and the keyboard shortcuts....hard to give up shortcuts once you start using them. |
| | The keyboard is like a scaled up version of the BlackBerry PRIV keyboard. The keyboard is slightly bigger than the BlackBerry KEYone and using different craftsmanship materials. I already like it more than the KEYone. |
FAQs:
Is the BlackBerry Key 2 worth buying?
The BlackBerry Key 2 enjoys mostly favorable reviews. It is lauded for its usage of Android OS, its unmatched battery life, and its iconic keyboard that goes down well with Blackberry fans.
See our BlackBerry Key 2 summary review.
Is the BlackBerry Key 2 dual SIM?
There are both dual-sim and single-sim versions of the BlackBerry Key 2.
See the full BlackBerry Key 2 spec breakdown.
Does BlackBerry Key 2 have wireless charging?
No, the BlackBerry Key 2 charges with wires.
See the full BlackBerry Key 2 spec breakdown.
When did the BlackBerry Key 2 come out?
The BlackBerry Key 2 came out on July 13, 2018.
Is the BlackBerry Key 2 touch screen?
Yes. The BlackBerry Key 2 has both a touch screen and a touch-sensitive keyboard.
See the full BlackBerry Key 2 spec breakdown.