Best Outdoor Security Cameras
Learn more about outdoor security cameras. Includes ranking, list pricing, and frequently asked questions.
Updated on March 31st, 2020
The SMB Guide is reader-supported. When you buy through links on our site, we may earn an affiliate commission. Learn more
Outdoor security cameras are designed to withstand the elements and are usually wireless with Wi-Fi or Bluetooth capability. These cameras are useful for monitoring the outside of your property or office building to keep it safe.
Read More:
Best Business Security Camera Software - Learn more about the best business security camera software for small businesses.
Best Business Security Camera Systems - Learn more about the best business security systems for 2019.
Our Pick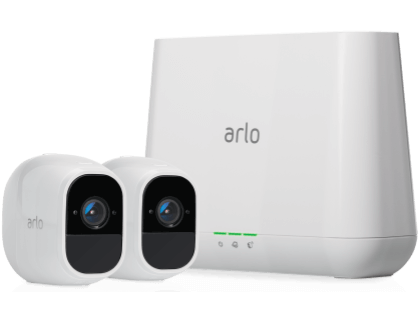 Flexible camera with good image quality.
Buy on Amazon
HD video.
Advanced motion detection.
Alexa, Google Assistant, IFTTT, and Stringify compatible.
Why We Chose the Netgear Arlo Pro 2:
The Netgear Arlo Pro 2 offers a high image resolution and a 130° field of view. It is a flexible camera that is suitable for both indoor and outdoor use, with a range of 300 ft and digital zoom. The Arlo Pro 2 is also able to integrate with Alexa, Google Assistant, IFTTT, and Stringify.
The Alro Pro 2 features an alarm, 2-way audio, and push, email, text, and call notifications, keeping you informed of movement on your property. The Arlo Pro 2 can be used as a wired camera or as a wireless camera and it offers 7 days of free cloud storage.
Things to Consider When Evaluating Outdoor Security Camera Systems:
Look for a weatherproof rating of IP65 for full weatherproofing.
Ensure a strong image resolution as well as high-quality night vision.
Read customer reviews to find the best camera for your business, particularly when it comes to motion-activated cameras, as some customers experience lag time with certain products.
Best Outdoor Security Camera Systems:
| Rank | Name | Offer | Review | Learn More |
| --- | --- | --- | --- | --- |
| 1. | Arlo Pro 2 Indoor/Outdoor Wireless 1080p Security Camera System, 2 Camera Kit (VMS4230P) | $479.99 | A good wireless camera with strong image quality but the price is higher than its competitors. | |
| 2. | Arlo Ultra Indoor/Outdoor Wire Free 4K HDR Security Camera System | Kits from $399.99 | A smart and advanced security option with de-warping technology, but requires a subscription. | |
| 3. | | $179.99 - $499.99 | A great outdoor security camera with weatherproofing, strong image quality, and a wide field of view. | |
| 4. | | $359.99 | It is easy to set up and has a good image quality, but the signal and range of this camera is poor. | |
| 5. | | $249.00 | The Ring app controls the floodlight, camera, and siren but you will have limited access to the cameras features without buying a subscription. | |
| 6. | | $124.99 | Features a quick and easy PoE setup but the PoE switch is not included in the price. | |
| 7. | | $199.00 | Placement options are limited due to the power cord. This camera requires a subscription to access the advanced features. | |
| 8. | | $199.00 | Features a motion-activated spotlight but requires a subscription for video recording. | |
| 9. | | From $399.00 | Requires a power cable as well as a subscription to access certain features. However, the Nest Cam IQ has a high audio and video quality. | |
| 10. | | Offers packages | This camera has a simple setup but requires professional installation with the accompanying fees. | |
FAQs:
Is there a security camera that works without Wi-Fi?
Yes. Most security or CCTV cameras can work with remote live streaming, rather than Wi-Fi, and footage can be saved on SD cards or NVR.
Are wired or wireless security cameras better?
Wired security cameras are reliable and can support larger systems, but have complicated installation processes and are vulnerable to power outages. Wireless security cameras are easy to install but are vulnerable to interference, are mostly limited to 4 cameras, and depend on the wireless signal. Wire-free security cameras are the easiest to install and most flexible choice, although the batteries often need to be recharged and they also rely on a Wi-Fi signal.
How do you install outdoor security cameras?
Choose the best security system option for your needs. An all-in-one system is the easiest way to get started.
Plan ahead to ensure you cover all angles, have good placements for your cameras, and buy enough cameras, cables, and storage.
Ensure your camera has a power source: some cameras must be plugged into a power outlet, others are battery powered and need to be close to routers, while other cameras that get their power from analog connections, Ethernet, or USB cables need space for wires.
Check your camera placement plan and ensure you have the right screws, baseplates, or mounting instruments to mount your cameras.
Ensure your DVR or NVR is placed appropriately to reach all cameras whether with wires or through a Wi-Fi signal.
Make sure you have the correct placement and that the area is safe before drilling holes to mount your cameras.
Where is the best place to put security cameras?
The best place to install your security cameras would be where burglars are more likely to enter. According to the Bureau of Justice Statistics, the front door, back door, and first-floor windows are the most likely places for burglars to enter. Place your camera above the door or window frame, angling it slightly downward to cover the area around the entrance.
How can I hide my security cameras outside?
In bushes or trees.
Inside a pvc pipe.
Beneath eaves of building or home.
Above normal line of sight.
Below normal line of sight.
Inside a birdhouse or other common object.
Do security cameras record all the time?
You can set up your security system to record continuously and save the footage to an SD card, cloud storage, your computer, or the DVR/NVR. You can also set up your security system to only record when motion is detected.
Which is better: Ring or Arlo?
Both Ring and Arlo offer easy to install indoor and outdoor cameras that are 100% wireless. Ring offers full home automation, environmental sensors, and door and window sensors while Arlo offers 1000 hours of cloud storage on some of their monthly plans, pairs with Smart Things, and the cameras are mounted on magnetic brackets.
How do I choose a security camera?
Look at the best camera housing for your needs.
Consider which lens you should use.
Decide which resolution you need.
Determine if night vision is needed.
Do you have to have Wi-Fi for wireless security cameras?
Yes. You can purchase a camera, such as the Reolink Go, that uses a 3G or 4G LTE network.
Are wireless security cameras good?
Wireless security cameras are flexible, easy to install, and are more portable, but they are also more expensive and at risk of being hacked or experiencing Wi-Fi interference.
How do outdoor security cameras work?
Wireless outdoor security cameras use radio frequency signals to transmit footage to a central receiver. Bluetooth and Wi-Fi enabled cameras generally transmit footage to a DVR or cloud storage.
Which is better: DVR or NVR?
NVR mostly has better image quality, easy installation, and audio support on each camera that has a microphone. NVR systems are also more expensive than DVR systems.