Arlo Ultra Indoor/Outdoor Wire Free 4K HDR Security Camera System
Learn more about the Arlo Ultra Indoor/Outdoor Wire-Free 4K HDR Security Camera System. Includes info on pricing, features, and frequently asked questions.
Updated on October 20th, 2021
The SMB Guide is reader-supported. When you buy through links on our site, we may earn an affiliate commission. Learn more
Buy Now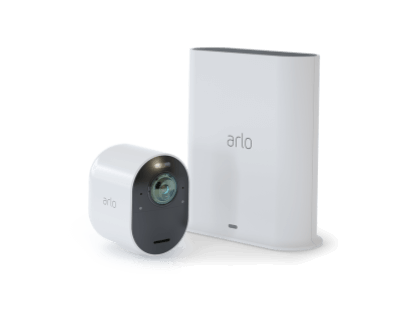 Pricing:
| Camera | List Price |
| --- | --- |
| 1 Camera Kit | $399.99 |
| 2 Camera Kit | $599.99 |
| 3 Camera Kit | $799.99 |
| Add-on Camera | $299.99 |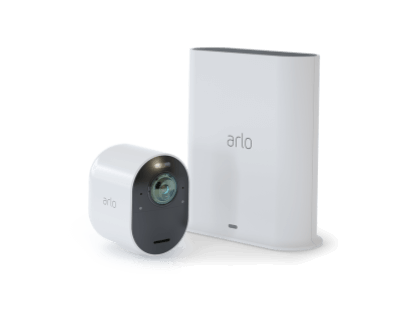 Review:
Pros: 100% wire-free. Advanced de-warping technology to remove fisheye distortion. Includes built-in, motion-activated spotlight.
Cons: The cameras are more expensive than other security options. The Smart Security app requires a subscription after 12 months.
Bottomline: The Arlo Smart is a smart and advanced security option for businesses with a higher budget.
Key Features:
| Features | Description |
| --- | --- |
| Max Video Resolution | 3840x2160 resolution |
| Image Sensor | 8 megapixels |
| Video Modes | 4k, 1080p, 720p |
| Video Features | Auto Track and Zoom, HDR, H.264 and H.265 Encoding |
| Lens Field of View | 180° diagonal |
| Sensor Size | 1/2" |
| Spotlight | 6500K, 42Lux @1M |
| Motion Detection | Dual Motion Detectors, 150° horizontal |
| Night Vision | high powered Infrared LEDs (850nm) with IR Cut Filter |
| AC Adapter Output | 5V 2A |
| AC Adapter Input | 100-240V AC, 50/60Hz |
| Indoor/Outdoor | Both - outdoor UV and weather-resistant |
| Digital Zoom | 12x |
| Microphone | Dual Microphone Array with noise and wind cancellation |
| Audio | Full Duplex 2 way Audio |
| Status Lights | 2x LEDs (blue and amber) |
| Networking | 802.11 b/g/n/ac, Bluetooth Low Energy 4.2 |
| Compliant Standards | 128-bit SSL, AES-128, TSL, 2 factor authentication |
| Battery Life | 3-6 months |
| Operating Temperature | -20° to 60° C |
| Connectivity | Wi-Fi Connection. Working broadband connection with at least 2Mbps upload speed |
| MicroSD Card Requirements | Speed class 10, UHS1, V10 |
| Min Home Upload Speed | 2-4Mbps; optimized for 2 simultaneous 4k streams |
FAQs:
Is the Arlo Ultra really a 4K camera?
Yes. The Arlo Ultra Camera and SmartHub features a 4K HDR to ensure a top-quality image.
Does the Arlo Ultra require a subscription?
Yes, after the first 12 months. The Arlo Ultra is paired with Arlo Smart so you can view your camera's video and audio recordings. Arlo Smart is $2.99 /mo. per camera, Arlo Smart Premier is $9.99 /mo. for up to 10 cameras, and Arlo Smart Elite is $14.99 /mo. for up to 20 cameras. You can view more details on Arlo Smart via their website.
Can you hardwire the Arlo Ultra?
Yes. The Arlo Ultra does come with a charging cable to recharge your battery. However, if you would like to keep your Arlo Ultra plugged into a power source, you can hardwire it but you will need to buy additional cables.
Does Ring work with Arlo?
Yes. Both Ring and Arlo work with IFTTT recipes, so it is possible to connect Ring to Arlo and use them together.
How long do Arlo Ultra batteries last?
Arlo Ultra batteries can last 3 to 6 months with normal usage. Your Arlo Ultra camera will come with a cable to recharge your battery.
Is Arlo a good security camera?
The Arlo Ultra features a lot of smart technology options that enhance the image quality and security of this product. It is an expensive camera to buy, but it works well for businesses that don't need any home automation features and want a 100% wire-free option.
How do you sync the Arlo Ultra?
Pull the camera out of the camera housing (there is a button on the charging port under the Arlo Ultra).
Press the Sync button underneath the camera so that the LED on the front of the camera flashes blue.
Press the Sync button on the Arlo SmartHub so that the LED flashes blue.
Wait for the Arlo Ultra and SmartHub to Sync (the LEDs will rapidly flash blue during syncing).
Check the camera's live stream in the Arlo app to ensure that the syncing was successful.
What is an Arlo SmartHub?
The Arlo SmartHub is a base station that adds a secure personal network to your router, regulates Wi-Fi traffic, improves battery life, and includes local SD storage.
How do I set up my Arlo Ultra camera?
Place and fasten the outdoor mount with screws or drywall anchors.
Attach the camera to the mount.
Adjust the camera angle.
Use the app to position your camera, change the field of view, and test the motion detection.
What are some alternatives to the Arlo Ultra Indoor/Outdoor Wire-Free 4K HDR Security Camera System?
Nest Cam IQ Outdoor Security Camera.