ADT Security Reviews
Compare ADT Security to Frontpoint, Simplisafe, and other security system providers, see pricing, feature specs, and customer reviews.
Updated on February 15th, 2022
The SMB Guide is reader-supported. When you buy through links on our site, we may earn an affiliate commission. Learn more
ADT Security is a provider of small business security systems for both businesses and homes. They offer real-time video surveillance, multi-sensory monitoring tools, and have 6 different monitoring centers to ensure rapid and efficient service, among other features.
Updates:
Updated 20th of February 2020
Added a more comprehensive review of ADT and compared it to its top two competitors: Frontpoint and SimpliSafe.
Pros and Cons:
Pros
All packages come with the full set of equipment.
Monthly payments are affordable.
Same-day installation is an option when you purchase before 2pm.
Cons
Contracts are 36 months long.
More expensive packages must be purchased to have full home automation.
Equipment must be installed by a professional for a fee.
Review:
ADT is one of the oldest and most trusted security companies in the U.S. While their systems may be sparse compared to Frontpoint and SimpliSafe, their packages can be expanded with individual items. ADT requires a contract, but their monthly fees are incredibly affordable.
Highlights:
The basic package includes a comprehensive selection of equipment.
Monthly payments are affordable.
The company has a great track record of excellent service.
Shortcomings:
Close competitors like Frontpoint and SimpliSafe offer hubs or base stations with every package, allowing users to connect to systems like Amazon Alexa or Google Assistant for home automation. The equipment seems to largely integrate with the ADT line of smart devices instead of third-party equipment.
Reputation:
ADT has an A+ BBB rating, but many complaints about the company are due to their professional monitoring. Clients feel that their response time is poor. Out of 549 reviews ADT received an average rating of 1.5 stars out of 5, with an overwhelming majority leaving a 1-star rating.
Clients also claim that ADT has charged them for unknown reasons. ADT has made an effort to address all complaints of this nature and either explain the charge or reimburse the client.
Pricing:
| Package Name | Installation Fee | Monthly Price |
| --- | --- | --- |
| Essentials | $99.00 | $36.99 |
| Essentials Plus | $99.00 | $42.99 |
| Total Protection | $99.00 | $42.99 |
| Total Protection Plus | $99.00 | $42.99 |
| Premium Protection with ADT Pulse | $99.00 - $199.00 | $52.99 |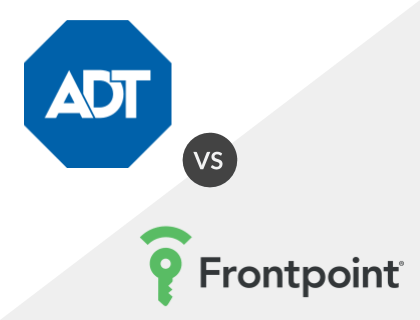 ADT vs. Frontpoint
The biggest difference between ADT and Frontpoint is that ADT has monthly payments starting at $36.99, while Frontpoint offers one-off payments starting at $69.00. All of Frontpoint's packages come with a hub that can be used to sync with home automation systems like Amazon Alexa or Google Assistant. ADT has a special tier for this capability instead.
ADT vs. Frontpoint Comparison:
| Feature | ADT | Frontpoint |
| --- | --- | --- |
| Basic package | $36.99 /mo. | $69.00 |
| Installation cost | $99.00 | None |
| Mobile application | ✔ | ✔ |
| Professional monitoring | ✔ | ✔ |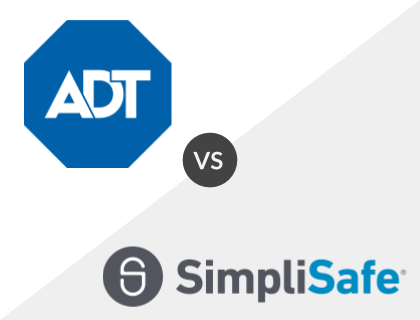 ADT vs. SimpliSafe:
The first notable difference between ADT and SimpliSafe is that ADT requires a contract, and payments are made monthly. SimpliSafe allows clients to pay for equipment upfront. SimpliSafe's starter package costs $229.00, while ADT's basic package costs $36.99 per month.
ADT vs. SimpliSafe Comparison:
| Feature | ADT | SimpliSafe |
| --- | --- | --- |
| Basic package | $36.99 /mo. | $229.00 |
| Installation cost | $99.00 | None |
| Mobile application | ✔ | ✔ |
| Professional monitoring | ✔ | ✔ |
Benefits:
Equipment is installed by professionals, ensuring that the system is set up correctly.
Monthly fees are low due to the 36-month mandatory contract.
The system integrates with third-party equipment.
Additional equipment can be purchased from the website.
At a Glance:
| Feature | ADT |
| --- | --- |
| Installation | Professionally-installed for $99.00 |
| Contract length | 36 Months |
| Monitoring | Landline-connected |
Integrations:
| Integration type | System |
| --- | --- |
| Home automation | Amazon Alexa and Google Assistant |
| Smart lock | ADT Smart Lock |
| Thermostat | ADT Thermostat |
| Garage control | ADT Garage Control |
| Lights | ADT Lights |
Key Information:
| | |
| --- | --- |
| Legal Name | ADT LLC |
| Founder | Edward A. Calahan |
| Founding Date | Jan 01, 1874 |
| Address | 1501 Yamato Road, Boca Raton, FL 33431 United States |
| Number of Employees | 10000 |
| Number of Customers | 7400000 |
| Email | |
| Telephone | |
| Website | |
FAQs:
How much does ADT charge for cameras?
ADT's security cameras are included in monitoring packages and range between $27.99 and $58.99 per month.
How much does it cost to install an ADT security system?
Installation costs range between $99.00 and $199.00 depending on your equipment needs. USSA members receive a 50% discount on installation fees.
Is ADT a good security system?
ADT enjoys mostly favorable reviews by its consumers. Users of ADT security systems often cite its 140-year track record, 24-hour customer service, and wide range of monitoring options as reasons for using ADT over competing systems.
Do you need a landline for ADT?
ADT offers the option of connecting your security system to a landline, or using cellular technology in order to communicate. The package you choose will determine whether or not you require a landline. The Basic, ADT Pulse, and ADT Pulse + Home Monitoring packages all need landlines to work.
Can ADT be hacked?
All security systems are vulnerable to hackers, including ADT. Luckily, this problem can be fixed by simply updating your firmware. In order to protect yourself from hackers, do the following.
Ensure that your wireless network is secure.
Enable encryption by using your security cameras' administrative tools.
Does ADT give discounts?
ADT discounts are given to USAA members. USAA members can save 50% on ADT's standard pricing for installation. They can also save 10% on monthly monitoring fees. USAA members also qualify for various credit discounts.
Does ADT have a doorbell camera?
Yes. ADT's doorbell camera has a 180-degree field of view and boasts 720p video. The camera is offered at $199.00.
Does ADT require Internet?
There are three ADT packages that require a landline internet connection to work. These are the Basic, ADT Pulse, and ADT Pulse + Home Monitoring plans. All other packages do not require an internet connection, but will use a cellular connection in order to transmit data.
Do ADT cameras record?
ADT offers both cameras that record on local hard drives and cameras that send their video recordings to the cloud. Wired camera systems record onto a physical hard drive, while wireless camera systems store video in the cloud.
What are some ADT alternatives?
Bay Alarm.
Abode.
Shield Security Systems.