Ace Glass, 14101-04 Vacuum Pump, PTFE Diaphragm, 75torr, 15psig
Learn more about the Ace Glass, 14101-04 Vacuum Pump with pricing, features, and frequently asked questions.
Updated on July 17th, 2019
The SMB Guide is reader-supported. When you buy through links on our site, we may earn an affiliate commission. Learn more
The Ace Glass, 14101-04 Vacuum Pump is a diaphragm pump that uses vacuum pressure to push liquids through a system. The pump is strong enough to process thick, viscous chemical solutions without being damaged.
Buy Now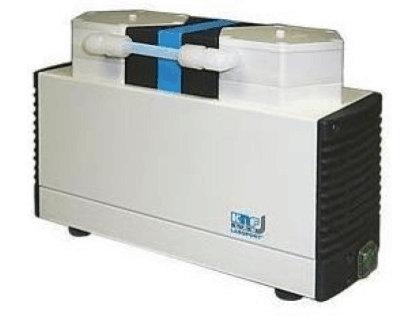 Buy now on MegaDepot
Buy Now
Clean, oil-free performance.
Pumps have both pressure and vacuum capability
All 2-stage head design for smooth efficient performance.
Key Features:
| Feature | Description |
| --- | --- |
| Flow Rate | 13Lpm |
| Max Vacuum , ,1/4-in | 75torr |
| Max Pressure | 15psig |
| Weight | 2.5kg |
| Tubing Connection | 1/4 in |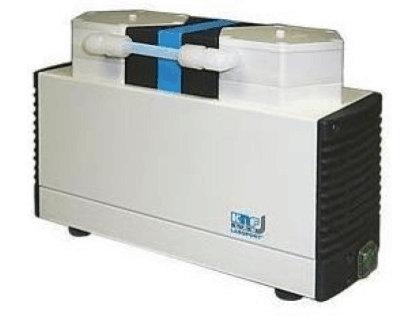 Review:
Pros: Chemical resistant. 115v motor. Smooth performance.
Cons: Pump unit is not compact.
Bottomline: The 1401-04 Vacuum Pump is a strong, durable pump for heavy duty applications.
Pricing:
The Ace Glass 14101-04 vacuum pump costs $754.00.
FAQs:
Will the 14101-04 pump be damaged if chemicals run through it?
The pump is designed to process chemicals, so all of the internal moving parts can come into contact with a wide variety of chemicals without being compromised.
Read more about the Ace Glass, 14101-04 Vacuum Pump here.
What temperature range can the Ace Glass 14101-04 handle?
The pump can handle temperatures that range between 5 and 40 degrees Celsius.
Find out about Ace Glass pricing here.