Accion Reviews
Compare Accion with competitors like Ondeck and Lendio, read our full review, see what customers have had to say, and learn details of their loan products.
Updated on June 24th, 2020
The SMB Guide is reader-supported. When you buy through links on our site, we may earn an affiliate commission. Learn more
Accion is one of the largest non-profit lending networks in the United States. Since its inception in 1961, Accion small business loans have helped millions of entrepreneurs around the world.
Updates:
Updated 7th of February 2020
We added pricing info and comparisons with popular competitors OnDeck and Lendio.
Also Consider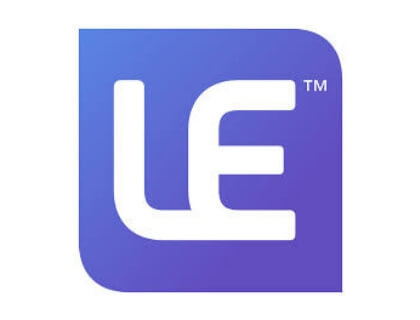 Low interest rates whether for loans from $6,000 or $250,000.
Apply Now
Prime Business Loans
SBA Loans
Working Capital
Pros and Cons:
Pros
Facilitates access to local business networks and special programs.
Consider more than just applicants' credit score.
According to our research, Accion offers flexible repayment schedules.
Cons
Generally small loan amounts.
Loans typically require personal guarantees.
Funding process can be long in comparison to other online lenders.
Review:
Accion is a global nonprofit organization with a large microfinance network across the U.S. While the online application process is very fast and easy, the funding process can take a while. Accion loans are accessible to businesses that struggle to get funding through traditional lenders. Not suitable for businesses needing fast access to funds.
Unlike lending platforms like OnDeck and Lendio, Accion is a nonprofit organization that aims to support small businesses beyond providing access to funding by advocating and facilitating involvement with local business networks, mentorships, and other skills development programs.
Highlights:
Simple application process.
Considers more than applicants' credit score.
Vast lending network across the U.S.
In some regions, Accion provides access to special loan offers suited to the specific needs of communities.
Provides access to financial education and networking opportunities.
Shortcomings:
Generally small loan amounts.
Access to funding can take time.
Potentially high APRs and additional fees.
Not BBB accredited.
Reputation:
We found very few customer reviews of Accion, the majority of which speak to outstanding service and appreciation of their support. There are several customer reviews posted on Yelp that are specific to Accion's San Diego offices. These are also overwhelmingly positive, with only a few negative comments that describe an overall bad experience with customer service and general processes (6).
At a Glance:
| | |
| --- | --- |
| Online Portal | Yes. |
| Mobile App | No. |
| Lines of Credit | No. |
| Term Loans | Yes. |
| Customer Support | Phone. |
| 24/7 Support | No. |
| Autopay | No. |
Rates:
| Loan Type | Loan Amount | APR |
| --- | --- | --- |
| Term Loan | $300 - $250,000 | 7% - 34% |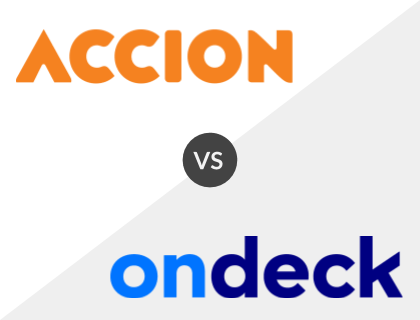 Accion vs. Ondeck:
OnDeck offers $100,000 lines of credit at an average APR of 35.2% and term loans up to $500,000 at an average APR of 49.06%. While Accion's general APR range for term loans comes in a bit lower, the general loan amounts offered also tend to be much smaller.
In terms of qualification requirements, Accion is the more accessible option for borrowers with poor credit ratings. However, if you need fast access to funding, OnDeck is the better option.
Accion vs. OnDeck Comparison:
| Offer | Accion | OnDeck |
| --- | --- | --- |
| Loan Type | Term loan | Term loan |
| Max. Loan Amount | $250,000 | $500,000 |
| APR | 7% - 34% | 49.06% |
| Min. Credit Score | From 525 - 575 (can vary by state) | 600 |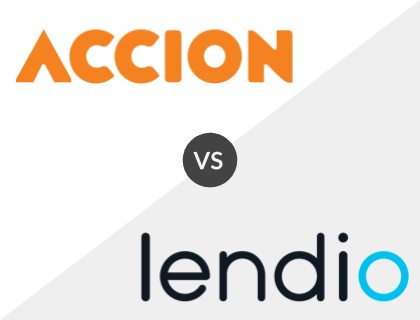 Accion vs. Lendio:
While Accion offers term loans tailored to the needs of borrowers, Lendio offers an extensive portfolio of loan products through its network of lenders, including SBA-backed loans, lines of credit, merchant cash advances, equipment financing, and more. Both lenders have fairly low credit score requirements.
While Lendio does offer much larger loan amounts than Accion, Accion offers better resources to support small businesses with regards to financial education and access to business networking.
Accion vs. Lendio Comparison:
| Offer | Accion | Lendio |
| --- | --- | --- |
| Loan Type | Term loan | Term loan |
| Max. Loan Amount | $250,000 | $2,000,000 |
| APR | 7% - 34% | Starting at 6% |
| Min. Credit Score | From 525 - 575 (can vary by state) | 550 |
Features:
While Accion does not offer features such as a loan calculating tool or mobile app for added convenience as many other online lenders, including OnDeck and Lendio, a key differentiating feature of their services is the additional resources they provide. These resources include an extensive library with articles and videos providing business and financial advice, as well as special networking and mentorship programs.
Key Products:
Term loans.
Accion offers germ loans tailored to borrowers' needs. The average loan amounts are small and more suitable for small businesses and entrepreneurs. Low credit score requirements make these loans accessible to borrowers with poor credit ratings. While the online application is quick and easy, the funding process can be quite lengthy.
Key Information:
| | |
| --- | --- |
| Legal Name | Accion International |
| Founder | Joseph Blatchford |
| Founding Date | Feb 10, 1961 |
| Address | 10 Fawcett Street, Suite 204, Cambridge, MA 02138 |
| Number of Employees | 500 |
| Number of Customers | 1000000 |
| Email | |
| Telephone | |
| Website | |
FAQs:
What is the price range for Accion loans?
Accion does not provide a breakdown of fees or interest rates on their website.
Who does Accion lend to?
Accion loans are granted to new and experienced entrepreneurs from various backgrounds and a variety of industries. Accion microlending is categorized according to socio-economic factors and the type of business you run.
Do I qualify for Accion business loans?
When applying for Accion business loans, Accion USA will review your credit rating. If you have a bad credit rating, they will work with you by looking at your business's strengths and finances to make the loan possible. If you're interested in an Accion loan, be sure to read the Accion loan requirements for your region before you apply.
How do I apply for an Accion micro loan?
Applying for an Accion microloan is quick and easy. You can choose to apply online, in-person, or on the phone. If you'd like to apply online, go to their website and click "Apply for a Loan" in the top right corner.
Who funds Accion loans?
Accion microloans are funded by various entities, including banks, law firms, and non-profit organizations across the country.
What are some Accion alternatives?