1st Bank Business Banking Overview
Find out more about 1st Bank with features & benefits, a fee table and frequently asked questions.
Updated on March 10th, 2022
The SMB Guide is reader-supported. When you buy through links on our site, we may earn an affiliate commission. Learn more
1st Bank is a commercial bank with locations across Arizona, Colorado, and California. 1st Bank has a variety of small business bank accounts and lending solutions to help you manage your business finances.
Rates and Fees:
| Rate or Fee Type | Amount |
| --- | --- |
| Checking | $0.00 to $15.00 /mo. |
| Savings | $0.00 /mo. |
| Time Deposit | $0.00 /mo. |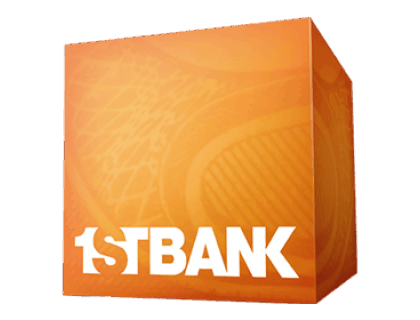 Review:
Pros: No minimum balance for checking accounts. Low monthly fees.
Cons: It can take up to 5 days to process bill payments.
Bottomline: Affordable banking services, but checking options are very basic.
Key Information:
| | |
| --- | --- |
| Legal Name | FirstBank Holding Company |
| Founder | Everett Williams |
| Founding Date | Jan 01, 1963 |
| Address | 12345 W Colfax Ave, Lakewood, CO 80215 United States |
| Number of Employees | 3000 |
| Number of Customers | 2000000 |
| Email | |
| Telephone | |
| Website | |
Features and Benefits:
Mobile banking.
Whether you use 1st Bank for business or personal purposes, access to mobile banking through the 1st Bank mobile app makes it easy to view your account balances and make payments on-the-go.
Over 200 ATMs.
1st Bank has over 200 ATM machines spread out across the states of Arizona, Colorado, and California that you can use to access cash.
Low checking account fees.
1st Bank business checking accounts range in price from $0.00 to $15.00 per month. Not only that, but no minimum balance is required, no matter what type of checking the account you choose.
Low minimum balances for savings accounts.
Savings account minimum balances start at just $300.00, meaning you won't have to pay a monthly maintenance fee if you keep at least the minimum in your account.
FAQs:
What type of business bank accounts does 1st Bank offer?
Checking.
Savings.
Time Deposit.
What services does 1st Bank offer?
Online banking.
Text & email alerts.
24hr phone banking.
What are the fees for 1st Bank's online business banking?
Account Management: $10.00 with paper statements (free if enrolled for eStatements).
Bill Payment (Optional): $5.00 per user per month.
Financial management software download service (Optional): $0.00.
What can I do with the ICM Mobile App?
View account balances.
View account details.
View transaction history.
View check and deposit item images.
Transfer funds.
Approve wires.
Approve ACH batches.
Contact First Bank via telephone or email.
Deposit checks.
How far back will 1st Bank's transaction history go?
You can see transactions from your previous three statement cycles, plus any transactions since your last statement. You also have access to electronic statements (eStatements) which are archived online for 36 months.
Can I use 1st bank online banking to create business spending reports?
When you access 1st Bank online, you can use your 1st Bank account to see all of your recent business spendings and download transaction reports. Quick access to this information makes it easier for you to manage your accounting.
What can I do with 1st Bank's 24-hour telephone banking?
Transfer funds between 1st Bank accounts.
Verify checking, savings, and FirstLine of Credit account balances.
Receive information about electronic deposits that will post to your account.
Determine if a specific check has been paid.
Get the last 20 checks and electronic withdrawals that have cleared your checking account.
Get cash reserve information and make cash reserve payments.
Get the last 20 withdrawals and the last interest paid on your savings account.
Get the last 10 deposits to your checking or savings account.
Speak to a representative about loans and new accounts.
Can I use QuickBooks with 1st Bank?
Yes. 1st Bank offers a service that automatically enters transactions into your financial management software and currently supports versions 2015 and newer for QuickBooks.
Are there any alternatives to 1st Bank?